Menarini Introduces PRIME MDx All-in-One Molecular Diagnostics Solution
By LabMedica International staff writers
Posted on 23 May 2023
Menarini Diagnostics (Florence, Italy) is presenting its range of innovative professional diagnostics solutions in the field of molecular diagnostics, autoimmunity testing, hemoglobin analysis, and immunoassay testing at EuroMedLab Rome 2023.
The main highlight at Menarini's booth during this industry event is the brand new PRIME MDx all-in-one solution. This fully automated sample-to-result system is specifically designed to streamline laboratory workflows for real-time PCR diagnostic assays, offering exceptional efficiency, flexibility, and ease of use. With its automation and guided instrument setup, PRIME MDx minimizes manual intervention and ensures full sample traceability. Dedicated software enables automatic result generation and interpretation, leading to high-quality results, workflow standardization, and improved laboratory efficiency. The continuous workflow feature allows users to initiate a new loading process (extraction/setup) while a previous PCR is still running. PRIME MDx offers the flexibility to manage runs with various extraction reagent formats (prefilled or standard) and seamlessly integrates with existing IT infrastructure.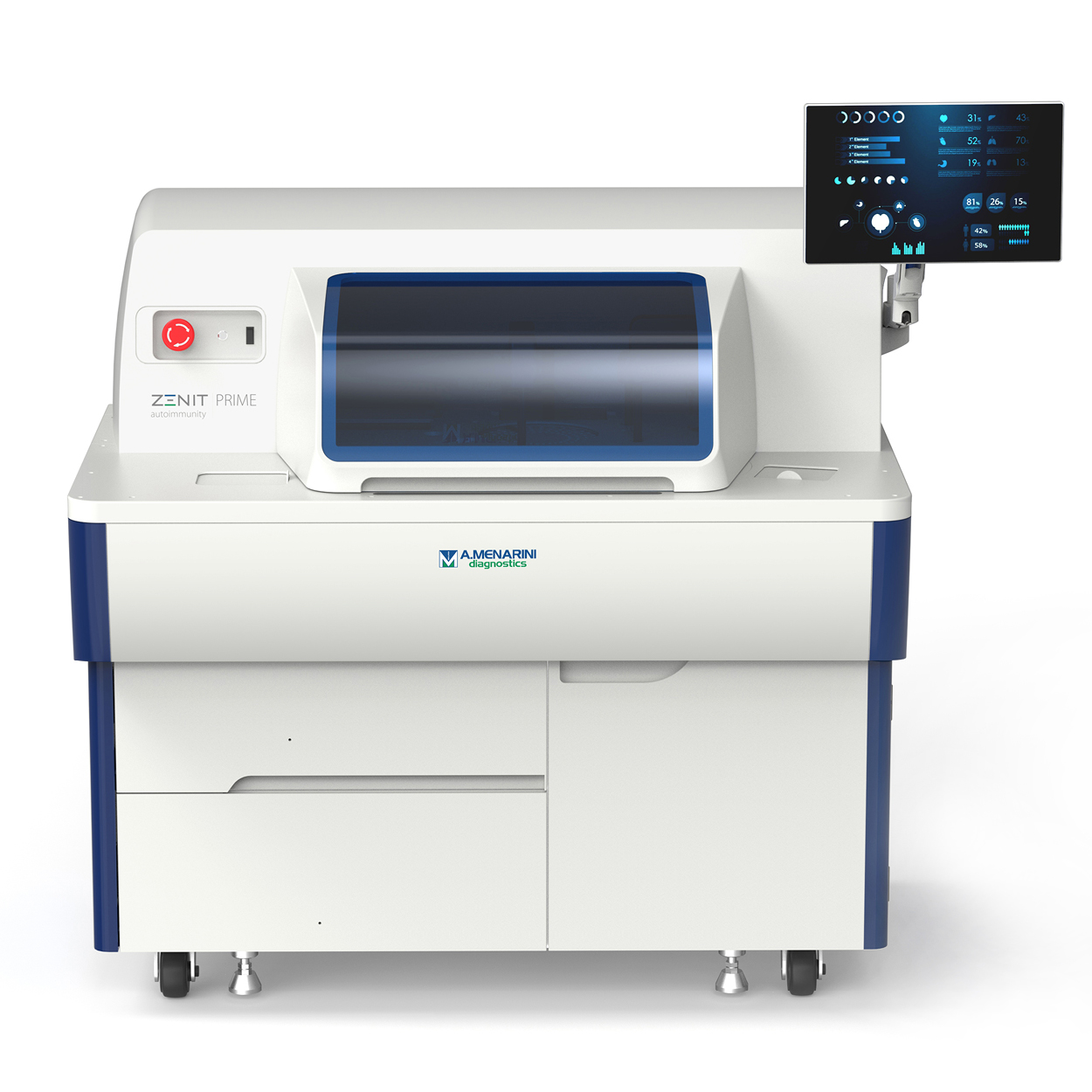 At the 2023 WordLab-EuroMedLab Congress, Menarini is also presenting the Zenit range of high-throughput innovations. This includes the Zenit PRIME random access chemiluminescence analyzer, catering to the autoimmunity laboratory's needs with its comprehensive panel of reagents and advanced features. The walk-away system boasts a throughput of up to 120 tests/hour, with continuous loading and random access to samples, specific and common reagents, and consumables, enabling efficient operation within an 8-hour timeframe (1000 tests).
In addition, Menarini is showcasing the winning combination of Zenit flow and Zenit fast in IIF (Indirect Immunofluorescence) slide processing and scanning. The Zenit flow automated IIF slide processor performs all necessary steps, from sample dilution to coverslip mounting, resulting in improved standardization and a flexible, optimized workflow within the laboratory. The Zenit flow is complimented by the Zenit fast automated diagnostics system for the acquisition, analysis, and storage of IFA (Immunofluorescence Assay) slides. It provides laboratories with an efficient solution to enhance the management of IFA tests, standardize the validation procedure, and reduce intra- and inter-laboratory variability. Some noteworthy features of Zenit fast include image autofocusing technology, whole-well scanning capability, software algorithms for IFA detection and pattern recognition, run-time efficiency, recognition of various ANA (Antinuclear Antibody) IFA patterns, and the ability to analyze different IFA substrates.
Related Links:
Menarini Diagnostics