LumiraDx Demonstrates Fast, High Performance, Portable POC Diagnostic Solution
By LabMedica International staff writers
Posted on 24 May 2023
LumiraDx (London, UK) is presenting its innovative diagnostic solutions at this year's WorldLab-EuroMedLab in Rome, Italy, 21-25 May, including its LumiraDx Platform which is designed to perform multiple tests on one single instrument wherever needed.
The LumiraDx Platform is similar to a portable laboratory, compact yet capable of delivering lab-grade results in a variety of care settings, thereby bringing clinical decision-making closer to the patient. This rapid, high-performing, portable point-of-care (POC) diagnostic solution employs active microfluidic technology, providing results for a range of analytes, including NT-proBNP, HbA1c, and CRP, within minutes. The single, portable instrument offers a simple and uniform workflow for all tests and is user-friendly - all that's needed is to follow the on-screen video instructions for high-sensitivity results in minutes.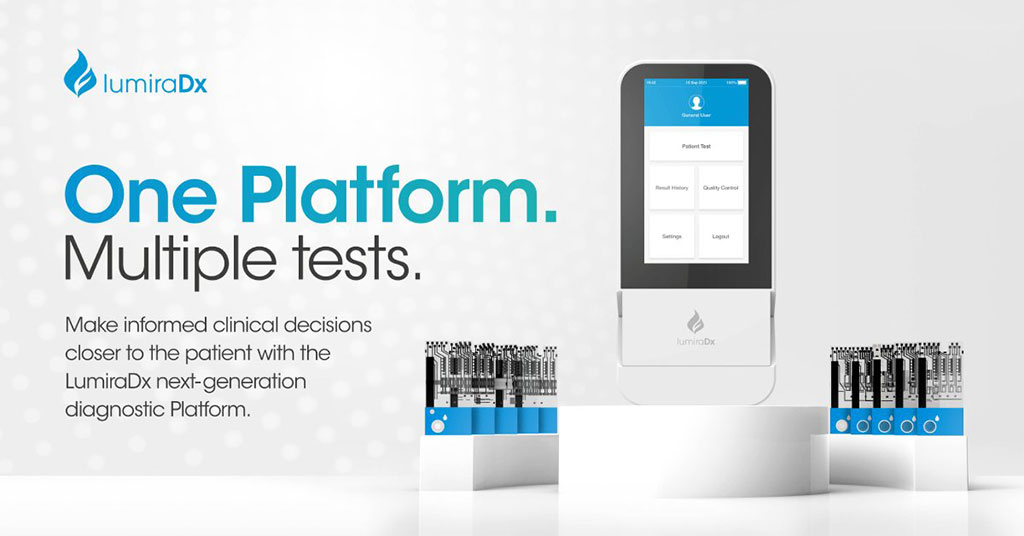 The LumiraDx Platform serves as a cost-effective replacement for multiple POC systems. Its compact, lightweight design, combined with actively controlled microfluidic test strips and secure connectivity, yields lab-grade results in a matter of minutes. Both the device and test strip employ several analytical electronic quality control measures to ensure the test's integrity and validity, with automated functionality checks and test strip performance controls being conducted throughout the test's operational stages. Regardless of whether healthcare professionals are using direct fingerstick or swab methods, the LumiraDx Platform's 'easy to use' test workflow employs 'easy to retrieve' small sampling directly at the patient's side.
With a pipeline of over 30 assays, LumiraDx's POCT menu is primarily focused on some of the most commonly diagnosed or managed conditions, including coagulation disorders, infectious disease, cardiovascular conditions, and diabetes. By integrating multiple technologies and sample types into one device, the LumiraDx Platform facilitates the continued expansion of a comprehensive test menu for conditions diagnosed and managed in community-based healthcare settings.
Related Links:
LumiraDx