Abbott Diagnostics Displays Alinity Family of Systems
By Labmedica International staff writers
Posted on 02 Aug 2018
Abbott Diagnostics (Abbott Park, IL, USA) displayed the Alinity next-generation family of systems at this year's AACC Annual Scientific Meeting & Clinical Lab Expo in Chicago, Illinois, USA. The Alinity harmonized family of systems across key laboratory disciplines is designed to simplify diagnostics and help deliver results that drive better patient outcomes.
Abbott's Alinity family of harmonized solutions is unprecedented in the diagnostics industry, working together to address the challenges of using multiple diagnostics platforms and simplify diagnostic testing. Alinity systems are designed to be more efficient – running more tests in less space, generating test results faster and minimizing human errors – while continuing to provide quality results.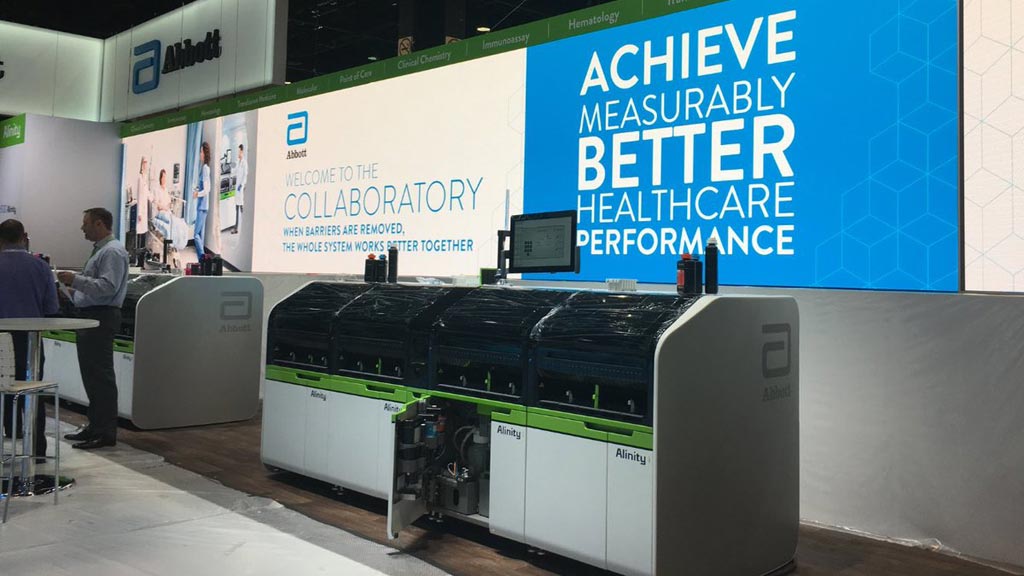 The Alinity portfolio includes clinical chemistry, immunoassay, blood and plasma screening, point of care, hematology and molecular diagnostics, along with Abbott's AlinIQ—a first-of-its-kind, holistic suite of professional services that combines expertise with process analysis and informatics.
The Alinity ci-series combines the power of integrated clinical chemistry and immunoassay systems in unprecedented, innovative combinations to meet every laboratory's needs. The Alinity h-series solution integrates the Alinity hq with the Alinity hs slide maker and stainer module into a combined solution for hematology testing. The Alinity h-series solution is 20% faster per m2 than other currently available integrated hematology systems with a throughput of 133 complete blood counts (CBCs) per m2.
The Alinity m molecular system addresses operational complexities, such as increasing the capacity for growth, improving workflow efficiencies and reducing demand on labor. The Alinity s system for blood and plasma screening is designed to screen blood and plasma faster and more efficiently within a smaller footprint, helps blood and plasma centers improve productivity and maintain the highest levels of accuracy, without expanding the instrument footprint.
The Alinity PRO software works with all Alinity systems to fully maximize their potential and enhance operational productivity throughout the network, allowing for easier and consolidated system monitoring anytime, anywhere. And with predictive system monitoring through AlinIQ Always On, Abbott's professional services can proactively monitor the health of these systems and help avoid unexpected downtime.