World's First Fully Integrated LC-MS/MS Clinical Analyzer Unveiled
By Labmedica International staff writers
Posted on 03 Aug 2017
A next-generation diagnostic system brings together the convenience of clinical analyzers with the selectivity and sensitivity of liquid chromatography-tandem mass spectrometry (LC-MS/MS). The fully-automated Cascadion SM clinical analyzer system was developed by Thermo Fisher Scientific (Waltham, MA, USA) for use by non-experts in a variety of clinical settings including hospital laboratories, and to provide results for a range of frequently ordered clinical diagnostic tests.
The new Cascadion SM clinical analyzer was presented to the European market at the EuroMedLab 2017 meeting last June in Athens, Greece, and unveiled to the US clinical lab community at this year's AACC Clinical Lab Expo held in August at San Diego, CA. As a major benefit, the system can be operated by clinical laboratory staff without special training in LC-MS/MS technology.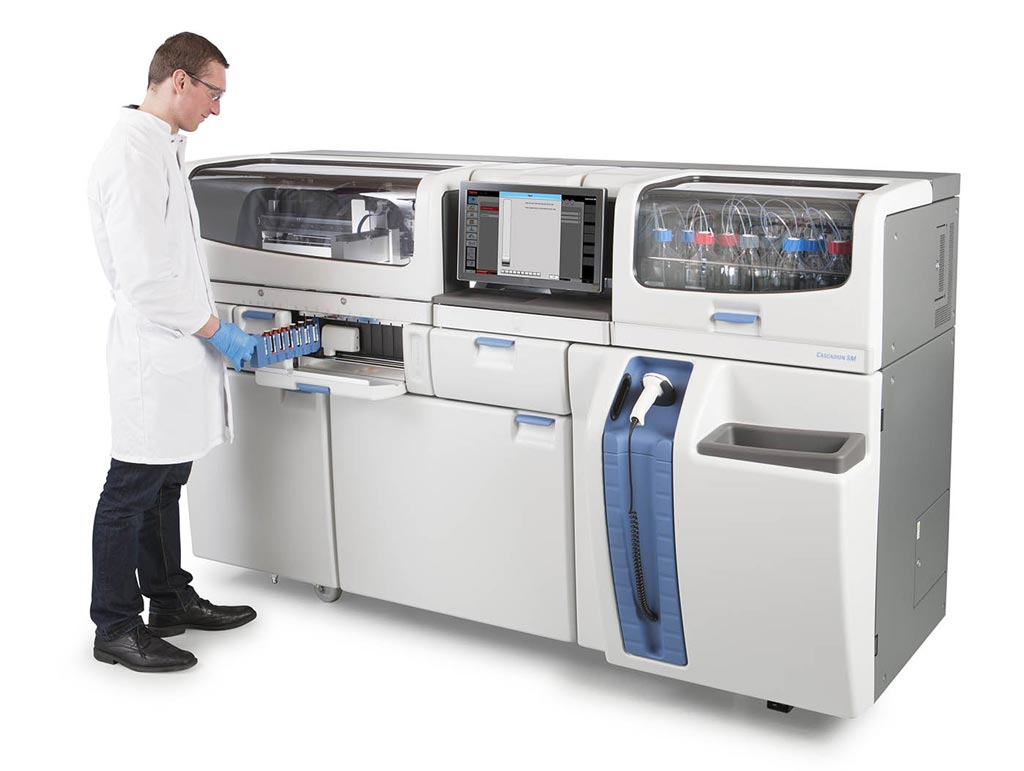 Assays in development for the Cascadion system include those for 25OH Vitamin D, Total Testosterone, and a panel of Immunosuppressant drugs. Such diagnostic tests are projected to be launched once appropriate regulatory requirements for each country or region have been fulfilled. Development pipeline for the system includes tests for therapeutic drug monitoring, drugs of abuse, and endocrinology.
"This is a marvelous development, and it is really quite outstanding. It will fulfill the needs of many laboratories," said Prof. Brian Keevil, consultant clinical scientist and head of the Clinical Biochemistry Department, University Hospital of South Manchester NHS Foundation Trust, UK, after viewing a demonstration during EuroMedLab 2017.
James Nichols, PhD, medical director, Chemistry and Point of Care Testing, Vanderbilt University Medical Center, added, "For much of what we do in terms of chromatography and mass spectrometry, we need very highly skilled and experienced medical technologists. The Cascadion analyzer is relatively maintenance-free and because it includes specially designed reagent kits, there is not a lot of interaction required with the technology."
The Cascadion SM clinical analyzer system combines assays, software, accessories, consumables, support, and service in a stand-alone system designed to meet the regulatory requirements for routine and specialized clinical testing. The fully-automated sample-in and result-out system incorporates advanced development features including: gold standard mass spectrometry technology, complete assay kits for standardized results, traceability of results to reagent lots, automated sample preparation, LIS connectivity to maximize productivity, a turnkey solution from one supplier for easy implementation, and random access workflow for fast turnaround times.
The Cascadion system was designed and built using Thermo Fisher products and technologies combined with its industry-leading expertise in mass spectrometry. Tandem mass spectrometry, also known as MS/MS or MS2, involves multiple steps of mass spectrometry selection, with some form of fragmentation occurring in between the stages. In a tandem mass spectrometer, ions are formed in the ion source and separated by mass-to-charge ratio in the first stage of mass spectrometry (MS1). Ions of a particular mass-to-charge ratio (precursor ions) are selected and fragment ions (product ions) are created by collision-induced dissociation, ion-molecule reaction, photodissociation, or other process. The resulting ions are then separated and detected in a second stage of mass spectrometry (MS2).
After previewing the Cascadion analyzer, Michael Vogeser, senior physician and professor of laboratory medicine, University Hospital of Munich, stated "About 70% of all physician's decisions are based on laboratory tests, so the impact on laboratory testing is huge and this completely new technological approach is of enormous value to mankind."
While the instrument is still in final stages of development and not yet available for sale, CE marking and US FDA 510(k) clearance are currently being applied for by Thermo Fisher Scientific.
Latest AACC 2017 News