Siemens Healthineers Showcases Atellica Solution at AACC 2017
By Labmedica International staff writers
Posted on 07 Aug 2017
Siemens Healthineers (Erlangen, Germany), the separately managed healthcare business of Siemens AG, showcased the Atellica Solution – flexible, scalable, automation-ready immunoassay and chemistry analyzers for laboratory diagnostics – at the 69th AACC Annual Scientific Meeting & Clinical Lab Expo, the world's largest exposition for clinical laboratory products and services.
Siemens Healthineers offers a comprehensive portfolio of products and services in its core areas of diagnostic and therapeutic imaging and in laboratory diagnostics and molecular medicine. The company was among over 750 exhibitors who displayed pioneering diagnostic technology, including the latest in mobile health, molecular diagnostics, mass spectrometry, point-of-care (POC), and automation at the 2017 AACC Clinical Lab Expo held at the San Diego Convention Center from August 1-3.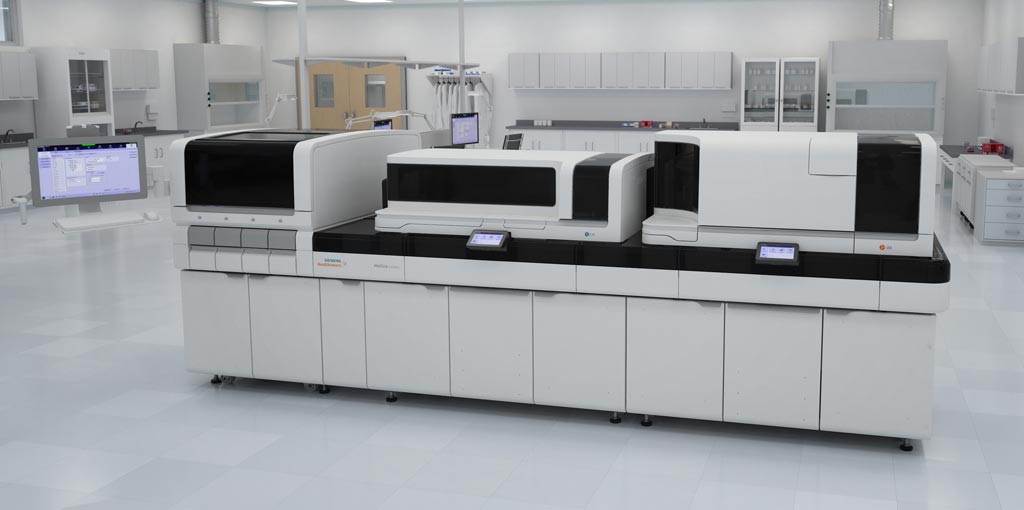 The recently 510(k)-cleared Atellica Solution is comprised of sample management and immunoassay and chemistry analyzer components. It can combine up to 10 components into more than 300 customizable configurations – including linear, L and U shapes. With an immunoassay analyzer that runs up to 440 tests per hour, the Atellica Solution is suitable for mid-and high-volume labs. The product was displayed as a stand-alone system at AACC 2017 and connected to Aptio Automation to demonstrate a comprehensive multi-disciplinary solution.
"Siemens Healthineers is driving healthcare forward in the digital age by delivering fast and easy interaction between data and knowledge, to go along with our complete in vivo and in vitro offerings," said Michael Reitermann, Chief Operating Officer, Siemens Healthineers.
Siemens Healthineers also exhibited the Atellica Diagnostics IT family of products, which includes connectivity management, data management, inventory management, process management and clinical decision support for multi-site laboratories seeking real-time analytics to improve workflow and efficiency. Atellica Diagnostics IT features customizable parameters, performance-monitoring capabilities, and centralized control over the day-to-day laboratory operations to improve business and clinical outcomes.
"FDA clearance for the Atellica Solution opens the door for us to change the game in laboratory diagnostics with a revolutionary platform designed by customers for customers," said Franz Walt, President, Laboratory Diagnostics, Siemens Healthineers. "Combined with the Atellica Solution, our highly integrated Atellica Diagnostics IT will simplify lab workflows to meet increasing testing demand."
The company also showcased its complete POC informatics portfolio with offerings for secure connectivity to more than 160 devices from over 40 vendors. The solutions are designed to streamline operations and centrally manage all POCT devices.
"Open connectivity, regardless of the manufacturer, for point-of-care instruments addresses key pain points that previously challenged the implementation of point-of-care testing," said Peter Koerte, President, Point of Care Diagnostics, Siemens Healthineers. "Further, the latest advances in connectivity provide POC coordinators valuable data for better decision-making to support improved patient outcomes."
Siemens Healthineers' informatics offerings include RAPIDComm Data Management System for managing and controlling POC testing programs, POCcelerator Software, which connects POCT devices from all manufacturers to a hospital's IT system, and UniPOC Software, which seamlessly connects and manages POC devices from numerous manufacturers through a single enterprise platform for laboratories that prefer a vendor-independent approach.
Additionally, Siemens Healthineers celebrated the US launch of Xprecia Stride, a handheld portable coagulation analyzer for Prothrombin Time International Normalized Ratio (PT/INR) testing for point-of-care monitoring and management of oral anticoagulation therapy with warfarin, a vitamin K antagonist.
Latest AACC 2017 News