Hormone Levels of Diabetic Men Not Related to Prostate Cancer Risk
By LabMedica International staff writers
Posted on 22 Aug 2019
Diabetes mellitus (DM) is a group of metabolic disorders characterized by high blood sugar levels over a prolonged period and is conventionally associated with an increased risk of cancer; however, inverse associations of diabetes with prostate cancer are well described.
Prostate cancer is the development of cancer in the prostate, a gland in the male reproductive system. The mechanisms of the connection between DM and cancer are unclear, although hormonal factors including alterations in sex hormone and insulin-like growth factor 1 (IGF1) concentrations due to metabolic disturbances have been hypothesized to play a role.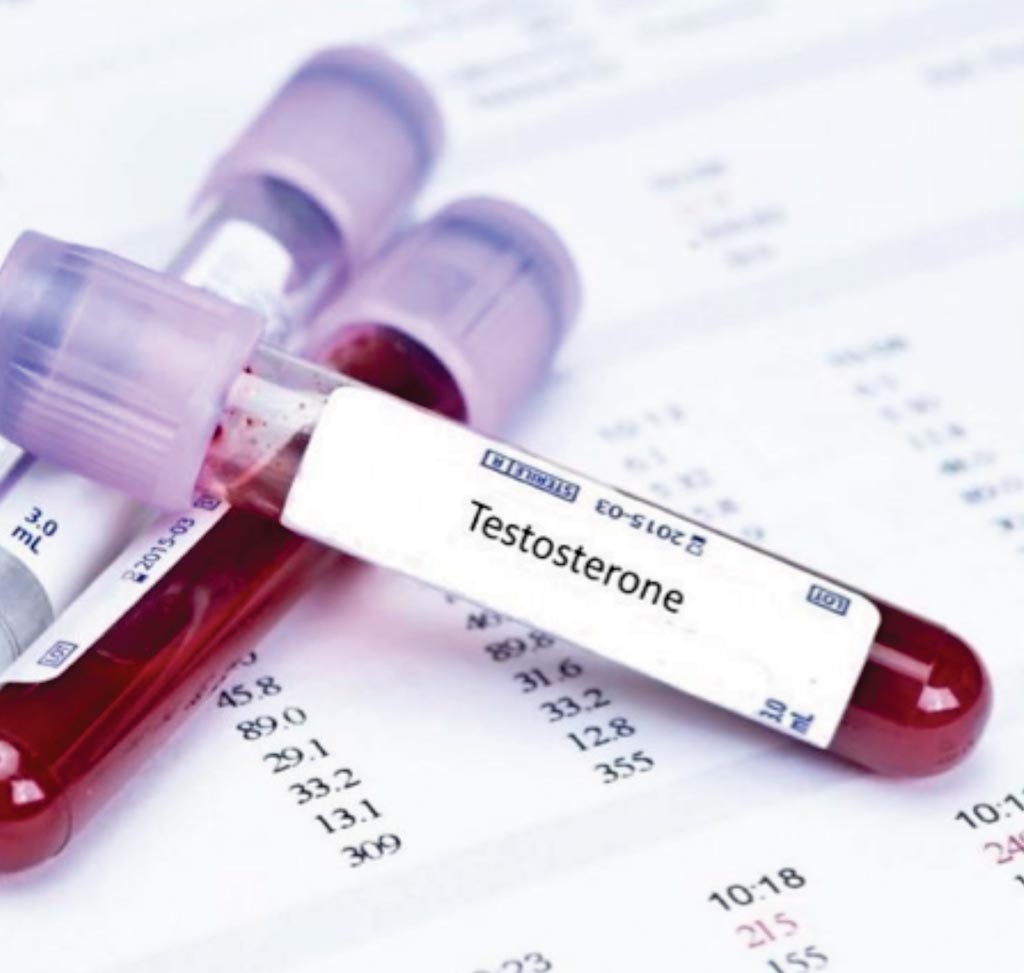 Scientists at the University of Western Australia (Perth, Australia) analyzed data from 3,149 older men (mean age, 77 years) participating in the Perth-based Health in Men Study. Men provided fasting blood samples to assess sex hormones, IGF-I levels, glucose and advanced glycation end (AGE) products as potential mediators of the association between diabetes and prostate cancer over a mean follow-up of 12 years. Within the cohort, 450 men had diabetes at baseline and 315 men were diagnosed with prostate cancer during follow-up. In a subset of 2,440 men with fasting insulin and glucose data, 253 men were diagnosed with prostate cancer.
The team found that compared with men without diabetes, men with diabetes had a higher body mass index (BM) (mean, 27.5 kg/m² versus 26.5 kg/m²), lower testosterone (mean, 11.4 nmol/L versus 13.4 nmol/L) lower dihydrotestosterone (mean, 1.21 nmol/L versus 1.47 nmol/L) and lower sex hormone binding globulin (mean, 38.2 nmol/L versus 43.3 nmol/L), which were all statistically highly significant. They found that diabetes was associated with a lower prostate cancer risk after adjusting for conventional risk factors (standardized HR = 0.63). The association persisted after adjusting for testosterone, dihydrotestosterone, estradiol and sex hormone binding globulin. Adjusting the model for IGF-I or its binding proteins 1 and 3, or for glucose, also did not alter the association.
Yi X. Chan, MBBS, an Endocrinologist and first author of the study, said, "A high frequency of hypogonadotropic hypogonadism has been reported in men with type 2 diabetes. This is in keeping with lower androgen levels observed in men with diabetes in this cohort. Despite this, the role of androgens in the development of prostate cancer is still unclear."
The authors noted that prostate cancer is an age-related cancer. Since their population consisted of older men and diabetes is associated with increased mortality, it is possible that their results may be affected by competing risks or biased toward men who have favorable biologic or lifestyle factors. Whilst the competing risk for death was taken into account in this study, residual bias may still be present. The study was published on July 23, 2019, in The Journal of Clinical Endocrinology & Metabolism.
Related Links:
University of Western Australia