Novel Lipid Biomarker Detects Senescent Cells
By LabMedica International staff writers
Posted on 13 Apr 2021
A recent paper identified a lipid biomarker indicative of cellular senescence and described a method to evaluate its effect on the molecular events that lead to senescence.
Cellular senescence is a stress or damage response that causes a cell to stop dividing, and, since senescent cells are not dead, to secrete numerous factors with potent biological activities. This senescence-associated secretory phenotype (SASP) has been characterized largely for secreted proteins that participate in embryogenesis, wound healing, inflammation, and many age-related conditions. By contrast, the lipid components of the SASP have not been well documented.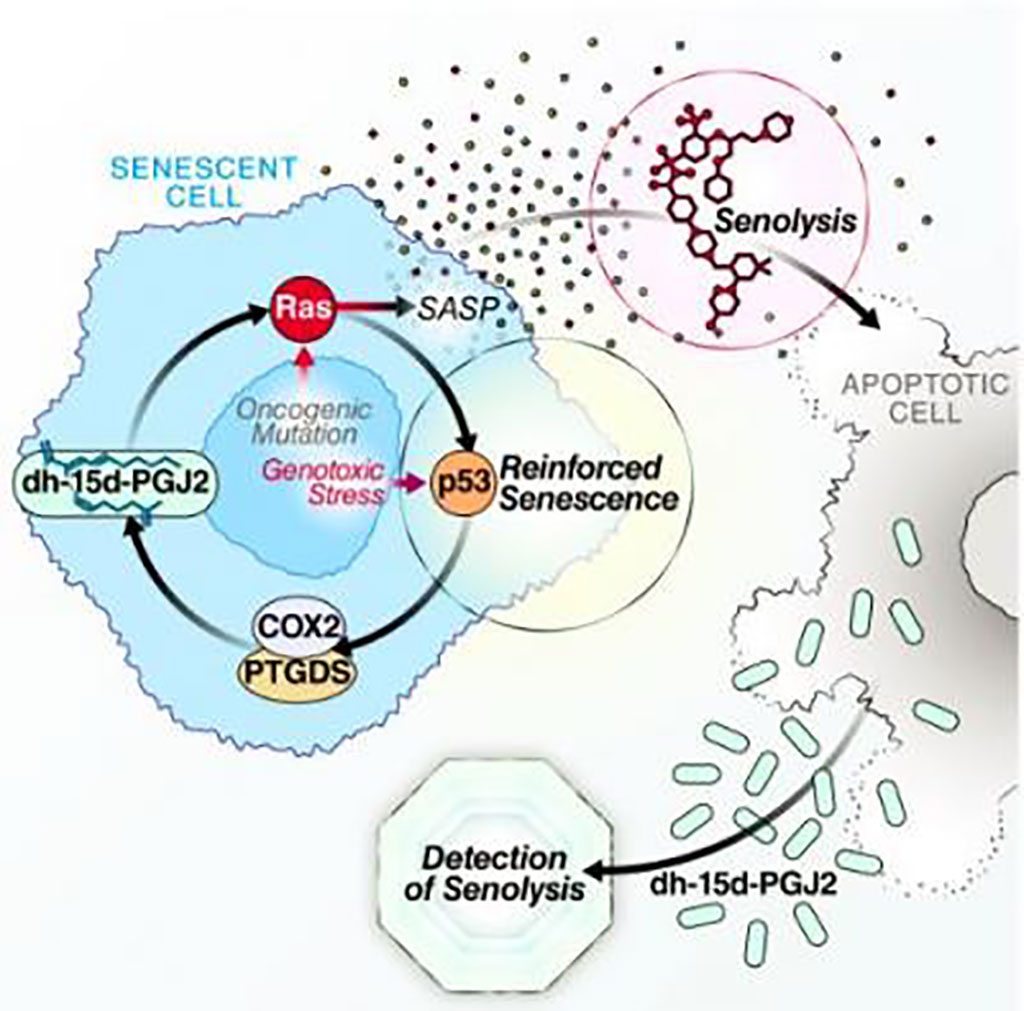 In the current study, investigators at the Buck Institute for Research on Aging (Novato, CA, USA) focused on the large array of oxylipins, bioactive lipid metabolites derived from the oxygenation of polyunsaturated fatty acids, which are synthesized by senescent cells.
The study was performed on human cells growing in culture and with mice. Results revealed that senescent cells activated the biosynthesis of several oxylipins, which promoted segments of the SASP and reinforced the cell division blockade. Notably, senescent cells synthesized and accumulated an unstudied intracellular prostaglandin, 1a,1b-dihomo-15-deoxy-delta-12,14-prostaglandin J2. The released form, 5-deoxy-delta-12,14-prostaglandin J2, could serve as a biomarker of senolysis in culture and in vivo.
In addition, the PGJ2 prostaglandin was shown to have a functional role in senescence. Inhibiting its synthesis allowed a subset of cells to escape senescence, continue dividing, and present a less inflammatory SASP profile. In contrast, addition of the prostaglandin to non-senescent cells drove them into senescence by activating the RAS cancer-promoting gene, which is also known to trigger senescence.
"The list of age-related diseases definitively linked to cellular senescence keeps growing, as does the number of biotech companies racing to develop drugs to eliminate senescent cells," said senior author Dr. Judith Campisi, professor of biogerontology at the Buck Institute for Research on Aging. "While the field has never been more promising, the lack of a simple biomarker to measure and track efficacy of these treatments has been a hindrance to progress. We are excited to bring this new biomarker to the field and look forward to it being used in the clinic. We hope that identifying and including these bioactive lipids as part of the SASP will encourage researchers working in a broad range of fields to take a new look at cellular senescence. The fact that one of these lipids ends up being a simple non-invasive biomarker for tracking the efficacy of treatments is a huge plus for those of us working to stem the ravages of age-related disease."
The study was published in the April 2, 2021, online edition of the journal
Cell Metabolism.
Related Links:

Buck Institute for Research on Aging
Other channels