Methylated MicroRNAs Prove Biomarkers for Early Detection of Cancer
By LabMedica International staff writers
Posted on 09 Sep 2019
A team of Japanese cancer researchers has shown that microRNA methylation was a more powerful indicator of early-stage pancreatic cancer than were established biomarkers, such as unmodified microRNAs.
Despite advances in cancer treatment, some 75% of all pancreatic cancer patients die within 12 months of diagnosis, including many who die within just a few months. Thus, development of new methods to detect this disease as early as possible remains an urgent priority.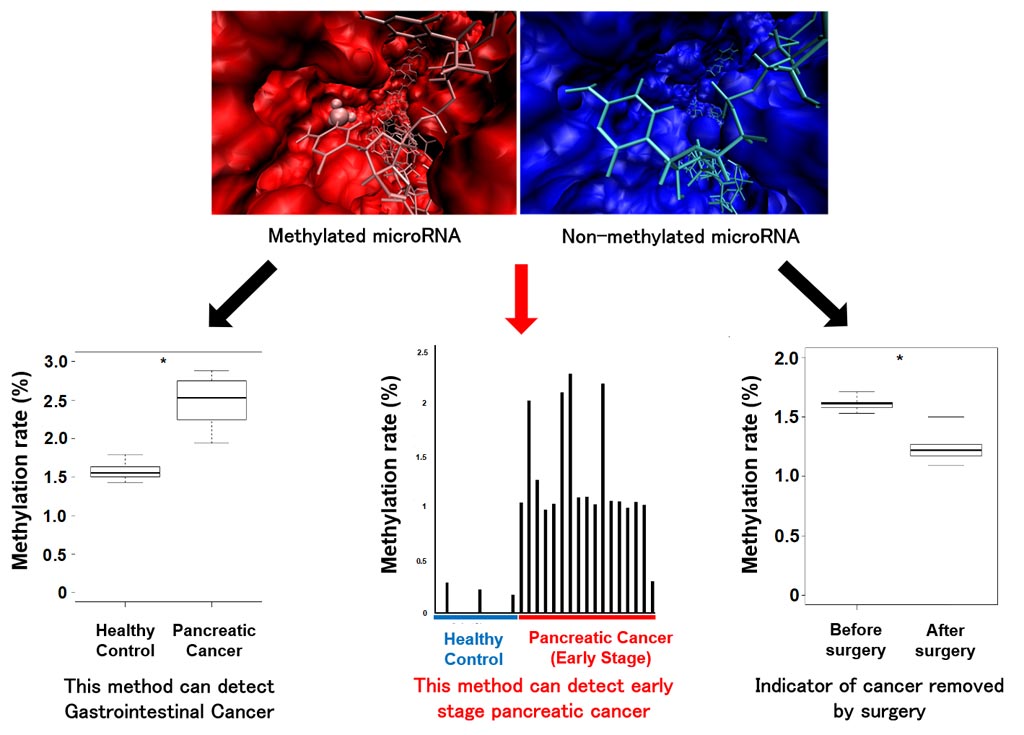 In this regard, investigators at Osaka University (Japan) looked at native and methylated microRNAs as potential biomarkers for early detection of pancreatic cancer. MicroRNAs (miRNAs) and short interfering RNAs (siRNA) comprise a class of about 20 nucleotides-long RNA fragments that block gene expression by attaching to molecules of messenger RNA in a fashion that prevents them from transmitting the protein synthesizing instructions they had received from the DNA. With their capacity to fine-tune protein expression via sequence-specific interactions, miRNAs help regulate cell maintenance and differentiation. The biological significance of micro (mi)RNAs has traditionally been evaluated according to their RNA expression levels based on the assumption that miRNAs recognize and regulate their targets in an unvarying fashion.
To evaluate the potential of microRNA methylation as a biomarker for early cancer diagnosis, the investigators employed a non-targeted mass spectrometry sequencing technique that enabled unbiased detection of RNA modifications, leading to the identification of novel methylated cytosines and adenines in several mature miRNAs in cancer cell lines, human tissues, and serum.
Results revealed that a fraction of mature miRNAs including miR-17-5p, -21-5p, and -200c-3p and let-7a-5p harbored methyl marks that potentially altered their stability and target recognition. Methylation of these miRNAs was significantly increased in cancer tissues as compared to paired normal tissues. Furthermore, miR-17-5p methylation level in serum samples distinguished early pancreatic cancer patients from healthy controls with extremely high sensitivity and specificity.
"While we found methylated microRNA in the samples from pancreatic cancer patients, it was either present in very low levels or absent in the control group," said senior author Dr. Hideshi Ishii, professor of medicine at Osaka University. "Further, methylation levels in serum samples were able to distinguish early pancreatic cancer patients from healthy controls with extremely high sensitivity and specificity."
The methylated microRNA study was published in the August 29, 2019, online edition of the journal Nature Communications.
Related Links:
Osaka University