New Gene Variants Associated with Chronic Back Pain
By Labmedica International staff writers
Posted on 09 Oct 2018
Back pain causes more years lived with disability than any other health condition worldwide. Although most adults experience a new ('acute') episode of back pain at some point in their lives, the societal burden of back pain is driven by the minority of individuals who fail to recover from such episodes and go on to develop persistent ('chronic') back pain (CBP).
Back pain is moderately heritable and heritability is greater for chronic than for acute back pain. Although CBP is often attributed to anatomic changes such as intervertebral disc degeneration or disc herniation, such findings have only weak association with CBP. The unexplained genetic contribution to CBP may involve not only spine pathology but also functional predisposition to chronic pain involving higher-order neurologic processes related to the generation and maintenance of pain.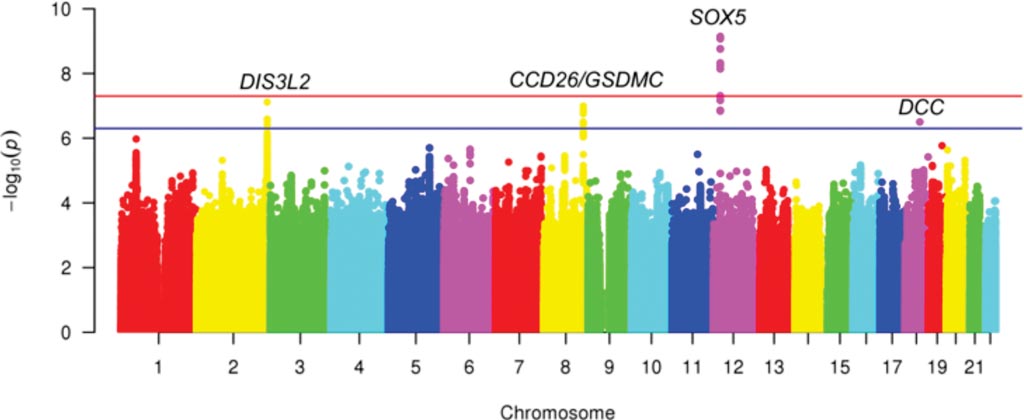 A larger international team of scientists led by the Seattle Epidemiologic Research and Information Center (Seattle, WA, USA) conducted a genome-wide association study in 158,000 adults of European ancestry, including over 29,000 individuals with chronic back pain, looking for gene variants that were associated with the presence of back pain. Genotyping was performed using commercially available genome-wide arrays. Imputation of single nucleotide polymorphisms (SNPs) and insertions/deletions (indels) was performed using reference panels from 1000 Genomes phase 1 version 3 or phase 3, or the Haplotype Reference Consortium.
The team found the strongest association was with a variant in the SRY-Box 5 (SOX5) gene, which is a transcription factor involved in virtually all phases of embryonic development. Inactivation of SOX5 has previously been linked to defects in cartilage and skeleton formation in mice, supporting the hypothesis that the variant discovered in this study may contribute to chronic back pain through its influence on some aspect of skeletal development. The association of the SOX5 variant with chronic back pain was replicated in another group of over 280,000 individuals, including over 50,000 individuals with chronic back pain. A second gene, previously associated with intervertebral disc herniation, was also linked to back pain, as was a third gene that plays a role in spinal cord development, possibly implicating pain sensation or mood in the risk for back pain.
The authors concluded that their study identified three novel associations with CBP for loci at SOX5, CCDC26/GSDMC, and DCC Netrin 1 Receptor (DCC). Analysis of data from other GWAS and functional genomics studies suggest possible pleiotropic effects of these loci on other traits including cartilage, osteoarthritis, lumbar disc degeneration, depression, and height/vertebral development, and possible causal effects on CBP mediated through height.
Pradeep Suri, MD, MSc, the lead author of the study, said, "The results of our genome-wide association study point to multiple pathways that may influence risk for chronic back pain. Chronic back pain is linked to changes in mood, and the role of the central nervous system in the transition from acute to chronic back pain is well recognized. However, the top two genetic variants we identified suggest causes implicating the peripheral structures, such as the spine." The study was published on September 27, 2018, in the journal PLOS Genetics.
Related Links:
Seattle Epidemiologic Research and Information Center