Large Genomic Study Identifies New Pancreatic Cancer Risk Loci
By Labmedica International staff writers
Posted on 05 Mar 2018
A large genome-wide association study (GWAS) identified five new susceptibility loci for pancreatic cancer.
Pancreatic cancer is among the leading causes of cancer death in the U.S. and Europe and is expected to result in nearly 150,000 annual deaths by 2020. To identify common susceptibility alleles, a consortium of more than 80 research institutions performed one of the largest pancreatic cancer GWAS to date, including 9040 patients and 12,496 controls of European ancestry from the Pancreatic Cancer Cohort Consortium (PanScan) and the Pancreatic Cancer Case-Control Consortium (PanC4).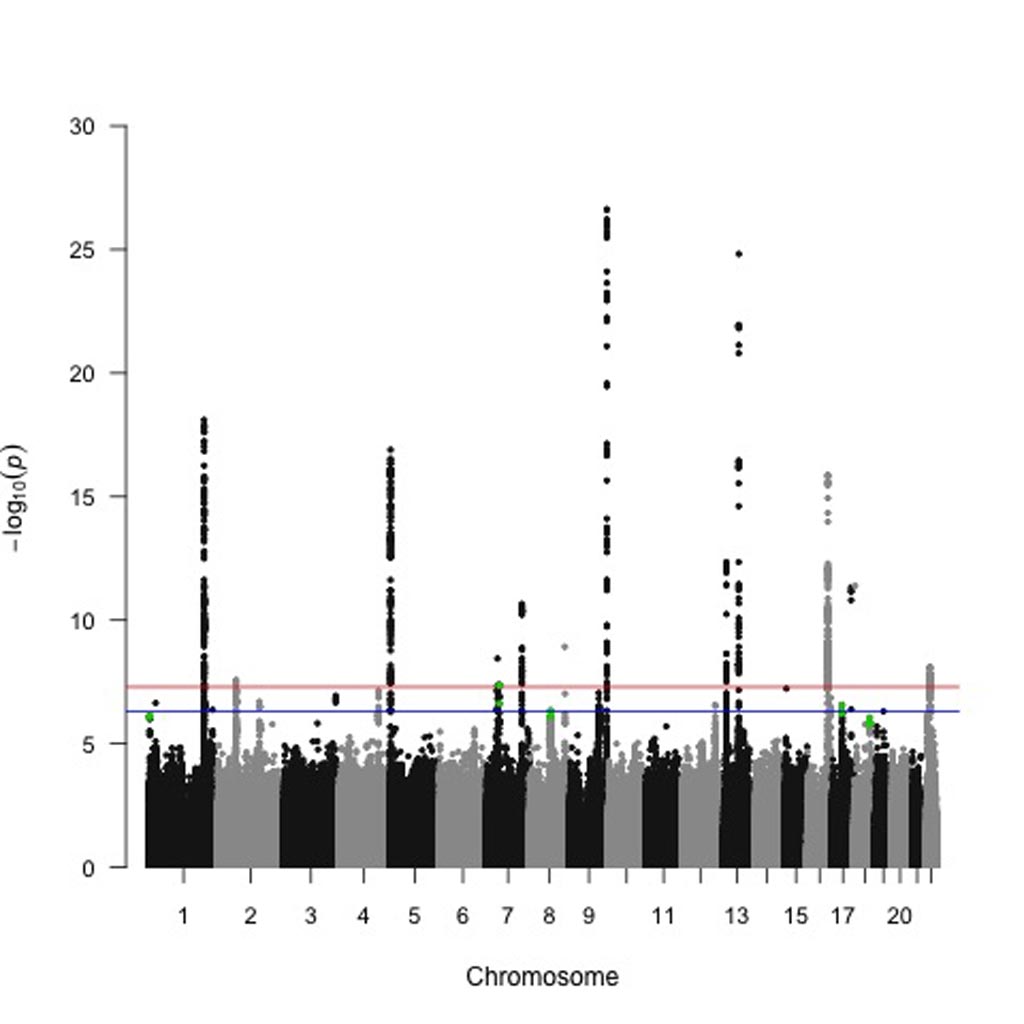 Overall, investigators analyzed more than 11.3 million variants in 21,536 individuals.
The newly identified loci were found on human chromosomes one (position 1p36.33), 7 (position 7p12), eight (position 8q21.11), 17 (position 17q12), and 18 (position 18q21.32). The increased risk of developing pancreatic cancer was estimated to be from 15 to 25% for each copy present in the genome.
"On an individual level, having one of these variants is not very predictive of cancer, in that they are only associated with a modest change in risk, but when taken together, they help to create the fuller picture of how pancreatic cancer develops," said first author Dr. Alison Klein, professor of oncology, pathology, and epidemiology at Johns Hopkins University (Baltimore, MD, USA). "Continuing studies will delve deeper into the genetics of pancreatic cancer. There is still a lot more that we do not know about hereditary factors in pancreatic cancer risk."
The pancreatic cancer genome-wide association study was published in the February 8, 2018, online edition of the journal Nature Communications.
Related Links:
Johns Hopkins University

Latest Molecular Diagnostics News
Other channels