Rapid Tests Evaluated in the Management of Dengue Fever
By LabMedica International staff writers
Posted on 12 Nov 2020
Dengue is a mosquito-borne infection caused by four distinct viruses (DENV 1-4) which belong to the flavivirus genus and may lead to diverse outcomes. The disease can be asymptomatic in about 75% of cases, causing Dengue fever (DF), or result in severe dengue. Dengue is common in more than 120 countries.
The laboratory diagnosis, essential to recognize dengue cases, is based on viral isolation, serological tests, and detection of viral RNA. Isolation is cumbersome, requires high biocontainment and often takes too long for clinical management. The use of rapid diagnostic tests (RDTs) may be of help as a preliminary user-friendly quick assay to facilitate dengue diagnosis.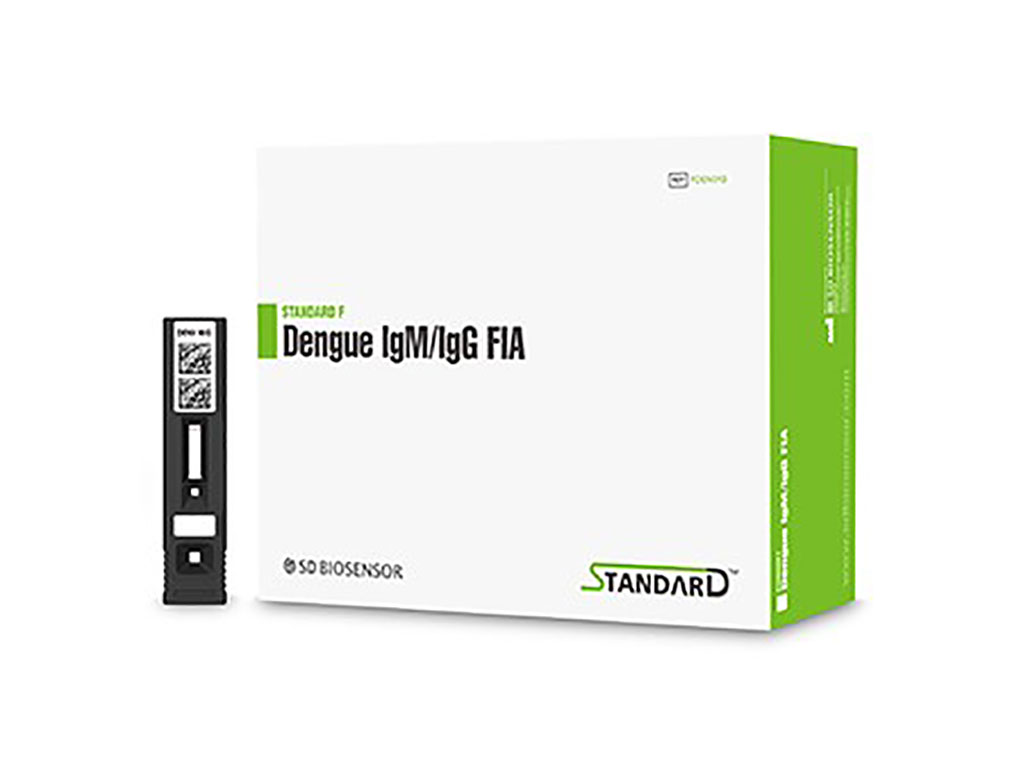 Infectious Disease specialists at the Lazzaro Spallanzani National Institute for Infectious Diseases (Rome, Italy) retrospectively reviewed patients with dengue-like symptoms who spontaneously sought treatment in healthcare units of Lazio Region (Central Italy) from January 2014 through July 2019. DF diagnosis was confirmed at the Regional Reference Laboratory in 102 out of 804 (12.7%) febrile patients tested. RDTs have been performed on samples derived from 651 individuals, representing the 80.9% of possible cases tested at the Institute.
A colorimetric test detecting the NS1 viral antigen and anti-DENV IgM and IgG (SD Bioline Dengue Duo, Abbott Diagnostics, Abbott Park, IL, USA) was used as preliminary assay between January 2014 and December 2017. From August 2018, the colorimetric test was replaced by fluorimetric RDTs: STANDARD F Dengue NS1 Ag FIA + STANDARD F Dengue IgM/IgG FIA (SD Biosensor, Gyeonggi-do, Republic of Korea).
Two molecular assays to detect DENV RNA were used: a real time RT-PCR (DENV-1-4 Real-Time RT-PCR Multiplex Assay, developed in 2019 by Centers for Disease Control and Prevention (CDC, Atlanta, GA, USA), and a modified Pan-flavivirus specific nested PCR targeting NS5 region. In addition, multiple indirect immunofluorescence assays (IFA, Flavivirus Mosaic 2 or Arboviral Fever Mosaic-2, IgM and IgG (Euroimmun, Lübeck, Germany) were performed for specific IgM and IgG titers measurement and differential diagnosis.
The investigators reported that the combined use of NS1 and IgM/IgG RDT for the detection of acute dengue cases resulted in an overall sensitivity and specificity of 87.2% and 97.9% for Colorimetric RDT, and 96.2% and 96.2% for Fluorimetric RDT. NS1 was the most reliable marker of acute infection, while IgM resulted falsely positive in nine samples, including sera derived from two Zika and four non-arbovirus infected patients.
The authors concluded that although confirmatory tests are still necessary, their experience strongly supported the use of combined NS1 and IgM/IgG rapid dengue tests as first line tools for prompt case identification. The use of these tests aids the clinical management, surveillance activities, and vector control strategies. The study was published on October 1, 2020 in the International
Journal of Infectious Diseases.
Related Links:

Lazzaro Spallanzani National Institute for Infectious Diseases
Abbott Diagnostics
SD Biosensor
Centers for Disease Control and Prevention
Euroimmun