Gene Panel Detects Early Signs of Kidney Transplant Rejection
By Labmedica International staff writers
Posted on 12 Aug 2019
A team of European kidney transplantation researchers has developed and validated an mRNA-based gene set found in peripheral blood that can identify patients with symptoms of antibody-based kidney transplant rejection.
Antibody-mediated rejection, a leading cause of kidney transplantation failure, is currently diagnosed by histological assessment of invasive allograft biopsies. Accurate non-invasive biomarkers are not available, and from 10 to 20% of rejections remain undetected, which leads to graft failure, reinitiation of dialysis, and the need for a repeat transplant.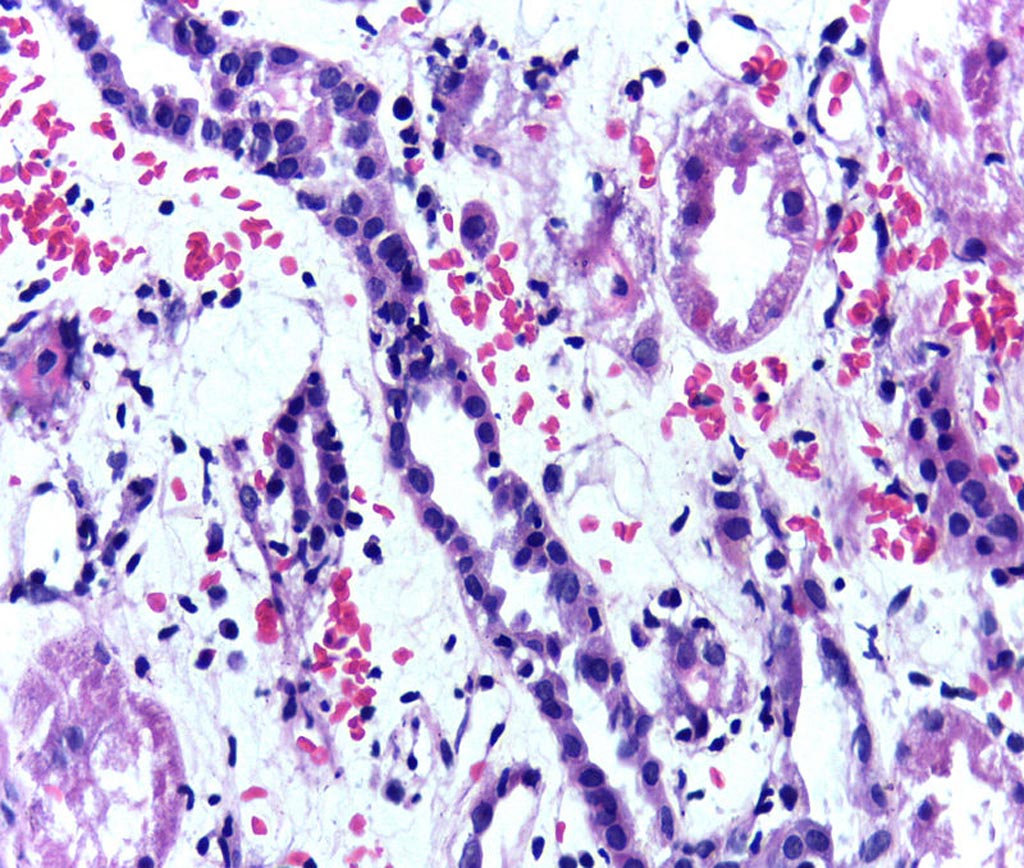 To identify potential rejection biomarkers, investigators at KU Leuven (Belgium) and their collaborators performed a genome-wide study (GWAS) to identify differences in RNA molecules among 117 patients with and without kidney rejection symptoms following transplant. In the second phase of the study, the different molecules of an independent group of 183 patients were processed into a mathematical model. The final biomarker consists of eight RNA molecules that were measured with an RT-PCR technique. In the third phase, the biomarker was validated in 387 patients in four European academic hospitals.
Blood samples for the investigation were prospectively collected from participants in the BIOMARGIN study at time of renal allograft biopsies between June 2011 and August 2016. BIOMARGIN (Limoges, France) was a four-year European collaborative research project that began in March 2013. The consortium brought together 13 complementary partners, including three small and medium enterprises, one technology transfer / management company, five academic laboratories, and four university hospitals from four European Member States (France, Belgium, Germany, and Sweden).
Results obtained during the initial phase of the study served to identify an eight-gene assay (CXCL10, FCGR1A, FCGR1B, GBP1, GBP4, IL15, KLRC1, TIMP1) in blood samples from 49 cases with and 134 cases without antibody-mediated rejection. In the validation cohort, this eight-gene assay discriminated between 41 cases with and 346 cases without antibody-mediated rejection with good diagnostic accuracy. The diagnostic accuracy of the eight-gene assay was retained both at time of stable graft function and of graft dysfunction, within the first year and also later after transplantation.
"Rejection by HLA antibodies often has serious consequences," said senior author Dr. Maarten Naesens, professor of nephrology at KU Leuven. "Traditional tests for assessing the function of transplanted kidneys can often only identify rejection when it is already chronic and irreversible. Thanks to our biomarker, we can detect rejection much earlier and with a simple blood test. Because the test is less invasive, we will be able to test more often than with the current biopsies."
"In principle, our antibody rejection test has been sufficiently validated for commercialization," said Dr. Naesens. "This is the next and necessary step to be able to offer the test to patients. With the test, patients who have no rejection of antibodies will no longer have to undergo a biopsy. The biomarker will also help to detect rejection sooner and will support the search for better medicines against rejection by antibodies."
The eight-gene panel was described in the August 1, 2019, online edition of the journal EbioMedicine.
Related Links:
KU Leuven
BIOMARGIN