Experimental Treatment Eases Symptoms of IBD in Model
By Labmedica International staff writers
Posted on 01 Apr 2019
A recent paper described the use of an experimental enzyme inhibitor to treat and relieve symptoms of inflammatory bowel disease (IBD) in a mouse model.
Only a minority of patients with IBD responds to therapy. Thus, there is an urgent need to identify pathways in IBD to classify patient disease activity, stratify patients that will benefit from targeted therapies such as anti-tumor necrosis factor (TNF), and identify new therapeutic targets.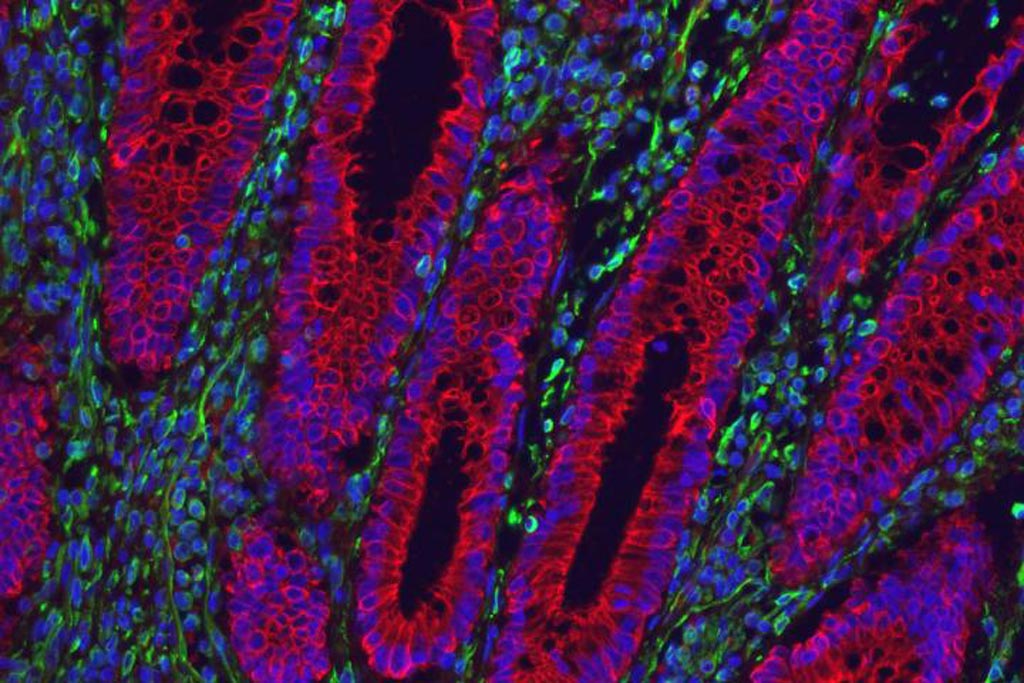 To this end, investigators at Washington University School of Medicine (St. Louis, MO, USA) conducted global transcriptome analyses of 1,800 intestinal biopsies from 14 independent, publicly available IBD datasets to identify IBD-related pathways. The results pointed to the coagulation gene pathway as one of the most enriched gene sets in patients with IBD.
The investigators reported in the March 6, 2019, online edition of the journal Science Translational Medicine that by using this gene-network analysis they found that, among the coagulation pathway genes, plasminogen activator inhibitor-1 (PAI-1) expression was highly enriched in active disease and in patients with IBD who did not respond to anti-TNF biologic therapy.
Plasminogen activator inhibitor-1 (PAI-1) also known as serpin E1 is a protein that in humans is encoded by the SERPINE1 gene. Elevated PAI-1 is a risk factor for thrombosis and atherosclerosis. PAI-1 is a serine protease inhibitor (serpin) that functions as the principal inhibitor of tissue plasminogen activator (tPA) and urokinase (uPA), the activators of plasminogen and fibrinolysis.
The investigators found that intestinal epithelial cells produced tPA, which was protective against chemical and mechanical-mediated colonic injury in mice. In contrast, PAI-1 exacerbated mucosal damage by blocking tPA-mediated cleavage and activation of anti-inflammatory TGF-beta, whereas the inhibition of PAI-1 reduced both mucosal damage and inflammation. Treatment of mice showing IBD-like symptoms with the PAI-1 inhibitor MDI-2268 blocked the inflammatory activity of the protein, and the health of the mice improved. The animals lost less weight, and their intestines showed less destruction and inflammation than mice that were treated with a placebo.
"There is a lot of interest in novel therapeutic approaches for IBD because inhibiting inflammatory molecules does not work for all patients," said senior author Dr. Thaddeus S. Stappenbeck, professor of laboratory and genomic medicine at Washington University School of Medicine. "We found a unique target that is not an inflammatory molecule, and yet blocking it reduces inflammation and signs of disease, at least in mice. If further research bears out our findings, we think this target could be helpful to a greater number of patients. What is most exciting here is that SERPINE-1 and its protein seems to be most highly expressed in people with the most severe disease and those who do not respond to immunosuppressive biologics. No one has ever thought of targeting something like this. But here we have found something that might help lots of people with IBD, especially the ones who are not benefiting much from current therapies."
Related Links:
Washington University School of Medicine