MD Mouse Model Used to Tweak Gene-Editing Protocols
By Labmedica International staff writers
Posted on 25 Mar 2019
A new mouse model of Duchenne muscular dystrophy (DMD) that carries the exon 44 deletion mutation was used to develop strategies for correction of this mutation employing CRISPR/Cas9 to edit surrounding exons, which restores the dystrophin open reading frame.
DMD is caused by mutations in the gene that encodes dystrophin, a protein crucial for maintaining muscle cell integrity and function, and the subsequent disruption of the dystrophin-associated protein complex (DAPC). There are more than 3000 different mutations in the X-chromosome-linked dystrophin gene, and the disease effects about one of every 3,500 boys whose functioning of cardiac and skeletal muscle is so degraded that they die usually before reaching the age of 30. The majority of DMD mutations are deletions that prematurely terminate the dystrophin protein. Development of a method to correct the exon 44 mutation would be expected to benefit about 12% of DMD patients.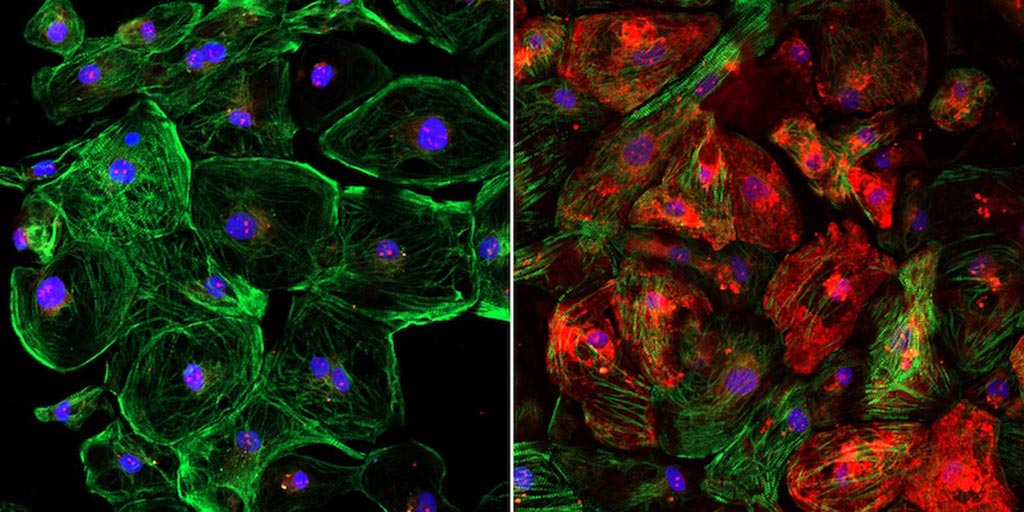 CRISPR/Cas9 is regarded as the cutting edge of molecular biology technology. CRISPRs (clustered regularly interspaced short palindromic repeats) are segments of prokaryotic DNA containing short repetitions of base sequences. Each repetition is followed by short segments of "spacer DNA" from previous exposures to a bacterial virus or plasmid. Since 2013, the CRISPR/Cas9 system has been used in research for gene editing (adding, disrupting, or changing the sequence of specific genes) and gene regulation. By delivering the Cas9 enzyme and appropriate guide RNAs (sgRNAs) into a cell, the organism's genome can be cut at any desired location. The conventional CRISPR/Cas9 system is composed of two parts: the Cas9 enzyme, which cleaves the DNA molecule and specific RNA guides that shepherd the Cas9 protein to the target gene on a DNA strand. Efficient genome editing with Cas9-sgRNA in vivo has required the use of viral delivery systems, which limits some clinical applications.
Investigators at the University of Texas Southwestern Medical Center (Dallas, USA) crafted a simple and efficient strategy for correction of exon 44 deletion mutations by CRISPR/Cas9 gene editing in cardiomyocytes obtained from patient-derived induced pluripotent stem cells and in a new mouse model harboring the same deletion mutation.
The investigators used AAV9 (a harmless adeno-associated virus) to transport the Cas9 enzyme and single guide RNAs. Results reported in the March 6, 2019, online edition of the journal Science Advances demonstrated the importance of the dosages of these gene-editing components for optimal gene correction in vivo. The sgRNAs were found to be limiting for optimal gene editing in vivo and editing efficiency could be enhanced by about 10-fold by optimizing the dose of AAVs encoding Cas9 and sgRNAs.
"As we test CRISPR on other defective parts of the dystrophin gene, it may be important to tweak our formulas for optimal results," said senior author Dr. Eric N. Olson, professor of molecular biology at the University of Texas Southwestern Medical Center. "This new insight further facilitates the use of CRISPR as a therapy for Duchenne and perhaps a number of other diseases. We have more to do before we can use this clinically, but it is exciting to see how far we have come."
Related Links:
University of Texas Southwestern Medical Center