Engineered Ligand Protein Protects Mice from Developing Cancer
By Labmedica International staff writers
Posted on 04 Mar 2019
A team of cancer researchers has developed a recombinant protein molecule that, when injected into mice, was able to protect the animals against subsequent tumor challenge irrespective of the tumor type.
Investigators at the University of Louisville (Kentucky, USA) were working with SA-4-1BBL, an engineered oligomeric form of the 4-1BBL ligand protein. 4-1BB ligand is a membrane bound member of the TNF (tumor necrosis factor) superfamily that is expressed on activated B-lymphocytes, macrophages, and dendritic cells. The ligand is specific for the 4-1BB (CD137) receptor and may play a role in inducing the proliferation of activated peripheral blood T-lymphocytes. 4-1BB is a type two transmembrane glycoprotein receptor belonging to the TNF superfamily, expressed on activated T lymphocytes. It is currently of interest to immunologists as a co-stimulatory immune checkpoint molecule.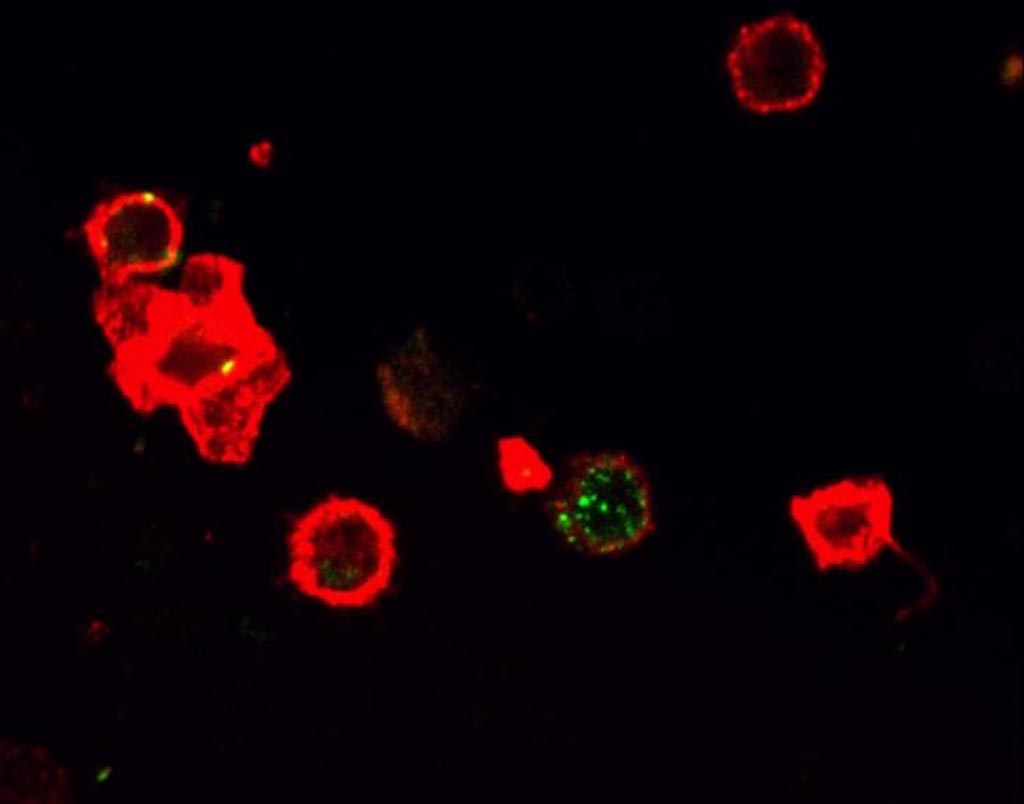 T-cells require two signals to become fully activated. A first signal, which is antigen-specific, is provided through the T-cell receptor (TCR), which interacts with peptide-MHC molecules on the membrane of antigen presenting cells (APC). A second signal, the co-stimulatory signal, is antigen nonspecific and is provided by the interaction between co-stimulatory molecules expressed on the membrane of APC and the T-cell.
Previous studies have shown that co-stimulation through the 4-1BB receptor generates robust CD8+ T-effector and memory responses. The only known ligand, 4-1BBL, is a trimeric transmembrane protein that has no co-stimulatory activity as a soluble molecule. Thus, agonistic antibodies to the receptor have been used for cancer immunotherapy in preclinical models and are currently being evaluated in the clinic.
The investigators reported in the February 15, 2019, issue of the journal Cancer Research that treatment with SA-4-1BBL as a single agent was able to protect mice against subsequent tumor challenge irrespective of the tumor type. Protection was longlasting (more than eight weeks) and a bona fide property of SA-4-1BBL, as treatment with an agonistic antibody to the 4-1BB receptor was ineffective in generating immune protection against tumor challenge.
Mechanistically, SA-4-1BBL significantly expanded IFNgamma-expressing, preexisting memory-like CD44+CD4+ T-cells and NK cells in naïve mice as compared with the agonistic antibody. In vivo blockade of IFNgamma or depletion of CD4+ T or NK cells, but not CD8+ T or B-cells, abrogated the immunopreventive effects of SA-4-1BBL against cancer.
"The novelty we are reporting is the ability of this molecule to generate an immune response that patrols the body for the presence of rare tumor cells and to eliminate cancer before it takes hold in the body," said senior author Dr. Haval Shirwan, professor of microbiology and immunology at the University of Louisville. "Generally, the immune system will need to be exposed to the tumor, recognize the tumor as dangerous, and then generate an adaptive and tumor-specific response to eliminate the tumor that it recognizes. Thus, our new finding is very surprising because the immune system has not seen a tumor, so the response is not to the presence of a tumor. With advances in cancer screening technologies and genetic tools to identify high-risk individuals, we ultimately are hoping to have the opportunity to test the SA-4-1BBL molecule for immunoprevention in individuals who are predisposed to certain cancers, as well as in the presence of precancerous lesions."
Related Links:
University of Louisville