Fluorinated Nanoparticles Facilitate Drug Transfer to Cellular Cytosol
By Labmedica International staff writers
Posted on 23 Jan 2019
In a proof-of-principle study, novel "nanoflower" drug transporters were used to successfully deliver model drug analogues to cells growing in culture.
Despite advances in the development of nanoparticle-based drug transport systems, very few nanomaterials can be efficiently delivered to the cellular cytosol. Investigators at Washington State University (Pullman, USA) chose to attack this problem by designing crystalline nanoflower‐like particles, which were synthesized from fluorinated sequence‐defined peptoids.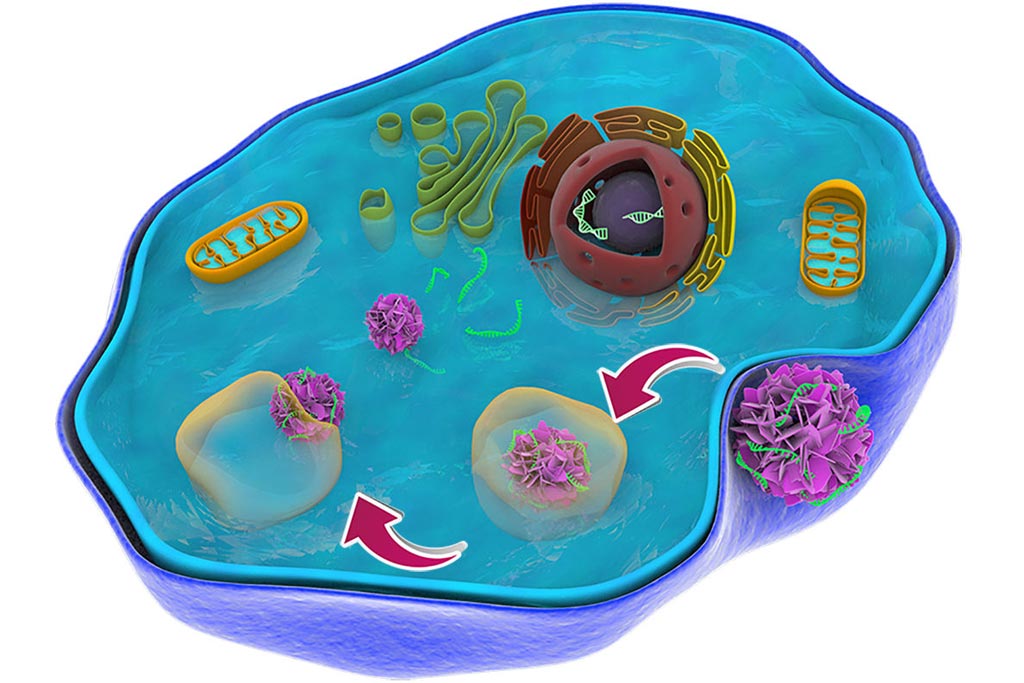 In peptoids the side chain is connected to the nitrogen of the peptide backbone, instead of the alpha-carbon as in peptides. Notably, peptoids lack the amide hydrogen, which is responsible for many of the secondary structure elements in peptides and proteins. In addition, peptoids are not vulnerable to degradation by protease enzymes.
The inclusion of fluorine into the nanoparticle matrix guaranteed that the crystallinity and fluorination of the particles would enable highly efficient cytosolic delivery with minimal cytotoxicity. Fluorination increased lipophilicity because the bond was more hydrophobic than the carbon–hydrogen bond, and helped in cell membrane penetration and hence bioavailability. An added bonus was the fact that the trifluoromethyl moiety is one of the most lipophilic groups known, which has big advantages for the particles' bioavailability.
The investigators crafted flower-like particles of about 150 nanometers in size from sheets of fluorinated peptoids with added fluorescent probes. They reported in the December 27, 2018, issue of the journal, Small that a cytosol delivery rate of 80% had been achieved for the fluorinated peptoid nanoflowers.
These nanocrystals could be adapted to carry therapeutic genes, such as mRNA and effectively deliver the payload into the cytosol, demonstrating the universal delivery capability of the nanocrystals. The results indicated that self‐assembly of crystalline nanomaterials from fluorinated peptoids paved a new way toward development of nanocargoes with efficient cytosolic gene delivery capability.
"To develop nanotechnology for medical purposes, the first thing to consider is toxicity -- That is the first concern for doctors," said senior author Dr. Yueh Lin, professor of mechanical and materials engineering at Washington State University. "The nanoflowers successfully and rapidly escaped and exhibited minimal cytotoxicity. This paves a new way for us to develop nanocargoes that can efficiently deliver drug molecules into the cell and offers new opportunities for targeted gene therapies."
Washington State University filed a patent application for the new technology and is seeking industrial partners for further development.
Related Links:
Washington State University