Blocking Expression of TGF-Beta Preserves Healthy Skin
By Labmedica International staff writers
Posted on 10 Jan 2019
Researchers have identified the molecular mechanism that gives the skin of infants and children that plump, youthful look while producing a peptide that plays a critical role in fighting infections.
Dermal fibroblasts (dFBs) resist infection by locally differentiating into adipocytes (fat cells) and producing cathelicidin antimicrobial peptide in response to Staphylococcus aureus (S. aureus) infection. Cathelicidin-related antimicrobial peptides are a family of polypeptides primarily stored in the lysosomes of macrophages and polymorphonuclear leukocytes (PMNs). They serve a critical role in mammalian innate immune defense against invasive bacterial infection.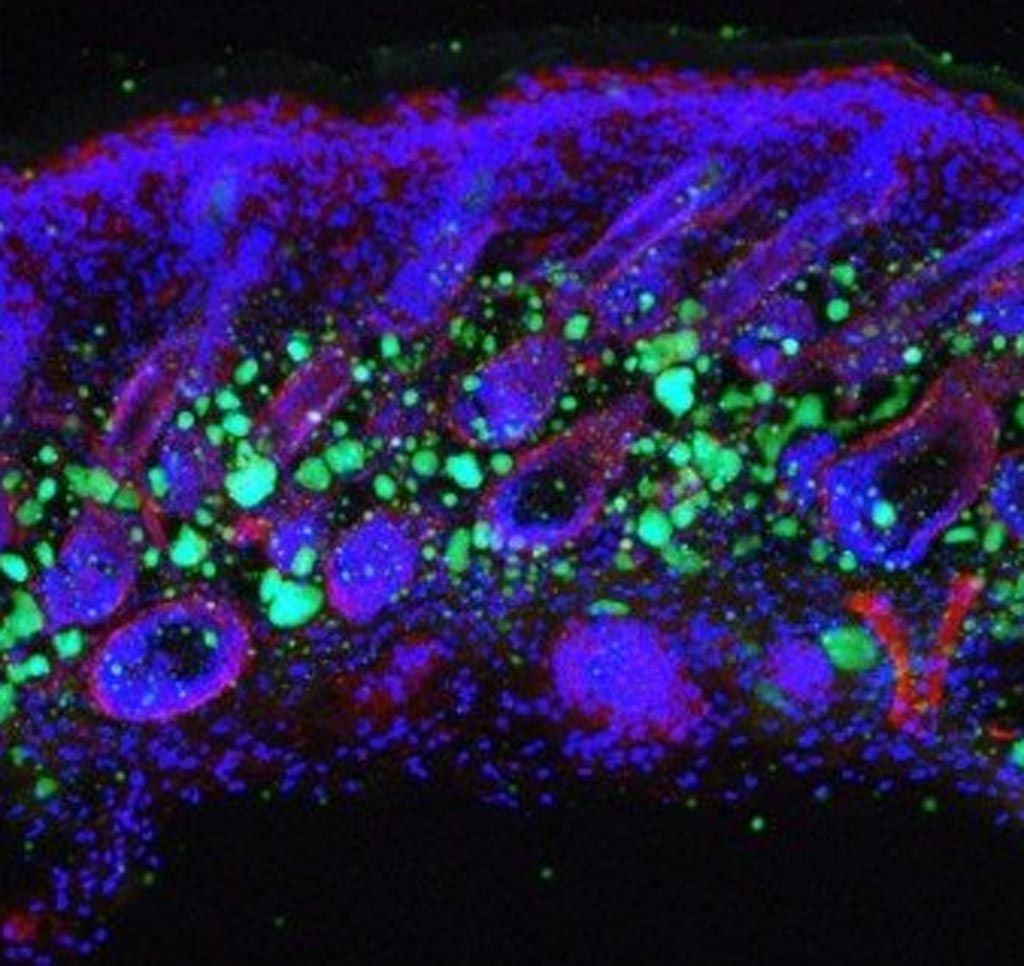 Investigators at the University of California, San Diego (USA) reported in the December 26, 2018, online edition of the journal Immunity that neonatal skin was enriched with adipogenic dFBs and immature dermal fat that highly expressed cathelicidin. The pool of adipogenic and antimicrobial dFBs declined after birth, leading to an age-dependent loss of dermal fat and a decrease in adipogenesis and cathelidicin production in response to infection.
Transforming growth factor beta (TGF-beta), which acted on uncommitted embryonic and adult dFBs and inhibited their adipogenic and antimicrobial function, was identified as a key upstream regulator of this process. Furthermore, inhibition of the TGF-beta receptor (TGFBR) restored the adipogenic and antimicrobial function of dFBs growing in culture and increased resistance of adult mice to S. aureus infection.
"Babies have a lot of this type of fat under the skin, making their skin inherently good at fighting some types of infections. Aged dermal fibroblasts lose this ability and the capacity to form fat under the skin," said senior author Dr. Richard Gallo, professor of dermatology at the University of California, San Diego. "Skin with a layer of fat under it looks more youthful. When we age, the appearance of the skin has a lot to do with the loss of fat. We have discovered how the skin loses the ability to form fat during aging. Loss of the ability of fibroblasts to convert into fat affects how the skin fights infections and will influence how the skin looks during aging."
Related Links:
University of California, San Diego