Gene Therapy Treatment Uses Microparticles to Deliver DNA or RNA
By Labmedica International staff writers
Posted on 18 Dec 2018
A novel gene therapy approach for correcting hereditary blood disorders is based on the use of megakaryocytic microparticles (MkMPs) to deliver plasmid DNAs and small RNAs to hematopoietic stem and progenitor cells (HSPCs).
HSPCs are important target cells for gene therapy applications. However, currently genetic modifications of HSPCs rely on viral vectors, which is a delivery method with considerable risk of side effects to the patient.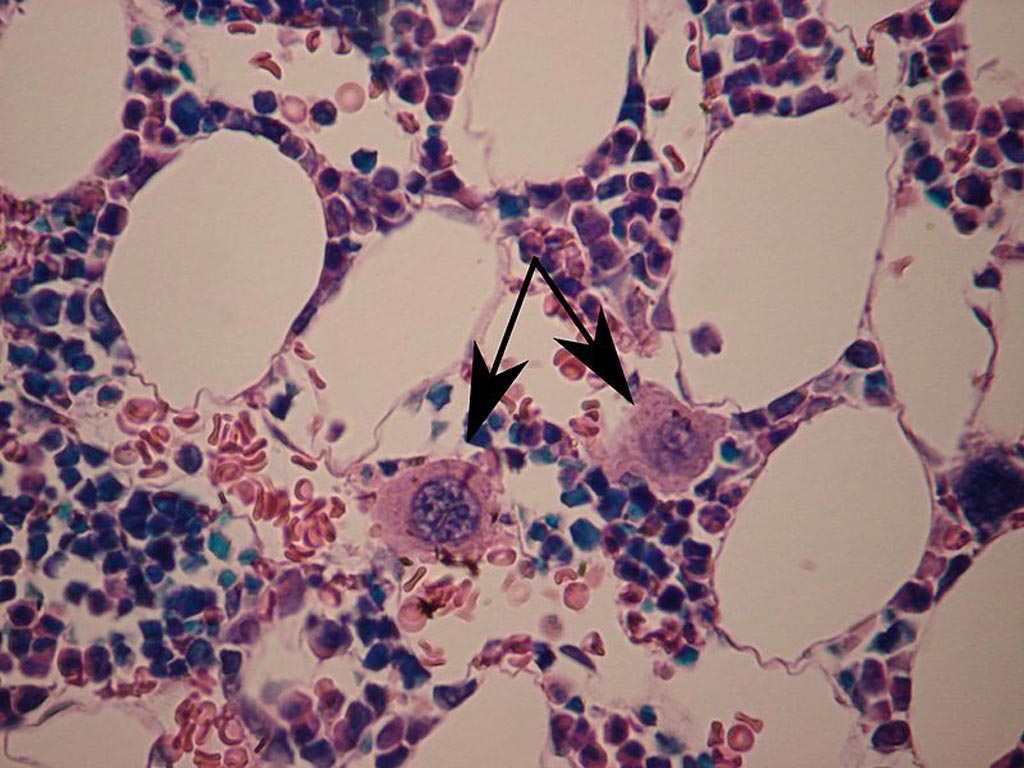 To replace the viral delivery method, investigators at the University of Delaware (Newark, USA) developed a system based on megakaryocytic microparticles (MPs) for targeted delivery of plasmid DNA (pDNA) and small RNAs to HSPCs. Megakaryocytes (Mks) are large polyploidy cells derived from HSPCs upon thrombopoietin (Tpo) stimulation, which, upon maturation and fragmentation, give rise to circulating platelets, as well as to MkMPs, which are the most abundant MPs in circulation. The investigators had shown previously that, in vitro, Mks also shed MkMPs. They had also demonstrated that, in vitro, MkMPs specifically targeted and were taken up by human HSPCs through fusion and/or endocytosis following specific receptor recognition.
The investigators reported in the November 7, 2018, online edition of the journal Science Advances that with an optimized electroporation protocol, an average of 4200 plasmid copies per MP could be loaded into MP, thus enabling effective delivery of green fluorescent protein (GFP)-encoding pDNA to HSPCs and HSPC nuclei, with up to 81% nuclei containing pDNA. Effective functional small interfering RNA (siRNA) and microRNA (miRNA) delivery were also demonstrated.
The investigators also found that human MkMPs could target mouse HSPCs in vivo to induce de novo platelet biogenesis in a simple murine model, thus demonstrating in vivo target specificity and efficacy even when using a cross-species model. Furthermore, patient-specific or generic megakaryocytic MPs could be readily generated and stored frozen, which suggests that this system has great potential for therapeutic applications targeting HSPCs.
"A lot of researchers are trying to deliver DNA, nucleic acids, or drugs to target hematopoietic stem cells," said senior author Dr. Eleftherios T. Papoutsakis, professor of chemical and biomolecular engineering at the University of Delaware. "This is the right cell to target because it gives rise to all blood cells."
Related Links:
University of Delaware