Tumor-Secreted Ligands Induce Fibroblast Behavior
By Labmedica International staff writers
Posted on 07 Nov 2018
Two chemical messengers have been identified that prompt pancreatic tumor-associated fibroblasts to adapt pro- or anti-cancer behavior properties.
Pancreatic ductal adenocarcinoma (PDAC) is poorly responsive to therapies and histologically contains relatively few cancer cells embedded within a dense mixture of extracellular components and noncancerous cells known as the stroma. In pancreatic cancers, this fibrous material is particularly abundant, making up nearly 90% of the tumor mass. Within the stroma, cancer-associated fibroblasts (CAFs) secrete tropic factors and extracellular matrix components, and have been implicated in PDAC progression and chemotherapy resistance.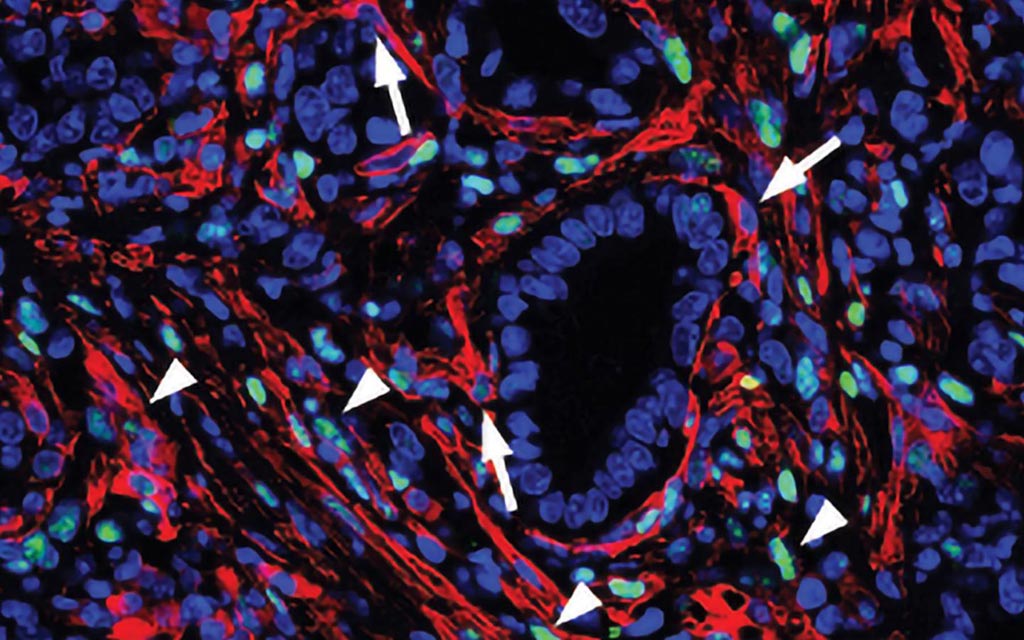 Investigators at Cold Spring Harbor Laboratory (Cold Spring Harbor, NY, USA) recently identified two distinct CAF subtypes characterized by either cancer promoting inflammatory phenotypes or cancer suppressing myofibroblastic ones. However, the mechanisms underlying their diversity and their roles in PDAC remain unknown.
For the current study, which examined the mechanism controlling fibroblast diversity, the investigators used organoid and mouse models to identify the chemicals TGF-beta and IL-1 as tumor-secreted ligands that promoted CAF heterogeneity.
They reported in the October 26, 2018, online edition of the journal Cancer Discovery that IL-1 induced specific enzyme expression and activation to generate inflammatory CAFs, and demonstrated that TGF-beta antagonized this process by downregulating IL-1R1 expression and promoting differentiation into cancer suppressing myofibroblasts.
"These cells can convert into one another, depending on the cues they get from the microenvironment and from the cancer cells," said first author Dr. Giulia Biffi, a post-doctoral researcher at Cold Spring Harbor Laboratory. "This is potentially useful because, in theory, you can shift the tumor-promoting cells to tumor-restraining, rather than just depleting the tumor-promoting cells. Ultimately, patients may benefit most from a combination of therapies that target both the cancer cells and parts of the microenvironment that support their growth."
Related Links:
Cold Spring Harbor Laboratory