Nucleic Acid Therapy Effective in Inflammatory Bowel Disease Model
By Labmedica International staff writers
Posted on 06 Sep 2018
A team of Japanese researchers working with a mouse model recently described a novel method for using microRNAs to treat inflammatory bowel disease (IBD).
MicroRNAs (miRNAs) and short interfering RNAs (siRNA) comprise a class of about 20 nucleotides-long RNA fragments that block gene expression by attaching to molecules of messenger RNA in a fashion that prevents them from transmitting the protein synthesizing instructions they had received from the DNA. MiRNAs resemble siRNAs of the RNA interference (RNAi) pathway, except miRNAs derive from regions of RNA transcripts that fold back on themselves to form short hairpins, whereas siRNAs derive from longer regions of double-stranded RNA. With their capacity to fine-tune protein expression via sequence-specific interactions, miRNAs help regulate cell maintenance and differentiation.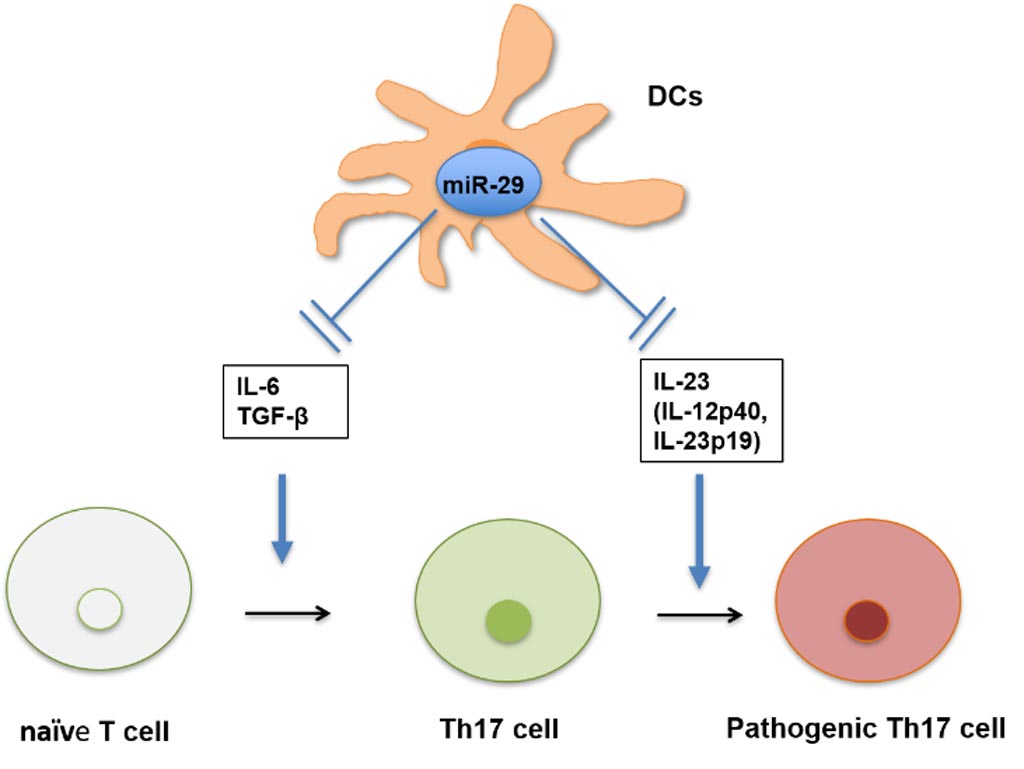 Several miRNAs had been shown earlier to suppress the production of inflammatory cytokines such as TNF-alpha and interleukin-6 (IL6) that cause symptoms of IBD. However, there has not been an efficient method available for delivering miRNAs to the affected area.
Investigators at Osaka University (Japan) had been using a mouse model system to search for a means of delivering targeted doses of therapeutic miRNAs to the inflamed gut region. In this regard, they described the use of microRNA-29 (miR-29) and a supercarbonate apatite (sCA) nanoparticle as a drug delivery system in the September 7, 2018, issue of the journal Molecular Therapy-Nucleic Acids.
The investigators reported that injection of sCA-miR-29a-3p or sCA-miR-29b-3p into mouse tail veins markedly prevented inflammation caused by dextran sulfate sodium (DSS)-induced colitis. RNA sequencing analysis revealed that miR-29a and miR-29b could inhibit the interferon-associated inflammatory cascade. Subcutaneous injection of sCA-miR-29b also potently inhibited inflammation, and it efficiently targeted CD11c+ dendritic cells (DCs) among various types of immune cells in the inflamed mucosa. RT-PCR analysis indicated that the miR-29 RNAs in CD11c+ DCs suppressed the production of interleukin-6 (IL-6), transforming growth factor beta (TGF-beta), and IL-23 subunits in DSS-treated mice.
Although only modest amounts of miRNA were delivered to the inflamed colonic mucosa, the sCA-miRNA complex was preferentially captured by CD11c+ tissue dendritic cells in the colon, and this caused a molecular modulation that inhibited maturation toward pathogenic T-cells. This feature of sCA may be particularly useful for efficient therapy of IBD, in which dendritic cells play a central role.
"Our technique to deliver miRNAs to DCs - major players in immune responses - will shape the future of medical care. sCA can be used to treat a wide range of immunity and allergic disorders caused by immune responses. The results of our study will lead to the development of new drugs for treating these disorders," said senior author Dr. Hirofumi Yamamoto, professor of molecular pathology and gastroenterological surgery at Osaka University.
Related Links:
Osaka University