Protocol Published for Manufacture of 3D-Printed Probes for Research
By Labmedica International staff writers
Posted on 24 Aug 2018
A detailed protocol for producing microfluidic probes (MFPs) by simple three-dimensional (3D) printing was evaluated and made public for the general research community.
Currently, MFPs cannot be easily produced on demand due to their complex fabrication procedures and are expensive to manufacture in large quantities because of the assembly procedures that are required.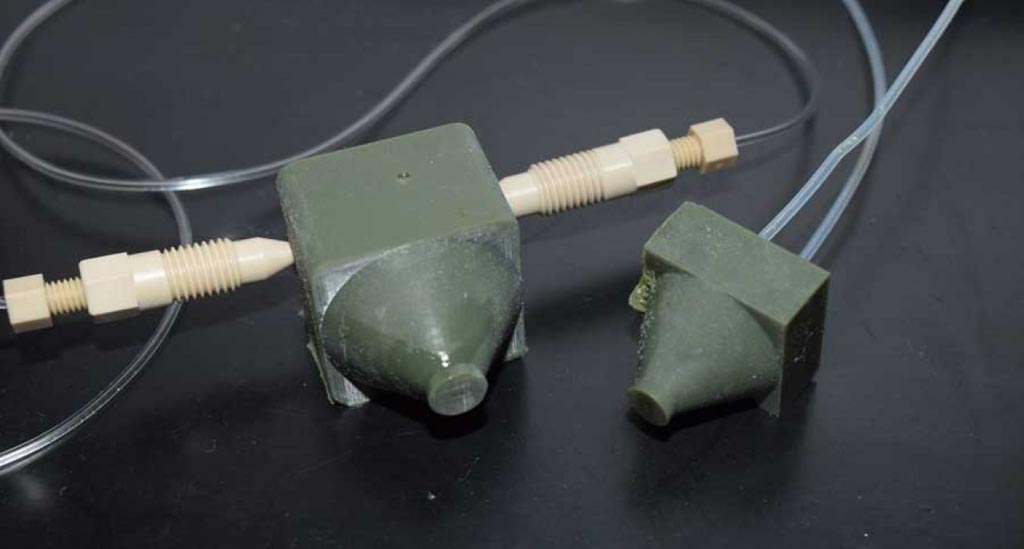 In a novel use of recent technical innovations, investigators at NYU Abu Dhabi (United Arab Emirates) fabricated MFPs in a single step by stereolithographic three-dimensional printing and benchmarked their performance compared to standard MFPs fabricated via glass or silicon micromachining.
Stereolithography is an additive manufacturing process that operates by focusing an ultraviolet (UV) laser on to a vat of photopolymer resin. With the help of computer aided manufacturing or computer-aided design (CAM/CAD) software, the UV laser is used to draw a pre-programmed design or shape on to the surface of the photopolymer vat. Photopolymers are sensitive to ultraviolet light, so the resin is photochemically solidified and forms a single layer of the desired three-dimensional object. Then, the build platform lowers one layer, and a blade recoats the top of the tank with resin.
In a paper published in the July 20, 2018, online edition of the journal Scientific Reports, the investigators highlighted the benefits of the method as well as the potential complications that arose during the process, and presented strategies for avoiding such complications. By presenting two different designs that used different approaches and focused on different aspects, the objective was to show the different design and fabrication possibilities, and hint at the broad applicability using virtually any moderate to high resolution printer. Effectiveness of the MFP's performance was validated by evaluating standard staining of living adherent cells in Petri dishes.
The investigators have made their CAD files available to the general scientific community in order to enable researchers to test the "print & probe" approach using their own stereolithographic three-dimensional printers.
"Three-dimensional printers provide a simple, rapid, and low-cost technique for fabricating MFPs," said senior author Dr. Mohammad Qasaimeh, assistant professor of mechanical and biomedical engineering at NYU Abu Dhabi. "It is cheaper to produce, easy to scale up, and fast to fabricate -- all steps, from design to product, can be made in less than a day, and as a result, any science lab with a moderate resolution stereolithography printer will be able to fabricate three-dimensional MFPs on demand and use them to process cells reliably."
Related Links:
NYU Abu Dhabi