RBC Transporters Used for Targeting Nanoparticle Drug Carriers
By Labmedica International staff writers
Posted on 14 Aug 2018
A novel, patent pending nanoparticle drug delivery system uses red blood cells to transport drug carriers directly to selected target organs with minimal exposure to other areas of the body.
The used of nanocarriers (NCs) for drug delivery has been complicated by the dominant uptake of the particles by the liver and subsequent limited target organ deposition, even when the NCs were targeted using affinity markers.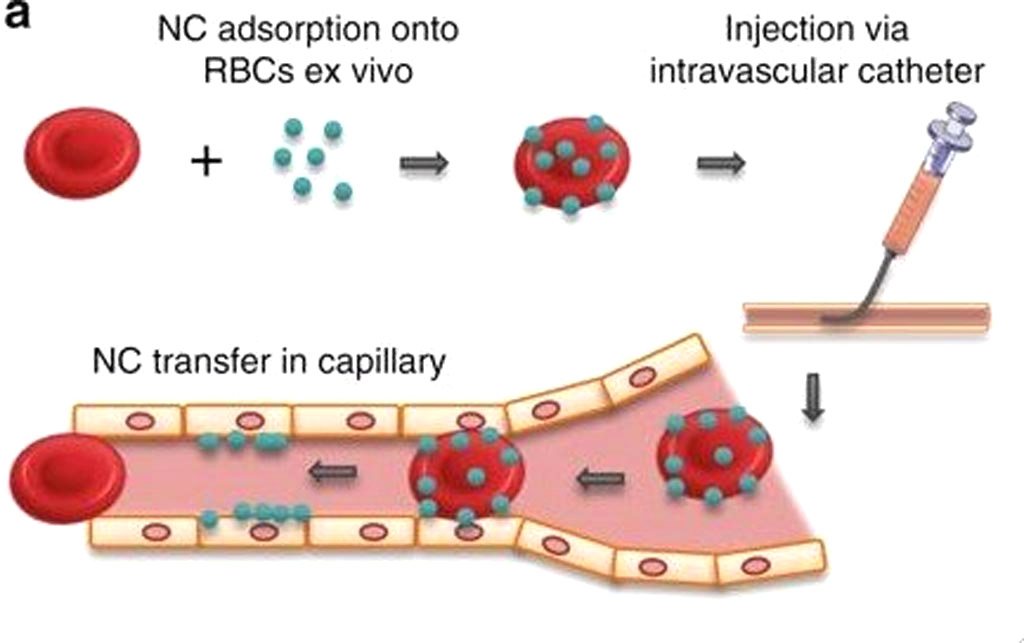 To increase the precision of NC drug transport, investigators at the University of Pennsylvania (Philadelphia, USA) devised a universal solution: red blood cell (RBC)-hitchhiking (RH), in which NCs adsorbed onto the RBCs transferred from RBCs to the first organ downstream of the intravascular injection. This approach significantly increased the concentration of drugs ferried to selected organs.
The investigators reported the outcome of a proof-of-principle study in the July 11, 2018, online edition of the journal Nature Communications. They said in this paper that use of RH carriers increased drug uptake in the lungs by about 40-fold following intravenous injection as compared to absorption of freely circulating drug carriers. Furthermore, injection of RH drug carriers into the carotid artery delivered about 10% of the injected dose to the brain, an amount that was approximately 10 times higher than what was obtained by using antibodies to guide drug carriers to target organs. The investigators further reported that RH worked in mice, pigs, and ex vivo human lungs without causing RBC or end-organ toxicities.
"Red blood cells are a particularly attractive carrier due to their biocompatibility and known safety in transfusions," said senior author Dr. Vladimir Muzykantov, professor of systems pharmacology and translational therapeutics at the University of Pennsylvania. "In just a few short years since we began this work, we are now on the brink of mapping out ways to test it in clinical trials. The body's largest surface area of cell-to-cell interaction is observed between red blood cells and blood vessel linings, so it is intriguing to think that our RH technology has uncovered a phenomenon in which RBCs naturally transport cargo on their surfaces."
Related Links:
University of Pennsylvania