Nanospear Technology Developed for Directed Gene Therapy
By Labmedica International staff writers
Posted on 29 Mar 2018
A novel delivery system for macromolecular compounds such as genes depends on nanoscale splinter-like structures that have been termed "nanopsears."
Currently, gene therapy relies on modified viruses, external electrical fields, or harsh chemicals to penetrate cell membranes and deliver genes to target cells. Each of these methods has its own shortcomings; it can be costly, inefficient, or cause undesirable stress and toxicity to cells.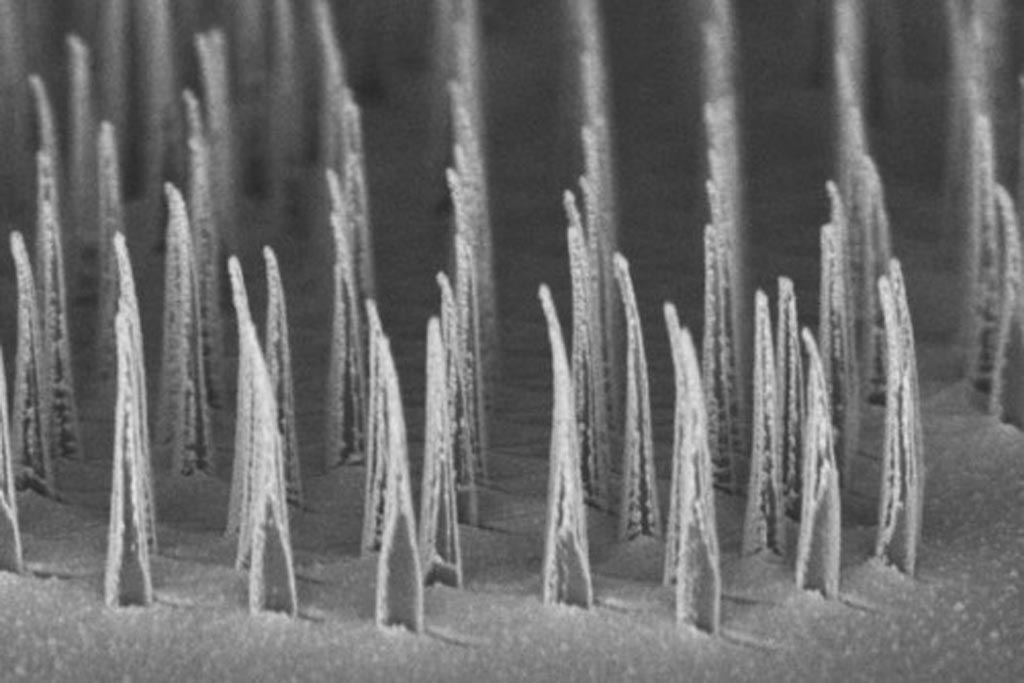 In an effort to circumvent these shortcomings, investigators at the University of California, Los Angeles (USA) developed an efficient nonviral platform for high-throughput and subcellular precision-targeted intracellular delivery of nucleic acids in cell culture based on magnetic nanospears. The biodegradable nanospears were composed of silicon, nickel, and gold. They could be mass-produced inexpensively and efficiently, and, due to their size, could deliver genetic information with minimal impact on cell viability and metabolism.
A magnet was used to direct the mechanical motion of a single nanospear, enabling precise control of position and three-dimensional rotation. The nanospears were further functionalized with enhanced green fluorescent protein (eGFP)-expression plasmids via a layer-by-layer approach before release from the underlying silicon substrate. Plasmid functionalized nanospears were guided magnetically to approach target adherent U87 glioblastoma cells, penetrating the cell membrane to enable intracellular delivery of the plasmid cargo.
Results published in the March 14, 2018, online edition of the journal ACS Nano revealed that after 24 hours, the target cell expressed green fluorescence indicating successful transfection. Nanospear-mediated transfection was readily scalable for the simultaneous manipulation of multiple cells using a rotating magnet. Cell viability was greater than 90% and transfection rates exceeding 80% were achieved, which outperformed conventional nonviral intracellular methods.
"We knew how to make nanostructures of different shapes in massive numbers using simple fabrication strategies," said senior author Dr. Paul Weiss, professor of chemistry, biochemistry, materials science, and engineering at the University of California, Los Angeles. "Once we had that in hand, we realized we could make precise structures that would be of value in gene therapies. One of the amazing things about working at UCLA is that for each of the targeted diseases, we collaborate with leading clinicians who already have gene therapies in development. They have the gene-editing cargo, model cells, animal models, and patient cells in place so we are able to optimize our nanosystems on methods that are on the pathway to the clinic."
Related Links:
University of California, Los Angeles