High-Resolution Analysis of Leishmanial Ribosome Provides Clues for Drug Design
By Labmedica International staff writers
Posted on 08 Sep 2016
Derived from a 2.8-Å cryo-EM map, researchers have achieved an atomic resolution structure of the Leishmania donovani large ribosomal subunit (rLSU). Comparison with other eukaryotes and with bacteria provides an important framework for better understanding ribosome biogenesis and a solid structural basis for developing highly selective therapeutics against Leishmania and closely related parasites.
Leishmania is a single-cell eukaryotic parasite of the Trypanosomatidae family of microbes, whose members cause various debilitating and often fatal diseases. A team of researchers from the Weizmann Institute of Science (Rehovot, Israel), University of Michigan Life Sciences Institute (Ann Arbor, MI, USA), and Hebrew University-Hadassah Medical School (Jerusalem, Israel), have now obtained the first high-resolution snapshots of the parasites' ribosome, providing a detailed structural map of the rLSU.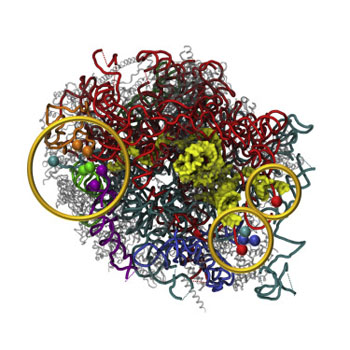 The unique features that make the Trypanosomatid ribosome distinct from other eukaryotes are what make it such an attractive drug target as "you need to be able to attack the pathogen without harming the host's cells," said study co-leader Prof. Georgios Skiniotis, PhD, U. Michigan. Study co-leader Prof. and 2009 Nobel Laureate Ada Yonath, PhD, Weizmann Institute, added: Previous studies were able to obtain resolutions of 5.6 angstroms and 12 angstroms. The new study obtained a resolution of 2.8 angstroms — which revealed a nearly complete atomic structure and new functional details.
Among other findings, the work enabled direct observation of eukaryotic rRNA modifications (e.g. 2'-O methylations) known to play roles in ribosome assembly and function. These observations showed that leishmanial rRNA is fragmented and hyper-modified at unique positions and that fragmented rRNA termini converge into three focal points involving 5.8S.
The study, by Shalev-Benami M, Zhang Y, et al, was published in the July 12, 2016, issue of the journal Cell Reports.
Related Links:
Weizmann Institute of Science

University of Michigan Life Sciences Institute
Hebrew University-Hadassah Medical School