New Method Tested for Early Diagnosis Pediatric Diabetic Nephropathy
By LabMedica International staff writers
Posted on 04 Aug 2016
In type 1 diabetic patients who have progressed to the final stages of nephropathy, kidney failure eventually develops in 50% of individuals within 10 years after the onset of overt nephropathy and in greater than 75% by the 20-year mark.
Nephropathy is diagnosed through the detection of increased urinary albumin excretion, but a growing body of evidence suggests that the risk for developing diabetic nephropathy starts when urinary albumin excretion levels are still within the normal range. If the onset of nephropathy could be detected before urinary albumin rises, patients could potentially be placed on treatment to prevent its development.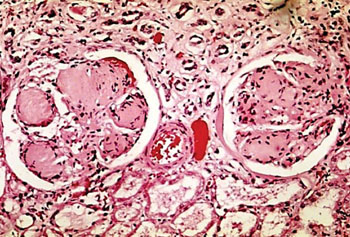 A team of scientists at the Aghia Sophia Children's Hospital (Athens, Greece) has determined that two proteins, growth differentiation factor-15 (GDF-15) and chitinase-3-like protein 1 (YKL-40), could be used to detect diabetic nephropathy early. The team tested 56 type 1 diabetes patients mean age 13.1 ± 3.2 years and 49 healthy controls ages 12.8 ± 6.6 years, for GDF-15 and YKL-40 which were performed by means of immunoenzymatic and immunonephelometric techniques at time of enrollment in the study and after 12 to15 months. Also at these two time points, they evaluated subjects' kidney function by measuring cystatin C to determine estimated glomerular filtration rate (eGFR) and measuring neutrophil gelatinase associated lipocalin (NGAL).
The teams found that after 12 to 15 months, GDF-15 levels in diabetes patients were significantly higher at 366.7 pg/mL than in healthy controls at 278.6 pg/mL. Initially, no significant difference in YKL-40 measurements was observed between diabetes patients and controls at time of enrollment, but over the course of the study, mean YKL-40 levels in diabetes patients proceeded to increase from 17.4 ng/mL to 20.5 ng/mL. GDF-15 levels also correlated negatively with eGFR values, while YKL-40 levels correlated positively with NGAL and GDF-15, indicating that rises in both proteins reflect a decline in kidney function.
Ioannis Papassotiriou, PhD, the team leader, said, "This is the first study to demonstrate a predictive role for serum GDF-15 and YKL-40 as early markers of diabetic nephropathy in children and adolescents with type 1 diabetes before severe overt nephropathy occurs. Defining new predictors as supplementary tests to urinary albumin excretion for the early diagnosis of diabetic nephropathy could accelerate effective management and treatment approaches needed to minimize the rates of severe renal morbidity and mortality in young patients with type 1 diabetes."
Related Links:
Aghia Sophia Children's Hospital

Latest AACC 2016 News