Molecular Test Detects Three Arboviruses in Plasma Samples
By Labmedica International staff writers
Posted on 04 Aug 2016
Currently, multiple arboviruses are circulating in Brazil: Zika, chikungunya and dengue and they have similar clinical pictures, which can lead to misdiagnosis based on clinical grounds alone.
Detection tests for viral ribonucleic acid (RNA) such as the quantitative reverse transcription polymerase chain reaction (RT-qPCR) can reliably and specifically distinguish the three viruses and the specific diagnosis can be important in anticipating, preventing, and managing complications.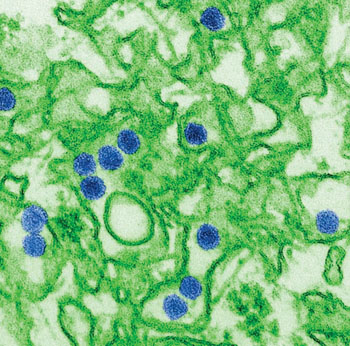 Scientists at the Laboratório Sabin (Brasília, Brazil) and their colleagues collected 90 plasma samples from the routine arbovirus laboratory, 20 positive for Zika (RT-qPCR), six positive for chikungunya (RT-qPCR), 18 positive for dengue nonstructural protein 1 antigen test (NS-1) and 46 negative for all three viruses. Nucleic acids were extracted from 1mL of sample by using an automated DNA extractor. An in-vitro transcribed random RNA sequence, which is not found in the nature, was spiked into plasmas during the nucleic acids extraction to function as a process control. Primers/probes for chikungunya were specifically designed for this study.
Zika, chikungunya and dengue viruses were assessed simultaneously by RT-qPCR, but in independent reaction wells. The control RNA was co-amplified in all instances. The viral loads of specific samples were quantified against a serial dilution of synthetic single-stranded DNA (ssDNA) and the limits of detection of each assay were determined by probit regression analysis. To investigate the precision of the assays, three samples at ~72, ~7.2 and ~0.72 copies/mL of each viruses were evaluated by using the Clinical and Laboratory Standards Institute (CLSI) EP12-A2 method during five days in quadruplicate by two operators.
The investigators reported that the limits of detection were 26 copies/mL for Zika, 23.5 copies/mL, for chikungunya and 25.6 copies/mL for dengue. The ~72, ~7.2 and ~0.72 copies/mL samples yielded 18/20 (90%), 2/20 (10%) and 1/20 (5%) positive results for Zika, 18/20 (90%), 4/20 (20%) and 0/20 (0%) positive results for chikungunya and 20/20 (100%), 16/20 (80%) and 0/20 (0%) positive results for dengue, respectively. The total, positive and negative agreements between compared methods were 95.5%, 90% and 97.5 for Zika, 100% for all methods for chikungunya and 95.6%, 100% and 94.5%, for dengue, respectively. No cross-reaction was observed.
The authors concluded that the RT-PCR method for simultaneous detection of Zika, chikungunya and dengue viruses is highly sensitive, all assays showed limit of detection below 50 copies/mL. Moreover, cut-off regions were characterized and acceptable precisions were observed for positive (~72 copies/mL and above) and negative (~0.72 copies/mL and below) results. Finally, the agreements with the comparative methods were very good, above 90% of concordance in all instances. The study was presented at the 68th American Association of Clinical Chemistry (AACC) Annual Scientific Meeting held July 31 to August 4, 2016, in Philadelphia, PA, USA.
Related Links:
Laboratório Sabin

American Association of Clinical Chemistry
Latest AACC 2016 News