New Inkjet-Printed Diagnostics-on-Demand Demonstrated at AACC 2015
By Labmedica International staff writers
Posted on 18 Aug 2015
An inkjet-based innovation for high-tech printing on paper opens the door to lower cost, rapid (point-of-care) POC testing, and was demonstrated during the 2015 AACC Meeting & Clinical Lab Expo (July 26-30; Atlanta, GA, USA).
The new XylemDx technology developed Cambridge Consultants (Cambridge, UK) is set to bring a breakthrough innovation to POC diagnostics. Ingenious use of inkjet printing techniques has made it possible to create a test cartridge from a single sheet of paper, paving the way for sophisticated low-cost tests that can be adapted at the touch of a button. Also, the digital fabrication technique (once regulatory approval is secured) will give the flexibility to print tests in quantities from one to millions.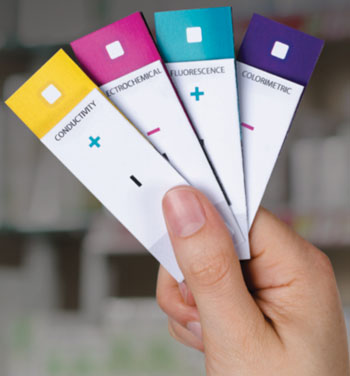 Aging populations, the drive for healthcare efficiency, and the rapid rise of "consumer healthcare"—where people manage their own health and well-being—are fueling an increase in POC diagnostics. But the high cost of POC tests compared with centralized lab tests is a challenge. XylemDx enables simple, low-cost, near-instant personalized testing, for example, at the pharmacy or doctor's surgery, for signs ranging from the latest strain of the flu virus to biomarkers for genetic conditions. In developing countries, it could play a crucial role in mobile-clinic diagnostics and in pandemic monitoring and screening of large populations during an outbreak of Ebola, for example.
XylemDx turns a sheet of paper into any one of a variety of different tests, each of which can be produced on the same fabrication device. Each test paper can be configured with a custom set of test modules (such as electronic, thermal, fluidic, optical, or biological reagent modules) before being folded concertina-style into the traditional test cartridge shape. For diagnostic manufacturers, this opens up the possibility of low-cost prototyping and development, as well as a universal production methodology. The modules "toolbox" enables customization for a particular patient or specific strain of disease.
The test modules are printed with inkjet-based printing techniques that use wax to lay down fluidic pathways, electronic ink containing silver nanoparticles to allow electrical connectivity, and so on. The paper cartridges can be configured for various samples types (such as blood, urine, saliva, or mucus) and various readers (from complex diagnostic instruments to a reader on the back of a smartphone or a simple USB-powered device).
"Diagnostic tests underpin crucial healthcare decisions so it's vital they are as fast, accurate, flexible, and cost-effective as possible," said John Pritchard, head of diagnostics at Cambridge Consultants, "Cambridge Consultants has a rich history of inkjet printing and we've now brought that expertise to the world of POC diagnostics. Combined with our extensive scientific and engineering knowledge—including our long track record in the low-cost, high-performance optics that many of these tests require—it's resulted in a radical new way of providing diagnostics on demand."

Related Links:
Cambridge Consultants