Portable Molecular Diagnostics System Unveiled At 2015 AACC
By Labmedica International staff writers
Posted on 30 Jul 2015
The world's most portable molecular diagnostics system has been unveiled enabling unprecedented access to accurate, fast and potentially life-saving diagnosis for patients suspected of tuberculosis, human immunodeficiency virus, (HIV) and Ebola in even the most remote areas of the world.
The GeneXpert Omni (Cepheid, Sunnyvale, CA, USA) is on display at the American Association of Clinical Chemistry (AACC) meeting in Atlanta, Georgia, USA, Booth 2811, from July 28–30, 2015. The system is expected to be available outside the US for emerging market customers in the first half of 2016. At or near launch, the available test menu is expected to include Xpert MTB Ultra, Xpert HIV-1 Qualitative, Xpert HIV-1 Viral Load, Xpert HCV Viral Load, and Xpert Ebola.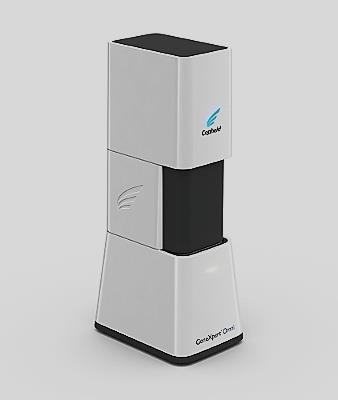 The GeneXpert Omni is only 23 cm tall and weighs about one kg and will run the same high quality polymerase chain reaction (PCR)-based cartridge tests as Cepheid's existing family of GeneXpert Systems. Additionally, the GeneXpert Omni is battery-operated, wireless and web-enabled, setting a new standard in connectivity to transmit instrument and test information in real-time. The GeneXpert Omni is expected to substantially extend the reach of Cepheid's industry-leading technology platform, enabling true point-of-care testing for life-threatening conditions, including tuberculosis, drug-resistant tuberculosis, HIV and Ebola, to be conducted on demand at the patient's location.
John L. Bishop, Chairman and Chief Executive Officer of Cepheid, said, "For too long, access to best-in-class molecular diagnostics has been limited by the complexity of the tests and the systems that run them. With the GeneXpert Omni, global accessibility to molecular diagnostics is possible for the first time. The system's unprecedented portability means that it can literally go anywhere, and deliver critical diagnostic test results to support disease determination, treatment, and improved patient outcomes."
Catharina Boehme, MD, Chief Executive Officer of the non-profit foundation FIND (Geneva, Switzerland), said, "The majority of people in the developing world still lack access to adequate tests for common diseases, and Cepheid's GeneXpert Omni has the potential to be a breakthrough platform on the path to achieving universal diagnosis. Cepheid and FIND share a commitment to enabling universal access to high quality diagnostics for people in the developing world, dating back to 2006 with the Xpert diagnostic test for MTB/RIF, followed by Xpert HIV and, most recently, the next-generation Xpert MTB Ultra. These innovations show the power of collaboration to positively impact public health and patient lives in developing countries."
Related Links:
Cepheid
American Association of Clinical Chemistry
FIND