Device Converts Smartphone into Fluorescence Microscope for Just USD 50
By LabMedica International staff writers
Posted on 14 Mar 2023
Fluorescence microscopes are utilized to examine specimens labeled with fluorescent stains or expressing fluorescent proteins, like those tagged with green fluorescent protein. However, since these microscopes come with a hefty price tag of several thousand US dollars, their use is typically limited to well-funded research labs. Now, a new device called the "Glowscope" can transform a smartphone or tablet into a fluorescence microscope for less than USD 50. This device allows for imaging of cells, tissues, and organisms under low magnification and can be used in schools, science outreach settings, and even in research labs.
The glowscope, devised by scientists at Winona State University (Winona, MN, USA), is built using materials like plexiglass and plywood frame, a clip-on camera lens, an LED torch, and theatre stage lighting filters. Using the frame, a smartphone or tablet is positioned above a specimen while the lens is clipped onto the phone or tablet camera to enable magnification. The specimen is illuminated by the LED torch and a lighting filter is placed over the lens to filter out unwanted wavelengths of light, allowing for visualization of fluorescent light emitted by the specimen.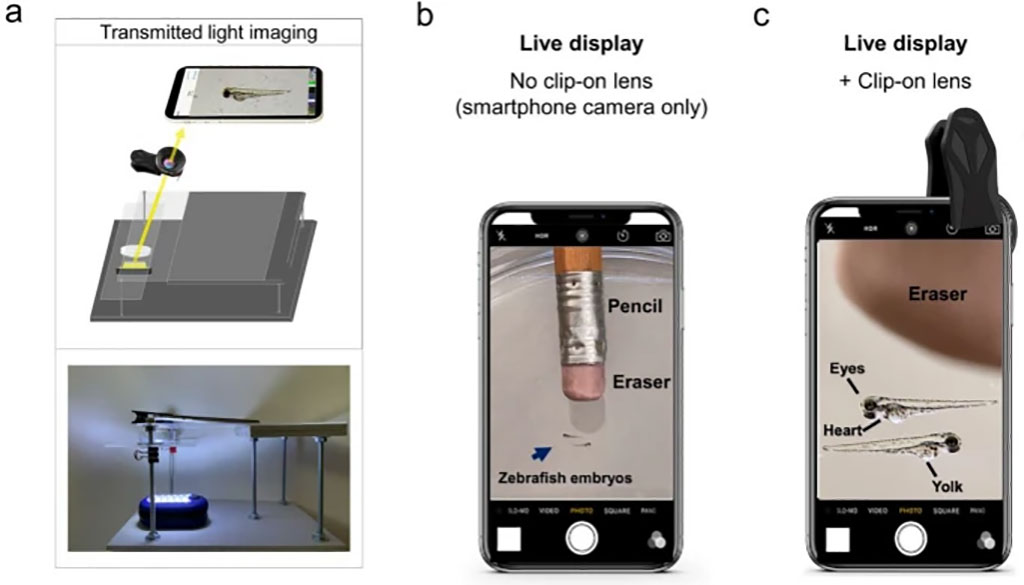 The scientists used live zebrafish embryos which are between two to three millimeters long and express fluorescent proteins in the spinal cord, cardiac tissue, or hindbrain to demonstrate the efficiency of the glowscope. The clip-on lens provided an approximately five-fold magnification and could image green and red fluorescent tissues with a resolution of up to 10 micrometers which is adequate to view individual pigment cells. With the glowscope, the scientists were able to measure the embryos' heart rates and even observe the movements of individual heart chambers after enhancing the clarity of the videos using free software.
With the materials cost ranging from USD 30 to USD 50, the glowscope presents an affordable alternative to expensive fluorescence microscopes. Scientists have suggested that school students could use glowscopes to study behavior, physiology, development, genetics, and anatomy in small organisms expressing fluorescent proteins that could be obtained from research labs. Additionally, research labs without access to multiple fluorescence microscopes could acquire video data by simultaneously utilizing several glowscopes and smartphones, according to the scientists.
Related Links:
Winona State University