Epidermal Patch Simultaneously Monitors Hemodynamic and Metabolic Biomarkers
By LabMedica International staff writers
Posted on 24 Mar 2021
Intertwined with concepts of telehealth, the internet of medical things, and precision medicine, wearable sensors offer features to actively and remotely monitor physiological parameters. Monitoring of single physical parameters, such as the electrocardiogram and blood pressure (BP), as well as biochemical parameters, such as glucose, using non-invasive wearable sensors has been reported.
Heart rate (HR) and BP, two of the most important vital signs, can dynamically and directly reflect the physiological status of the body. These cardiovascular parameters can be affected by fluctuations of various biomarker concentrations originating from activities such as movement, stress or the intake of food, drinks and drugs that can lead to sudden and sometimes lethal alterations.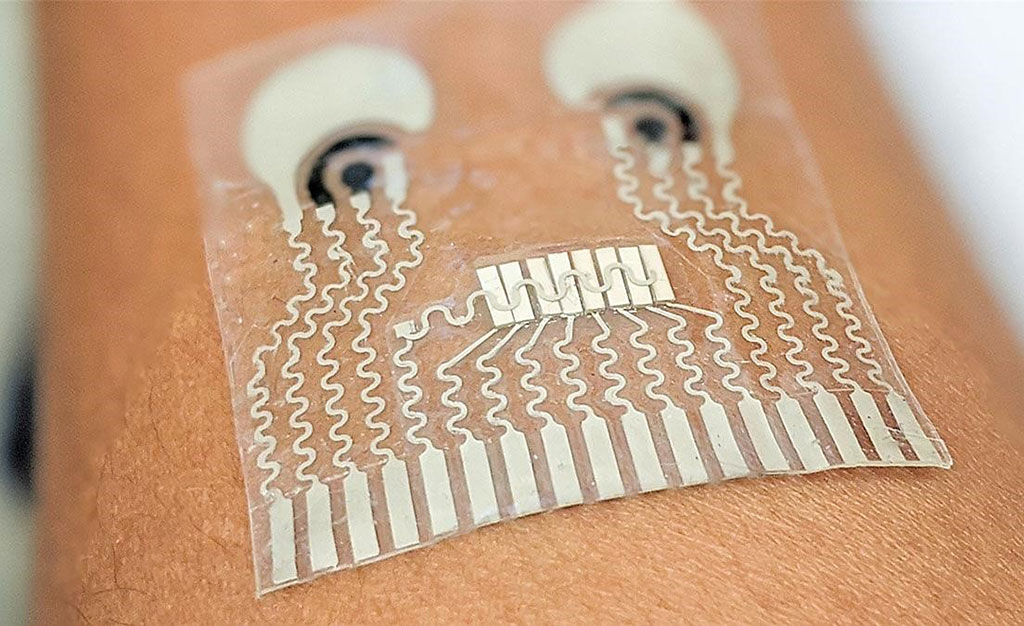 Nanoengineering experts at the University of California, San Diego (La Jolla, CA, USA) have developed an all-in-one health monitoring device that can reliably measure glucose, lactate, and blood pressure using a soft, stretchy skin patch the size of a postage stamp. It is notoriously difficult to do blood pressure monitoring and metabolite sensing at the same time in the human body due to signal interference when chemical and ultrasound hydrogels intermix.
The blood pressure sensor sits near the center of the device and consists of a set of small ultrasound transducers that are welded to the substrate by a conductive ink. A voltage applied to the transducers causes them to send ultrasound waves into the body and, when they bounce off an artery, the sensor detects the echoes and translates the signals into a blood pressure reading.
The chemical sensors are a pair of electrodes screen-printed on the patch from conductive ink. One electrode can sense either lactate (a biomarker of physical exertion), caffeine, or alcohol, and is printed on the right side of the patch together with the sweat stimulation system, which works by releasing the sweat-inducing drug pilocarpine into the skin for detection of chemical substances in that sweat. The other electrode senses glucose and is printed on the left side of the patch where the interstitial fluid extraction system is located. It works by passing a mild electrical current through the skin to pull out interstitial fluid so glucose can be measured in that fluid.
Glucose, lactate, alcohol, and blood pressure signals were validated against a commercial ACCU-CHEK glucometer (Roche Diagnostics, Indianapolis, IN, USA), blood-lactate meter (NOVA Biomedical, Waltham MA, USA), a BACtrack S80 Pro breathalyzer (San Francisco, CA, USA), and FDA-approved blood pressure cuff, respectively. Caffeine concentrations were estimated by standard addition methodology using collected sweat. An electrochemical impedance analyzer was used to stimulate sweat and extract interstitial fluid simultaneously.
The authors concluded that in human volunteers, the device captured physiological effects of food intake and exercise, in particular the production of glucose after food digestion, the consumption of glucose via glycolysis, and increases in blood pressure and heart rate compensating for oxygen depletion and lactate generation. The study was published on February 15, 2021 in the journal
Nature Biomedical Engineering.
Related Links:

University of California, San Diego
Roche Diagnostics
NOVA Biomedical
BACtrack