Butterfly-Inspired Imaging Sensor Accurately Detects Cancer Cells
By LabMedica International staff writers
Posted on 06 Nov 2023
Ultraviolet (UV) light is a type of electromagnetic radiation that has a shorter wavelength than visible light but longer than X-rays. It is divided into three categories: UVA, UVB, and UVC, each with its unique range of wavelengths. Detecting UV light is complex since it's invisible to the human eye, which makes it difficult to distinguish between these categories. In contrast, butterflies have the capability to see the slight variances in the UV spectrum in the same way humans perceive different colors such as blues and greens. This ability of the Papilio xuthus butterfly has now inspired researchers to create a sensor that can detect UV light which is otherwise undetectable by human eyes.
At the University of Illinois Urbana-Champaign (Urbana, IL, USA), scientists have engineered a sensor that includes layers of photodiodes and utilizes perovskite nanocrystals (PNCs) to image the UV spectrum. PNCs are semiconductor nanocrystals with distinct features that are adaptable based on their size and composition, much like quantum dots, which changes their absorbance and emission traits. These have become promising materials for various sensor-based applications including in solar cells and LED technology. PNCs are notably effective in identifying UV and wavelengths lower than what traditional silicon detectors can handle. In this new sensor, the PNC layer captures UV photons and converts them into visible light (in the green spectrum), which is then recorded by the underlying silicon photodiodes. By processing these readings, the sensor can map and identify UV signatures with precision.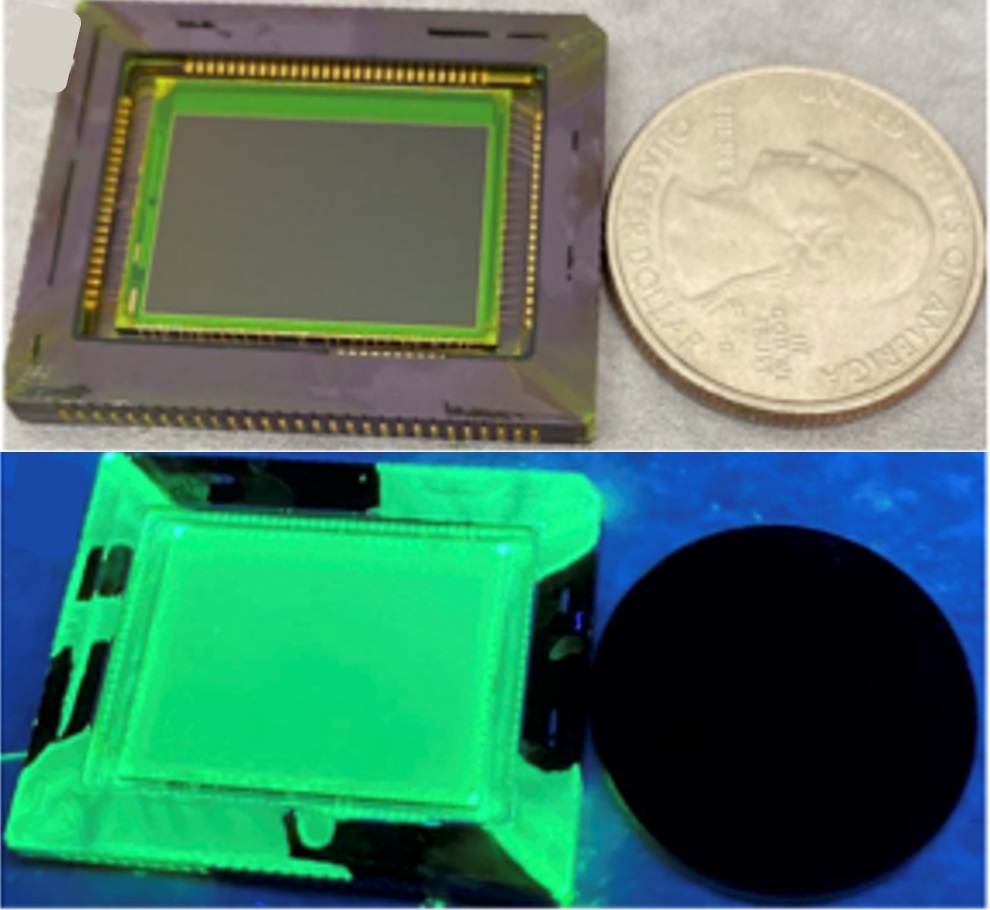 Cancerous tissues often contain higher levels of certain biomedical markers such as amino acids, proteins, and enzymes compared to healthy tissues. When stimulated by UV light, these substances emit a fluorescence in the UV and visible spectrums—a phenomenon known as autofluorescence. This difference in fluorescence between cancerous and healthy cells, due to varying concentrations of these markers, allows them to be distinguished from one another. The researchers tested their imaging technology on its ability to differentiate markers associated with cancer, and it proved to distinguish between cancerous and non-cancerous cells with a 99% level of certainty. The developers of this sensor anticipate its use in surgical settings, assisting surgeons in determining the extent of tissue removal needed to achieve cancer-free margins, thereby supporting the surgical decision-making process in tumor removal.
"Imaging in the UV region has been limited and I would say that has been the biggest roadblock for making scientific progress," said bioengineering professor Shuming Nie who led the research. "Now we have come up with this technology where we can image UV light with high sensitivity and can also distinguish small wavelength differences. This new imaging technology is enabling us to differentiate cancerous versus healthy cells and is opening up new and exciting applications beyond just health."
Related Links:
University of Illinois Urbana-Champaign