PD-L1 Expression in Circulating Tumor Cells Investigated for NSCLC
By LabMedica International staff writers
Posted on 07 Sep 2021
In non-small cell lung cancer (NSCLC), analysis of programmed cell death ligand 1 (PD-L1) expression in circulating tumor cells (CTCs) is a potential alternative to overcome the problems linked to the tumor biopsy spatiotemporal heterogeneity. However, the prognostic significance of PD-L1-positive [PD-L1(
+
)] CTCs remains controversial.
Circulating tumor cells (CTCs) might better reflect the tumor heterogeneity than tissue biopsies because they arise from different tumor sites. Furthermore, as CTCs are collected using a minimally invasive method (blood sampling), they can be analyzed longitudinally as liquid biopsies, and might provide information on the different mechanisms of treatment resistance.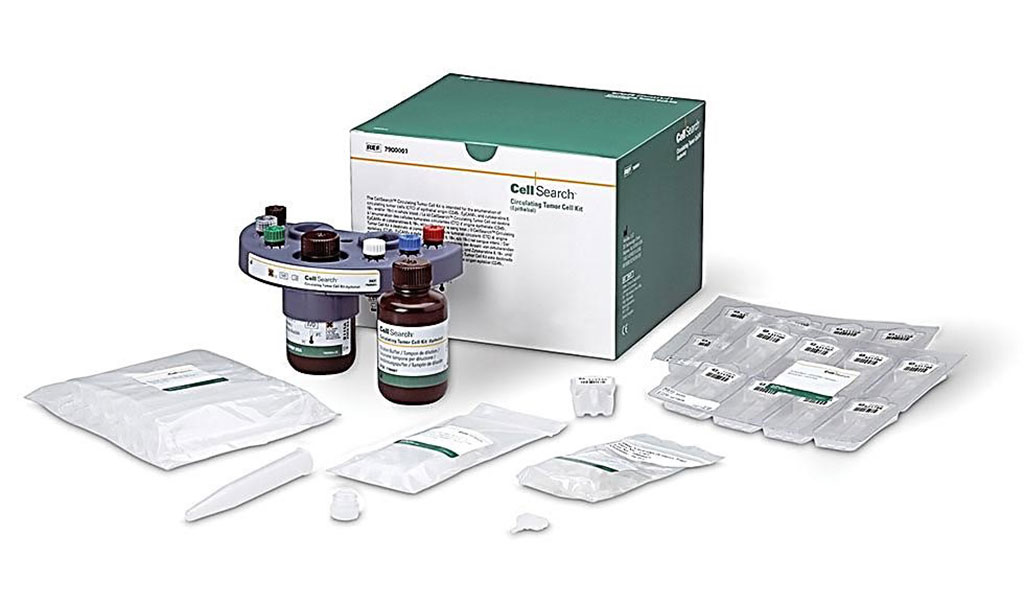 Oncologists and their colleague at the University Medical Centre of Montpellier (Montpellier, France) prospectively enrolled between June 2016 and June 2018 patients older than 18 years of age with histologically confirmed stage III or IV NSCLC. Blood sampling was performed at diagnosis, before the first treatment (n = 9), or later, at progression, before the next therapeutic line (n = 45).
Blood was drawn from the arm vein in specific 10 mL CellSave tubes (Menarini Silicon Biosystems, Bologna, Italy) for CTC detection. Blood samples were processed immediately with the CellSearch system (Huntington Valley, PA, USA). PD-L1 expression in CTCs was evaluated with the antihuman B7-H1/PD-L1 fluorescein isothiocyanate-conjugated antibody (R&D System, Minneapolis, MN, USA).
The investigators reported that they detected CTCs and PD-L1(
+
) CTCs in 43.4% and 9.4% of patients with NSCLC. PD-L1 expression concordance between tumor tissue and CTCs was low (54%). The presence of PD-L1(
+
) CTC correlated with the absence of gene alterations in tumor tissue and with poor prognosis-related biological variables (anemia, hyponatremia, increased lactate dehydrogenase). In univariate analysis, absence of gene alterations, number of metastatic sites, prior systemic therapies, and presence of CTCs and PD-L1(
+
) CTCs were associated with worse overall survival, whereas PD-L1 expression in tumor tissue was not. In multivariate analysis, squamous cell carcinoma histology, number of prior systemic treatments, and the presence of CTC were significantly associated with overall survival. Survival was worse in patients with PD-L1(
+
) CTCs than in patients with PD-L1-negative CTC or without any CTC.
The authors concluded that their data confirmed the feasibility of PD-L1 detection on CTCs in patients with advanced NSCLC, using the CellSearch technology, and suggest a negative prognostic impact of the PD-L1(
+
) CTC subpopulation. The weak concordance between PD-L1 expression on the tumor tissue and CTCs and the finding that only PD-L1 expression on CTCs predicted the clinical outcome suggest that tissue biopsy and CTCs are two complementary tools. The study was published on August 6, 2021 in the journal
Clinical Chemistry.
Related Links:

University Medical Centre of Montpellier
Menarini Silicon Biosystems
CellSearch
R&D System