Combining Biomarkers Predicts Metastasis in Medullary Thyroid Carcinoma
By LabMedica International staff writers
Posted on 18 Mar 2020
Medullary thyroid carcinoma (MTC) is a neuroendocrine neoplasm originating from thyroid parafollicular C cells and accounts for only 5% of all thyroid cancers, but its malignancy is relatively high, causing 8% to 13% of thyroid cancer‐related deaths due to its aggressiveness.
It has been reported that MTC can synthesize and secrete a variety of bioactive substances, such as calcitonin (Ctn), carcinoembryonic antigen (CEA), and neuron‐specific enolase (NSE). Numerous reports have shown that the expression levels of Ctn and CEA are related to cervical lymph node metastasis,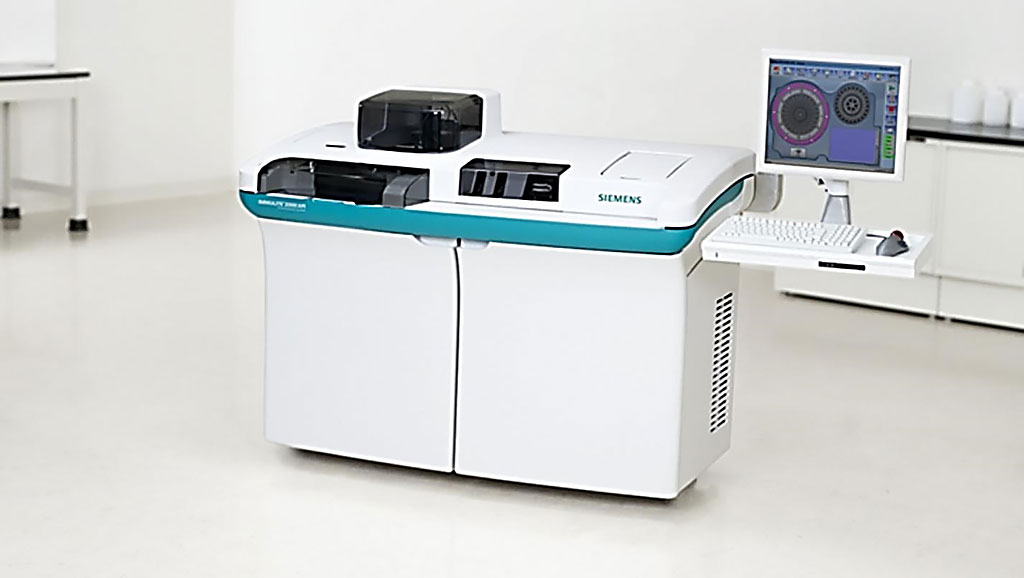 Clinical Laboratory Scientists at the Sir Run Run Shaw Hospital (Hangzhou, China) enrolled 74 consecutive patients (39 males and 35 females, mean age 51.4 ± 12.9 years) who underwent surgery for untreated MTC, from January 2013 to April 2019. Fasting blood samples were drawn from all patients before surgery in the morning and transported to the laboratory within three hours after phlebotomizing. Cervical lymph node dissection was performed during thyroidectomy.
Serum Ctn was measured via Siemens IMMULITE 2000 automatic chemiluminescence immunoassay analyzer (Siemens Healthcare Diagnostics Ltd, Erlangen Germany); serum alpha‐fetoprotein (AFP), carbohydrate‐associated antigen 19‐9 (CA19‐9), and CEA were measured by Siemens Centaur XP automatic chemiluminescence immunoassay analyzer; serum cytokeratin 19 fragment (CYFRA21‐1) and NSE were measured by Roche Cobas e 602 automatic electrochemical luminescence immunoanalyzer (Roche Diagnostics GmbH, Mannheim, Germany). Immunohistochemistry was used to make the diagnosis of MTC, if the case was difficult to determine by routine pathology techniques.
The scientists reported that the rate of lateral lymph node metastasis (LLNM) in their study was 48.64% (36/74). The expression levels of serum Ctn, CEA, and NSE in MTC with LLNM were significantly higher than those without LLNM; however, there was no significant difference in the levels of serum AFP, CYFRA21‐1, CA19‐9, and CA242 between the two groups.
The area under the curve (AUC) predicted by serum Ctn, CEA, and NSE for LLNM in MTC patients was 0.867, 0.831, and 0.726, respectively, and the AUC of serum Ctn, CEA, and NSE combined detection was up to 0.89, higher than using a single biomarker. The sensitivity and specificity of serum Ctn, CEA, and NSE combined detection in prediction of LLNM were 88.9% and 81.6%, respectively.
The authors concluded that the concentrations of serum Ctn, CEA, and NSE are closely related to LLNM in MTC, and the combined detection of all three biomarkers has a higher clinical value in the evaluation of MTC patients with LLNM. The study was published on March 6, 2020 in the
Journal of Clinical Laboratory Analysis.
Related Links:

Sir Run Run Shaw Hospital
Siemens Healthcare Diagnostics
Roche Diagnostics
Latest Pathology News