Targeted RNA Sequencing Technology Diagnoses Breast Cancer
By LabMedica International staff writers
Posted on 01 Oct 2019
In recent years, RNA-sequencing (RNA-seq) technology has become the standard for transcriptome analysis because of its flexibility, sensitivity, and accuracy in measuring gene expression. RNA-seq is a technology in which cDNA is derived from RNA, followed by library construction and massively parallel deep sequencing.
Next-generation DNA sequencing is rapidly becoming an indispensable tool for genome-directed cancer diagnostics, but next-generation RNA sequencing (RNA-seq) is currently not standard in clinical diagnostics for expression assessment. However, multigene RNA diagnostic assays are used increasingly in the routine diagnosis of early-stage breast cancer.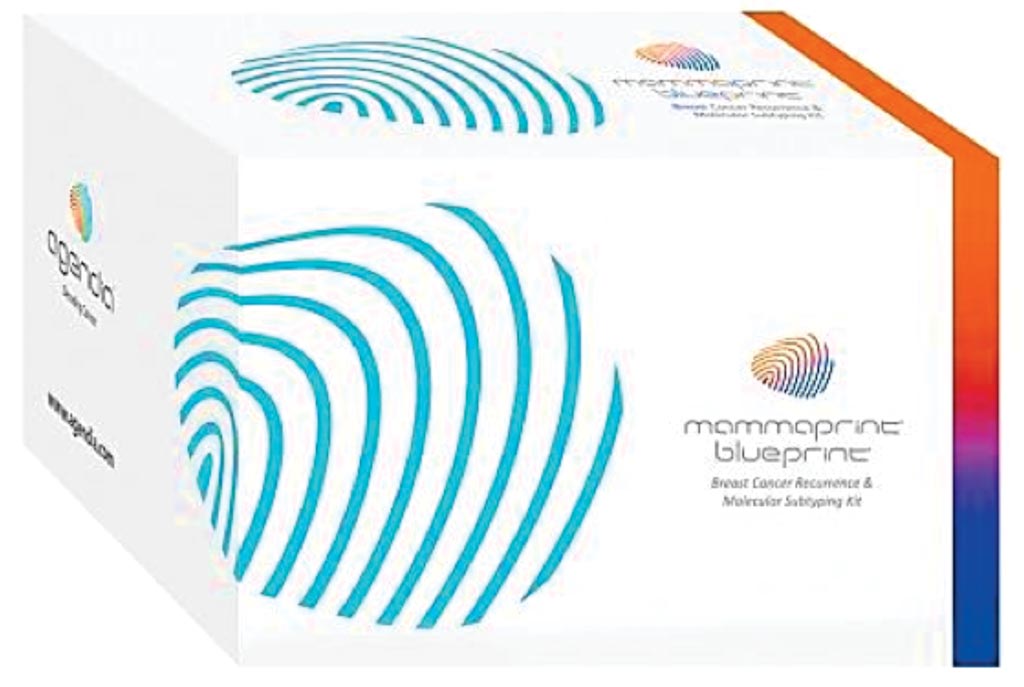 Scientists from Agendia NV (Amsterdam, the Netherlands) selected formalin-fixed paraffin-embedded (FFPE) tissues that complied with certain criteria for their in vitro diagnostic tests: stage I, stage II, and operable stage III invasive breast cancer, tumor size ≤5.0 cm, and lymph node–negative and one to three lymph node–positive patients; ii) They had microarray MammaPrint results covering the entire MammaPrint index range; iii) They had at least five samples for each of the three BluePrint subtypes based on microarray analysis. In addition to these including criteria, FFPE samples selected for the clinical comparison had a minimum follow-up of five years from the date of diagnosis.
To develop the targeted RNA NGS MammaPrint/BluePrint test, the team used a modified version of the Agilent SureSelectXT procedure, which combines a strand-specific RNA library with an RNA Enrichment System starting from FFPE tissue. The FFPE RNA quality was assessed using the he Agilent 2100 Bioanalyzer instrument. FFPE Total RNA was chemically fragmented to an appropriate size (approximately 200 nucleotides), and the RNA fragments were bound to random primers. Quality and quantity of the cDNA adapter–ligated library were assessed using the Agilent 2100 Bioanalyzer instrument. Samples were single-end sequenced on the Illumina MiSeq or MiSeq DX.
The scientists evaluated the use of RNA-seq as a decentralized method to perform such tests. The MammaPrint and BluePrint RNA-seq tests were found to be equivalent to the clinically validated microarray tests. The RNA-seq tests were highly reproducible when performed in different locations and were stable over time. The MammaPrint RNA-seq test was clinically validated. Their data demonstrated that RNA-seq can be used as a decentralized platform, yielding results substantially equivalent to results derived from the predicate diagnostic device.
The authors concluded that the successful translation of the MammaPrint microarray test to an NGS-based test highlights the robustness of the biology behind the MammaPrint test, which underwent several translations over time and still proves to be a reliable tool for personalized medical care. The study was published in the September 2019 issue of the Journal of Molecular Diagnostics.
Related Links:
Agendia