Masspec Pen Evaluated for Rapid Diagnosis of Cancer
By LabMedica International staff writers
Posted on 20 Jun 2019
Ovarian cancer is a highly lethal disease and the fifth leading cause of all cancer-related deaths in women. Accurate diagnosis and stratification of ovarian cancer is important to develop personalized treatment approaches.
Current methods for intraoperative tissue evaluation can be time intensive and subjective. A handheld and biocompatible device coupled to a mass spectrometer, has been developed, which uses a discrete water droplet for molecular extraction and rapid tissue diagnosis.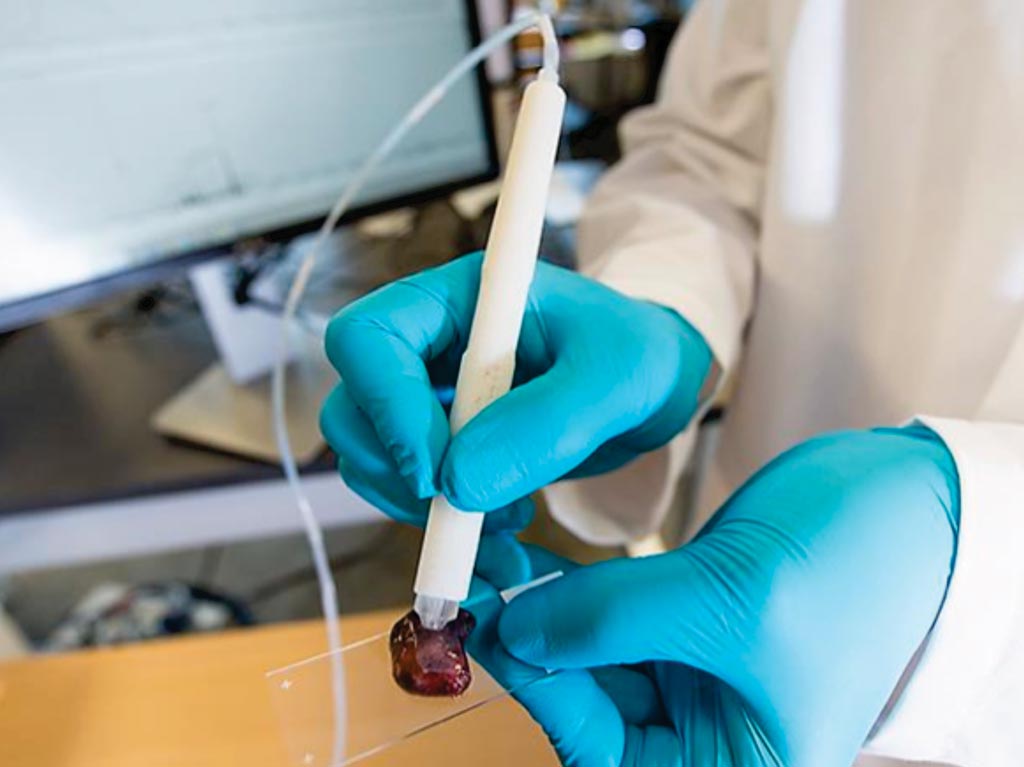 Scientists at The University of Texas at Austin (Austin, TX, USA) used the devise called the MasSpec Pen to analyze its performance on 192 ovarian, fallopian tube, and peritoneum tissue samples. The analyzed area of the tissue was demarcated and registered through optical images. Demarcated tissue or a parallel piece was frozen and sectioned at 10–16 μm using a CryoStar NX50 cryostat (Thermo Fisher Scientific, Waltham MA, USA), stained by standard hematoxylin and eosin procedure, and evaluated by expert pathologists to confirm diagnosis of the analyzed area. Performance using an Orbitrap and a linear ion trap mass spectrometer was tested. Of note, the final diagnoses were performed after MasSpec Pen analyses. Only 164 samples with clear diagnosis were used for statistical analysis.
The team reported that a high performance for 131 high-grade serous carcinoma (clinical sensitivity, 96.7%; specificity, 95.7%) and 138 overall cancer (clinical sensitivity, 94.0%; specificity, 94.4%) diagnoses was achieved using Orbitrap data. Discrimination between cancer and fallopian tube or peritoneum tissues was also achieved with accuracies of 92.6% and 87.9%, respectively, and 100% clinical specificity for both. Using ion trap data, excellent results for high-grade serous cancer versus normal ovarian differentiation were achieved.
The authors concluded that the MasSpec Pen, together with machine learning, provides robust molecular models for ovarian serous cancer prediction and thus has potential for clinical use for rapid and accurate ovarian cancer diagnosis. The study was published in the May 2019 issue of the journal
Clinical Chemistry.
Related Links:

The University of Texas at Austin
Thermo Fisher Scientific