Immunohistochemical Stain Facilitates cHL Diagnosis
By Labmedica International staff writers
Posted on 11 Mar 2019
Remarkable efforts are underway to exploit classic Hodgkin lymphoma's (cHL) complex interplay of molecular alterations, loss of B-cell programming, and dependency of tumor microenvironment.
Tumor necrosis factor receptor superfamily member 9 or CD137 has been shown to induce proliferation and enhance the survival and function of T cells, natural killer cells, and dendritic cells. Conceptually, agonistic anti-CD137 is categorized as a co-stimulatory immunotherapy with the potential to manipulate the tumor microenvironment and accentuate antitumor response.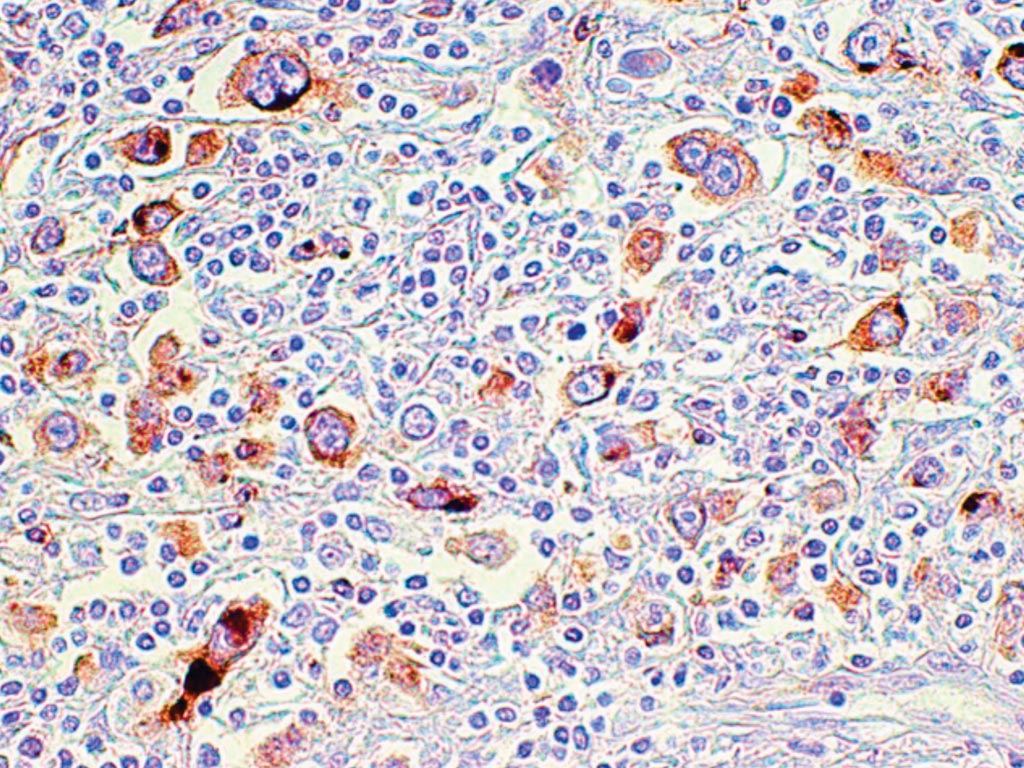 Pathologists at the Naval Medical Center Portsmouth (Portsmouth, VA, USA) and The University of New Mexico School of Medicine (Albuquerque, NM, USA) constructed tissue microarrays from formalin-fixed, paraffin-embedded tissue including 42 cases of cHL, 33 cases of nodular lymphocyte–predominant Hodgkin lymphoma (NLPHL), 16 cases of anaplastic large cell lymphoma, and seven cases of T-cell/histiocyte–rich large B-cell lymphoma. They validated anti-CD137 monoclonal BBK-2 clone, using protease retrieval and a dilution of 1:100.Tissue microarrays were then stained with CD137 as well as CD15, CD20, and CD30 and reviewed by two pathologists.
The scientists assigned positive staining if 20% or more of the malignant cells were positive regardless of strength of staining. Of the cHL cases, 76% were positive for CD137, 85% were positive for CD15, 100% were positive for CD30, and 13% were positive for CD20. Interestingly, CD137 was positive in all cHL cases where CD15 was negative. Conversely, CD15 was positive in 88% of cHL cases that were negative for CD137. Furthermore, CD137 was positive in 6% of NLPHL cases, 38% of anaplastic large cell lymphoma cases, and in none of the T-cell/histiocyte–rich large B-cell lymphoma cases.
The authors concluded that, although CD137 is not specific for cHL, it has utility in the immunohistochemistry (IHC) evaluation for cHL, in particular when the morphologic distinction with NLPHL is challenging. Additionally, it is easy to interpret, with minimal nonspecific background staining. Lastly, CD137 expression has been identified in several solid and hematopoietic neoplasms, and determination of this expression via IHC may prove to be a valuable biomarker of response to CD137 immunotherapy. The study was published in the March 2019 issue of the journal Archives of Pathology & Laboratory Medicine.
Related Links:
Naval Medical Center Portsmouth
University of New Mexico School of Medicine