Retina Protein Antibodies Used As Kidney Cancer Marker
By Labmedica International staff writers
Posted on 28 Jan 2019
Renal cell carcinoma (RCC) is the second-most common uronephrological cancer. In the absence of specific symptoms, early diagnosis of RCC is challenging. Monitoring of the aberrant expression of tumor-associated antigens (TAAs) and related autoantibody response is considered as a novel approach of RCC diagnostics.
The initial stages of kidney cancer have no signs or specific symptoms, and therefore patients often get diagnosed with kidney cancer when it has already metastasized. At this point, the doctors make prognosis not about the possibility of recovery, but about a patient's life expectancy. Cancerous cells are the cells with considerable deviations in their behavior, such as abnormal division, development, or protein synthesis.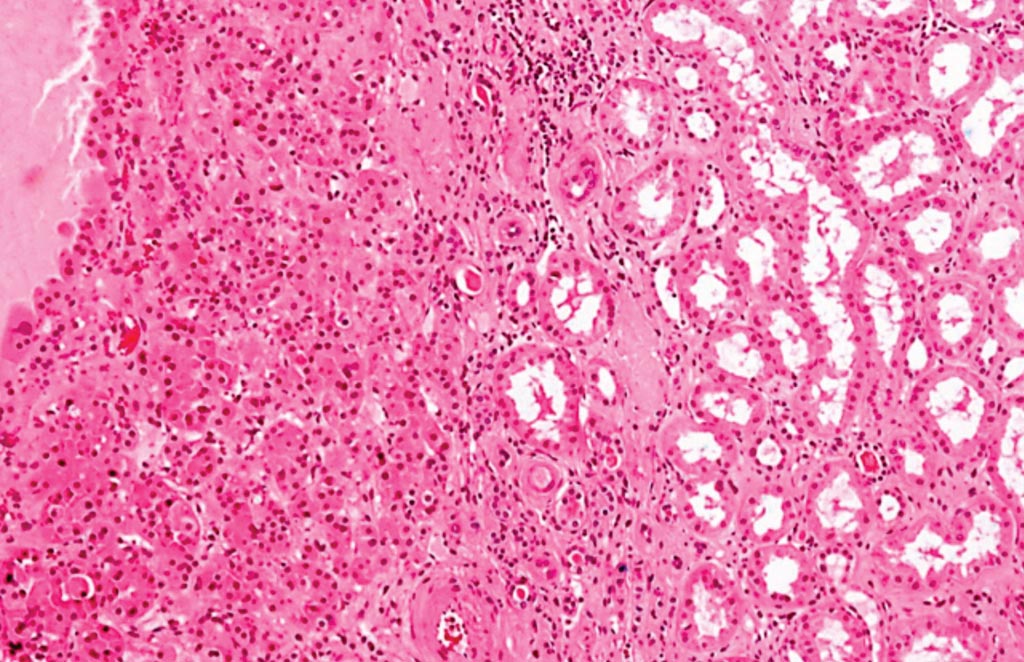 A large team of scientists based at the Sechenov First Moscow State Medical University (Moscow, Russia) and their German colleagues examined the aberrant expression of arrestin-1 in renal tumors, to investigate the possible epigenetic mechanism underlying arrestin-1 expression, and to assess the frequency of anti-arrestin-1 autoantibody response.
The investigators used immunohistochemistry to assess the presence of arrestin-1 in primary tumors and metastases of 39 patients with RCC and renal oncocytoma. Bisulfite sequencing was employed to analyze the methylation status of the promoter of the S-antigen (SAG) gene encoding arrestin-1. Western blot analysis was performed to detect autoantibodies against arrestin-1 in serum samples of 36 RCC and oncocytoma patients.
Arrestin-1 was found to be expressed in 58.7% of cases of RCC and 90% of cases of renal oncocytoma cells, while being absent in healthy kidney. The expression of arrestin-1 in RCC metastases was more prominent than in primary tumors. Hypomethylation of the SAG gene promoter is unlikely to be the mechanism for the aberrant expression of arrestin-1. Autoantibodies against arrestin-1 were detected in sera of 75% of RCC patients.
All subtypes of kidney tumors synthesize arrestin-1, which makes this method inefficient for differential diagnostics. However, due to its high sensitivity to benign growths, the method helps diagnose a disease on early stages when the chances for recovery are at the highest. The diagnostic procedure is reduced to simple blood test for the antibodies to arrestin-1 instead of a biopsy that is technically complicated and painful for a patient.
Andrey A. Zamyatnin Jr., PhD, DSc, a senior author of the study, said, "The discovery of arrestin-1 synthesis in cases of kidney cancer suggests the possibility of developing anti-cancer vaccines on the basis of this protein in the near future." The study was published in the February 2019 edition of the journal Biochimie.
Related Links:
Sechenov First Moscow State Medical University