Dormant Disseminated Tumor Cells Stratified in Breast Cancer Patients
By Labmedica International staff writers
Posted on 30 Oct 2018
Breast cancer patients may experience relapse and subsequent death from the disease many years after primary treatment. This indicates an ability of occult cancer cells to survive in a non- or slow-proliferating state, retaining a potential for progression and proliferation at a later time point.
The presence of disseminated tumor cells (DTCs) in bone marrow (BM) is an independent prognostic factor in early breast cancer but does not uniformly predict outcome. Tumor cells can persist in a quiescent state over time, but clinical studies of markers predicting the awakening potential of DTCs are lacking.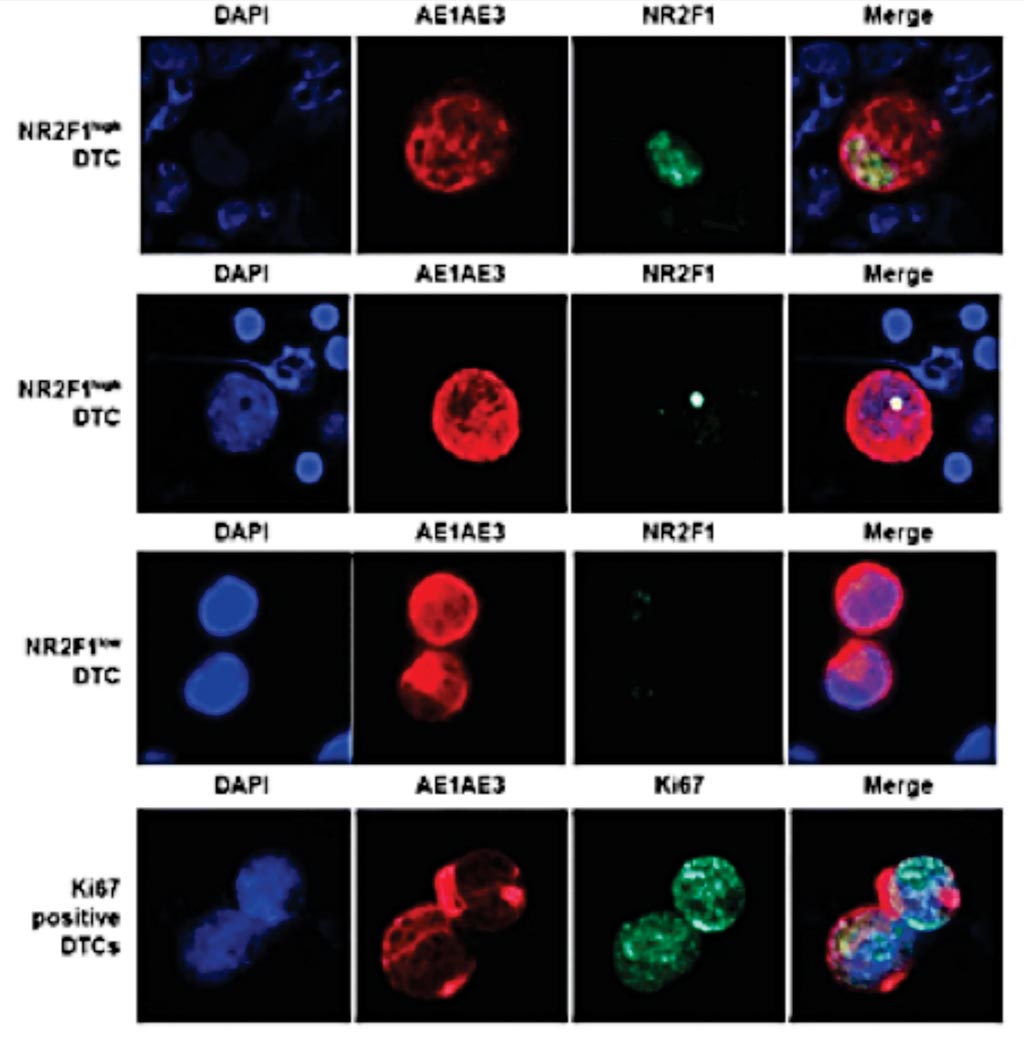 Scientists at the University Hospital Oslo (Oslo, Norway) and their colleagues at the Tisch Cancer Institute (New York, NY, USA) analyzed the Nuclear Receptor Subfamily 2 Group F Member 1 (NR2F1) protein expression in DTCs by double immunofluorescence (DIF) staining of extra cytospins prepared from 114 BM samples from 86 selected DTC-positive breast cancer patients. NR2F1 is an orphan nuclear receptor of the retinoic acid receptor family.
Bone marrow was aspirated in heparin and separated by density centrifugation using Lymphoprep. Mononuclear cells (MNCs) were collected from the interphase layer, washed in 1% fetal calf serum in PBS and resuspended to 1 × 106 cells/mL. Cytospins were prepared by centrifugation of the BM MNCs down to poly-l-lysine-coated glass slides (5 × 105 MNCs/slide) in a cytocentrifuge, air-dried at room temperature overnight, and stored at −80 °C until immunostaining. Double immunofluorescence was performed using the broad-specter anticytokeratin (anti-CK) monoclonal antibodies AE1/AE3 combined with anti-COUP TF1/NR2F1 for expression of dormancy.
The team found that when cells from a breast cancer patient's original tumor metastasized into the patient's bone marrow with none, or only a small amount, of the protein NR2F1, the patients all soon died. However, patients who had a high concentration of NR2F1 in the cancer cells in their bone marrow did not frequently develop this type of metastatic cancer, and lived longer. The presence of a high concentration of NR2F1 induced dormancy in the cancer cells, essentially deactivating them, so this study shows that survival in these patients is due to the dormancy of the disseminated cancer.
Julio A. Aguirre-Ghiso, PhD, professor of Oncological Sciences and the lead author of the study, said, "This research shows that the survival advantage in these patients is due to high levels of this protein. Tests using this protein marker could further improve curative treatment of breast cancer, sparing patients from unnecessary treatments. Identifying patients with disseminated disease that is not yet symptomatic and characterizing it for potential dormancy or metastatic recurrence is a game changer." The study was published on October 16, 2018, in the journal Breast Cancer Research.
Related Links:
University Hospital Oslo
Tisch Cancer Institute