Circulating Tumor Cell-Based AR-V7 Test Validated
By Labmedica International staff writers
Posted on 12 Jul 2018
A blood test to determine whether to treat patients with metastatic castration-resistant prostate cancer (mCRPC) with an androgen receptor signaling inhibitor (ARSI) or taxane is an unmet medical need.
Several diverse resistance mechanisms to ARS inhibitors have been identified through molecular profiling, many of which have been further elucidated to varying degrees in preclinical model systems. Androgen receptor splice variant 7 (AR-V7) is an alternatively spliced isoform of the AR gene that contains the DNA-binding domain but lacks the regulatory ligand-binding domain, leading to constitutive activation of oncogenic signaling and cell proliferation.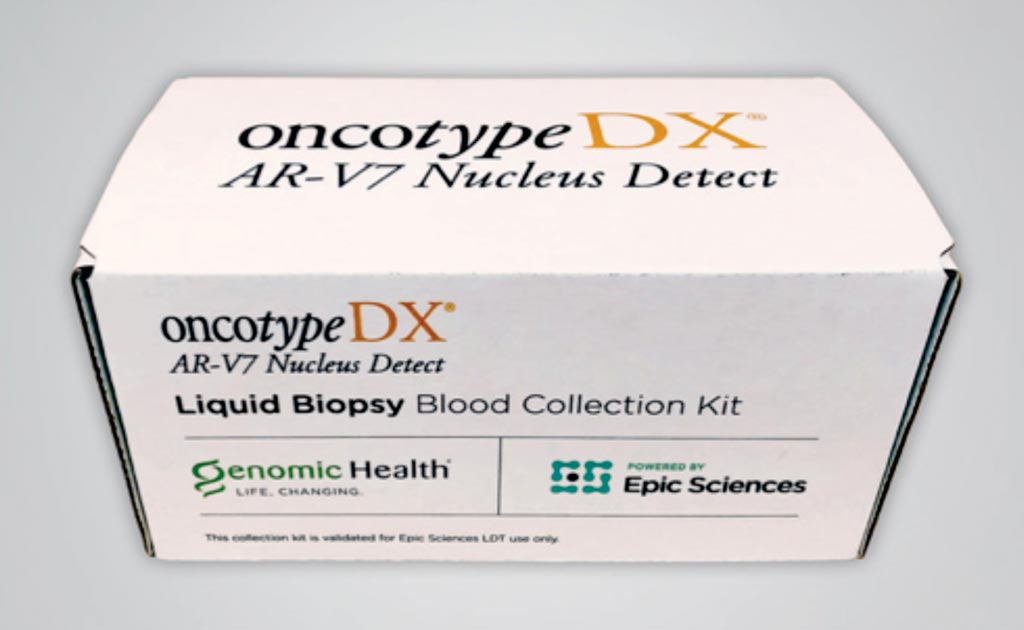 An international team of scientists collaborating with the Memorial Sloan Kettering Cancer Center, New York, NY, USA) obtained blood samples from 248 patients with histologically confirmed mCRPC who were undergoing a change in systemic therapy for progressive disease. The team only analyzed 142 blood samples (70 before initiation of therapy with an ARS inhibitor; 72 before initiation of therapy with a taxane) for the utility analysis in the second-line or greater therapy setting.
Laboratory studies included complete blood count, chemistry panel (albumin, alkaline phosphatase, lactate dehydrogenase, prostate-specific antigen (PSA), and hemoglobin levels), and serum testosterone levels to confirm castration status (<50 ng/dL). Slides created from blood samples from patients with mCRPC underwent automated immunofluorescent staining for DNA, cytokeratins, CD45, and AR-V7. Fluorescent scanners and morphologic algorithms were used for identification of circulating tumor cells (CTCs), evaluating two slides per blood sample. Blood samples with at least one CTC with an intact nucleus and nuclear-localized AR-V7 signal to noise ratio above a previously established and validated background intensity per two slides tested ( ~ 1 mL of blood) were scored as AR-V7 positive. Blood samples without AR-V7–positive CTCs, or with no CTCs detected, were scored as AR-V7 negative.
The team found that among the 142 patients in the study (mean ± SD age, 69.5 ± 9.6 years), 70 were designated as high risk by conventional prognostic factors. In this high-risk group, patients positive for AR-V7 who were treated with taxanes had superior overall survival relative to those treated with ARS inhibitors (median overall survival, 14.3 versus 7.3 months). Patients negative for AR-V7 who were treated with ARS inhibitors had superior overall survival relative to those treated with taxanes (median overall survival, 19.8 versus 12.8 months). The AR-V7 test is offered by Epic Sciences (San Diego, CA, USA).
Howard I. Scher, MD, a Medical Oncologist and lead author of the study said, "During the treatment of metastatic prostate cancer, physicians will now be able to use AR-V7 status to determine when a patient's cancer has become resistant to androgen receptor-directed therapy and will respond better to chemotherapy, enabling the patient to live longer."
The authors concluded that studies must correlate response to treatment with assay positivity, and not just survival data, to ensure that the assay is not simply a prognostic biomarker. AR-V7 positivity, in this study, is associated with higher lactate dehydrogenase, alkaline phosphatase, and PSA levels, suggesting a higher disease burden in the taxane arm. This finding indicates that AR-V7 positivity by this assay may be more prognostic, associated with disease burden, than predictive." The study was published on June 28, 2018, in the journal JAMA Oncology.
Related Links:
Memorial Sloan Kettering Cancer Center
Epic Sciences