Sampling Device Increases Detection of Barrett's Esophagus
By Labmedica International staff writers
Posted on 13 Apr 2018
Esophageal adenocarcinoma, one of the most fatal and fastest growing cancers in the USA, can be prevented if detected at a precancerous stage. In Barrett's esophagus (BE), esophageal squamous mucosa is replaced by metaplastic columnar mucosa predisposed to developing esophageal adenocarcinoma (EAC).
Gastroenterologists perform more than five million upper endoscopies each year on patients with chronic heartburn and Barrett's esophagus in an effort to find these precancerous cells before they can progress to cancer. Despite the inability to accurately predict which patients have BE prior to endoscopy, BE is known to develop more frequently in men than women.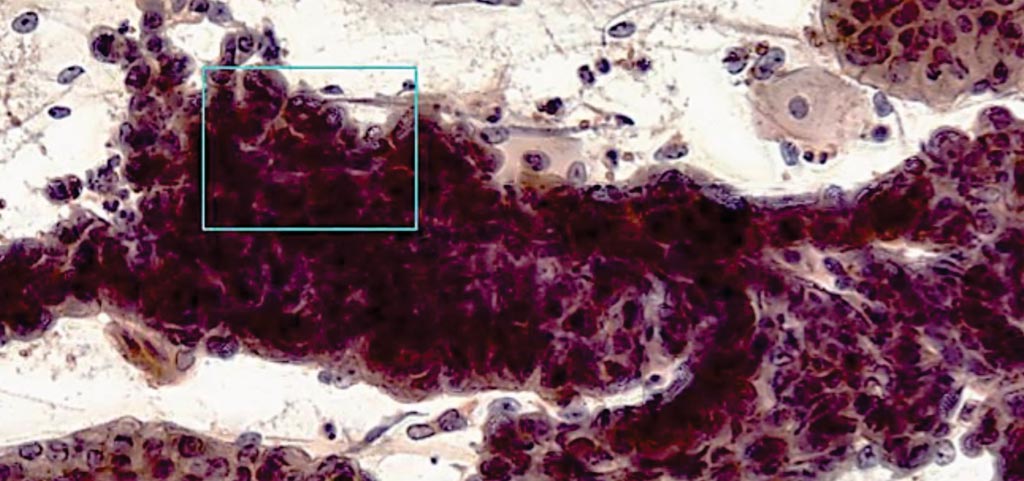 Scientists working with the University of Rochester Medical Center (Rochester, NY, USA) conducted a multicenter prospective trial, and enrolled 4,203 patients screened for suspected BE and those with known BE undergoing surveillance in 25 community-based gastrointestinal (GI) centers across the USA. Barrett's esophagus (BE) and esophageal dysplasia (ED) are frequently missed during screening and surveillance esophagoscopy because of sampling error associated with four-quadrant random forceps biopsy (FB).
The scientists used Wide Area Transepithelial Sampling with 3D Tissue Analysis and were able to rapidly collect a sample from a much larger surface area of the esophagus. By combining a larger sampling area with patented 3D imaging and expert cytopathology, WATS3D has far reaching implications for protecting a patient's health. If precancerous cells are present, they can now be easily detected and removed or destroyed before they become cancerous, essentially preempting esophageal cancer.
The authors reports that of 4,203 patients, 594 were diagnosed with BE by FB alone, and 493 additional cases were detected by adding WATS, increasing the overall detection of BE by 83% (493/594, 95% CI 74%–93%). Low-grade dysplasia (LGD) was diagnosed in 26 patients by FB alone, and 23 additional cases were detected by adding WATS, increasing the detection of LGD by 88.5% (23/26, 95% CI 48%–160%). The study was conducted predominantly on gastroesophageal reflux disease (GERD) patients who did not have a history of BE, the average BE length diagnosed in the study was less than 1.5 cm, which may result in lower endoscopic diagnostic accuracy.
Seth Gross, MD, a gastroenterologist and lead author of the study said, "These data confirm findings from previous clinical trials showing that WATS3D biopsy significantly increases the detection rate of Barrett's Esophagus as well as precancerous changes in esophageal tissue in GERD patients. Ultimately, WATS3D revolutionary technology is making esophageal cancer a potentially preventable disease." The study was originally published on November 28, 2017, in the journal United European Gastroenterology Journal. The WATS3D study was also highlighted as part of the ASGE's Scope Tech Talk video series and distributed to over 15,000 members in January 2018.
Related Links:
University of Rochester Medical Center