Liquid Biopsy Blood Tests Detect CtDNA
By Labmedica International staff writers
Posted on 12 Jul 2017
The so-called "liquid biopsies" blood tests that detect circulating tumor DNA (ctDNA), may not only sound an early alert that a treatment's effect is diminishing, but may also help explain why, and sometimes offering clues about what to do next.
The understanding of the mechanisms of acquired resistance to targeted therapy can guide strategies to improve clinical outcome and ctDNA provides a non-invasive means to identify concurrent heterogeneous resistance mechanisms emerging during therapy.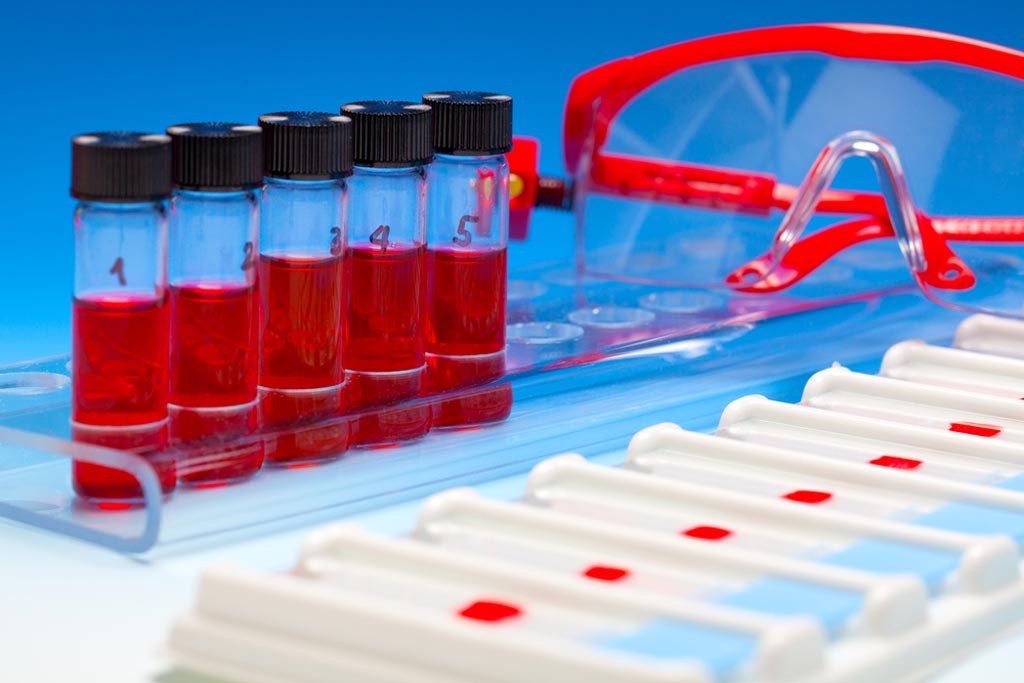 An international team of scientists led by those at Massachusetts General Hospital (Boston, MA, USA) collected plasma collected at disease progression for next-generation sequencing of ctDNA from 35 patients with molecularly-defined gastrointestinal (GI) cancers: 24 colorectal (CRC), eight biliary, three gastroesophageal (GE), achieving response or prolonged stable disease on targeted therapies. Molecular alterations identified were compared to ctDNA and/or tissue obtained pre-treatment to identify mechanisms of acquired resistance. When possible, post-progression tumor biopsies were also analyzed. Serial ctDNA specimens were evaluated to determine if the change in ctDNA levels could predict response to targeted therapy.
The team found that in 35 patients, at least one molecular mechanism of resistance was identified in progression ctDNA in 28 patients (80%) with 15 (43%) exhibiting more than one resistance alteration (range 2-12, median 3). Overall, 72 total resistance alterations were identified. 14 patients had matched progression tumor biopsies, and resistance alterations were identified in nine (61%), all of which were detected in matched ctDNA. In 64% of these patients, additional resistance mechanisms not detected in the matched tumor biopsy, but were identified in ctDNA analysis. In seven patients with multiple progression tumor biopsies available, distinct metastases showed different resistance alterations, all of which were detectable in ctDNA, but in six (86%) of these patients, ctDNA detected additional resistance alterations not found despite multiple tumor biopsies, reflecting extensive heterogeneity.
The authors concluded that systematic ctDNA analysis at disease progression could effectively identify novel and heterogeneous mechanisms of acquired resistance in patients receiving targeted therapies for a range of molecularly defined GI cancers. Compared to parallel tumor biopsies, ctDNA more effectively captured the heterogeneity of acquired resistance mechanisms, which may be important to guide subsequent therapy. Real-time monitoring of ctDNA levels may also represent a potential approach to predict response and resistance to therapy.
Aparna Parikh, MD, a hematology oncology specialist and the senior author of the study, said, "We have shown that integrating regular liquid biopsies into our patients' routine care is feasible and easily incorporated into clinical practice. This technology can precisely help us understand each patient's individual disease course and allows us to tailor care based on an understanding of their specific disease biology." The study was presented on June 30, 2017, at the ESMO 19th World Congress on Gastrointestinal Cancer, held in Barcelona, Spain.
Related Links:
Massachusetts General Hospital