Advances in High-Tech Methods for Cervical Cancer Screening
By LabMedica International staff writers
Posted on 06 Apr 2021
Cervical cancer, which is almost always caused by human papillomavirus (HPV), is the world's fourth-most common cancer, with more than 500,000 cases diagnosed annually.
The Papanicolaou (Pap) test, introduced in the 1940s by George Papanicolaou, helps pathologists examine the morphology of exfoliated cervical cells. About 80% of cervical cancer can be prevented by well-organized, high-quality screening programs using Pap smears with three- to four‐year screening intervals. However, this approach has yet to similarly impact developing countries. Of the approximately 311,000 annual deaths from cervical cancer, more than 85% of these occur in low- and middle-income countries (LMICs). An effective cytology-based screening program necessitates high-quality cytology laboratories, properly trained personnel, and repeated screening at regular intervals due to the low sensitivity of a single Pap test; such ingredients are still not achievable across many LMICs.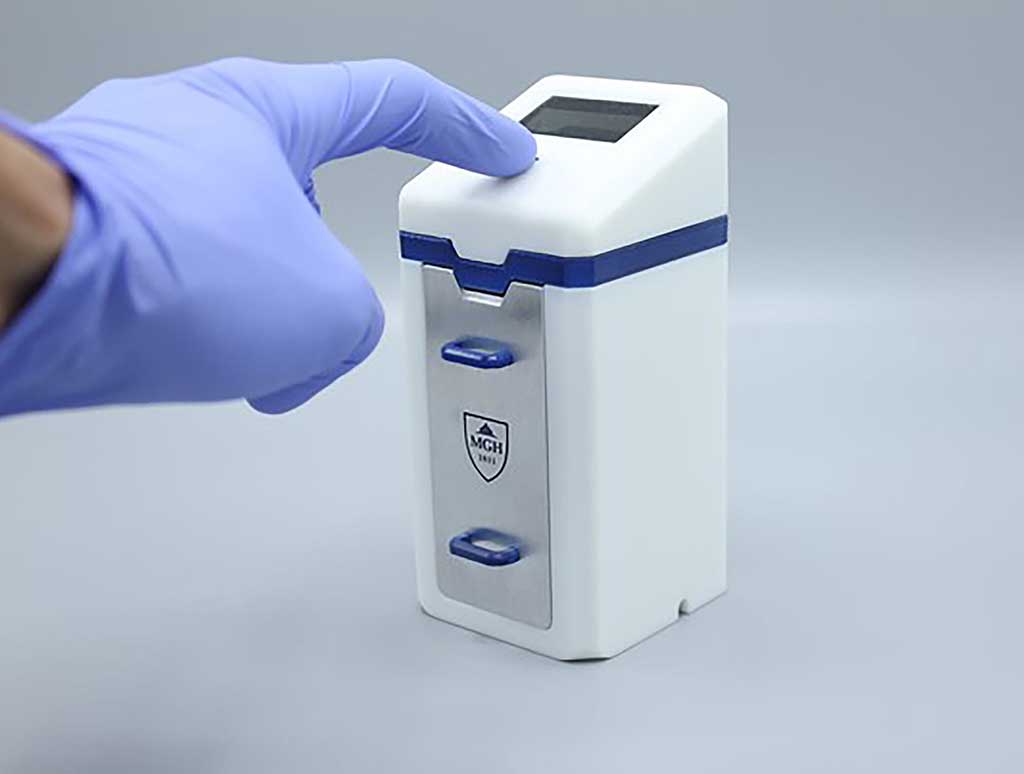 In this regard, new point-of-care (POC) technologies have been developed to provide test results in real time, improve the efficiency of techniques, and increase screening for cervical cancer. A recent review article prepared by investigators at Massachusetts General Hospital (Boston, USA) examined and discussed some of the latest innovations. The review highlighted how emerging advances in nanotechnologies and machine learning could (1) complement or supplant existing methods of cervical cancer screening and (2) directly circumvent existing screening obstacles in LMICs.
Among the newest developments described in the review were:
1. Multiplexed fluorescence platform for detecting antibodies to HPV 16 E7.
The development of HPV-related cancers is associated with IgG antibodies, primarily to the oncoproteins E6 and E7. The antibodies to HPV E7 were more frequently detected in women with invasive cervical cancer (30.3%) than women with CIN 2/3 (19.5%) and CIN 0/1 (6.6%). A POC multiplexed fluorescence screening platform has been explored for detecting antibodies to HPV 16 E7 oncoprotein in patient plasma. Inexpensive interference filters and readout electronics were used to help leverage time integration of output signals for improved accuracy.
2. Enzyme-assisted nanocomplexes for visual identification of nucleic acids. (enVision) platform. A molecular platform named enVision (enzyme-assisted nanocomplexes for visual identification of nucleic acids) purportedly enables visual and modular detection of HPV nucleic acids (both DNA and RNA) without target nucleic acid amplification. Detection occurs through three functional steps: target recognition, target-independent signal enhancement, and visual detection.
3. AmpFire Multiplex HPV Assay. The AmpFire Multiplex HPV Assay developed by Atila Biosystems (Mountain View, CA, USA) detects 15 high-risk HPV genotypes while simultaneously genotyping HPV 16 and HPV 18 in a single tube. The multiplex assay uses sequence-specific primers to target HPV genotypes of interest and amplify their respective sequences in an isothermal amplification system. Once amplified, specific molecular beacon probes are bound to the products to create a detectable fluorescence signal. The key component that separates this assay from other commercial ones is that the tests detect HPV in formalin-fixed, paraffin-embedded (FFPE) samples.
4. Artificial Intelligence Monitoring for HPV (AIM-HPV)
In addition to advancing hardware technologies, an Artificial Intelligence Monitoring for HPV (AIM-HPV) platform leverages deep learning tactics to facilitate POC analyses. Here, digital microholography readily produces high-quality image data, even at sub-micron levels, through a simple, lens-free optical system. The platform detects target nucleic acids within cervical brushings introduced into a disposable DNA extraction kit.
Senior author of the review Dr. Caesar Castro, associate professor of oncology at Massachusetts General Hospital, said, "The Pap smear has done wonders in terms of reducing mortality from a cancer that is very treatable when caught early and almost invariably fatal when it is caught late. And it is not even a great test. Part of its imperfection is that there is subjectivity to it. The trained eye is the limiting step in the process. The untrained eye, or relatively untrained eye, can miss cancers."
The review of advances in cervical cancer detection was published in the March 30, 2021, online edition of the journal
Biophysics Reviews.
Related Links:

Massachusetts General Hospital
Atila Biosystems
Other channels