Molecular Changes Associated with Treating Lymphatic Filariasis
By LabMedica International staff writers
Posted on 10 Oct 2019
Lymphatic filariasis (LF) is a disabling neglected tropical disease that is caused by the mosquito-borne filarial parasites Wuchereria bancrofti, Brugia malayi and B. timori. Adult worms live in the human host's lymphatic system and release larval parasites (microfilariae or Mf) that circulate in the blood.
Although treatment is safe, transient mild to moderate systemic adverse events, such as joint pain, fever, rash, or cough, are common in individuals with circulating microfilariae in the blood. Since these adverse events (AEs) are quite uncommon in uninfected individuals, they are believed to be triggered by host responses to dying filarial worms rather than the drugs themselves.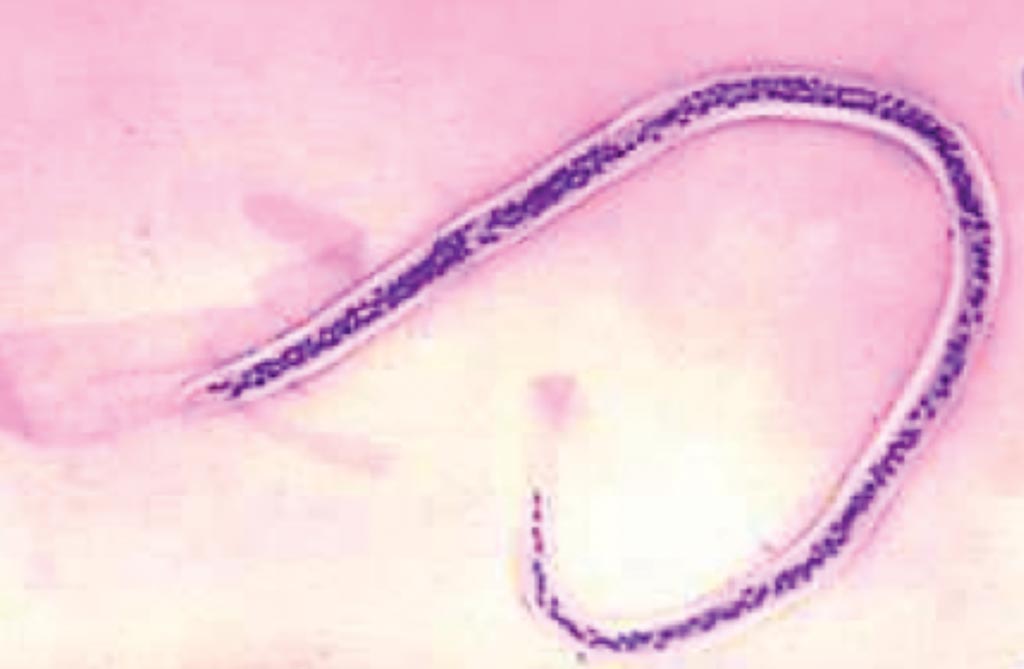 Tropical Medicine specialists at the Washington University School of Medicine (St. Louis, MO, USA) randomly assigned 89 W. bancrofti-infected adults to one of four treatment arms and all participants had AE assessments performed 24 hours after treatment. The AE study enrolled a subset of 95 treated participants and specific analyses that were performed on samples from each of the 95 individuals. Nine of these participants experienced moderate AEs, 24 had mild AEs, and 62 had no AEs. There was no difference in age or sex distribution between the three AE groups.
The scientists used various methodologies to assess the participants' reactions to the infection. This included a direct sandwich enzyme immunoassay (EIA) that uses the monoclonal antibody AD12 that binds to a carbohydrate epitope on circulating filarial antigen (CFA); immunoprecipitation and western blots where chemiluminescence was detected by a ChemiDoc imager; immune complex and complement components assays; 27 cytokines were measured with the MAGPIX system with the Bio-Rad Bio-Plex Human 27-Plex Cytokine Panel and Bio-Plex Cytokine Reagent Kit. Molecular analyses of RNA and differential gene expression and overall expression patterns were performed.
The investigators found that levels of filarial antigens increased after treatment in individuals with AEs, and this suggests that AEs are triggered by host responses to dying parasites. AEs were associated with elevations in serum levels of certain immune molecules called cytokines. Moreover, when the team compared patterns of gene expression in white blood cells between people with moderate AEs and those without AEs, they found 744 genes upregulated in people with AEs, including many genes involved in immune signaling.
The authors concluded that their study has provided new insights regarding the pathogenesis of post-treatment AEs in LF-infected individuals. The results are consistent with the hypothesis that a Wolbachia lipoprotein triggers AEs by binding to TLR2-TLR6, but other uncharacterized filarial antigens might also play a role. The study was published on September 26, 2019, in the journal PLOS Neglected Tropical Diseases.
Related Links:
Washington University School of Medicine