Urine Test Could Prevent Cervical Cancer
By Labmedica International staff writers
Posted on 14 May 2019
The strategy of cervical screening depends on reducing the incidence of cervical cancer through the detection and treatment of its precursor lesion, high-grade cervical intraepithelial neoplasia (CIN2+).
Human papilloma virus (HPV) detection in urine has recently been considered as an alternative means to identify women at increased risk of high grade CIN. Of the 100 or so types of HPV, some are linked to cervical cancer, and some are linked to other conditions, like genital warts. Most cervical cancers are caused by high-risk types HPV-16 and HPV-18.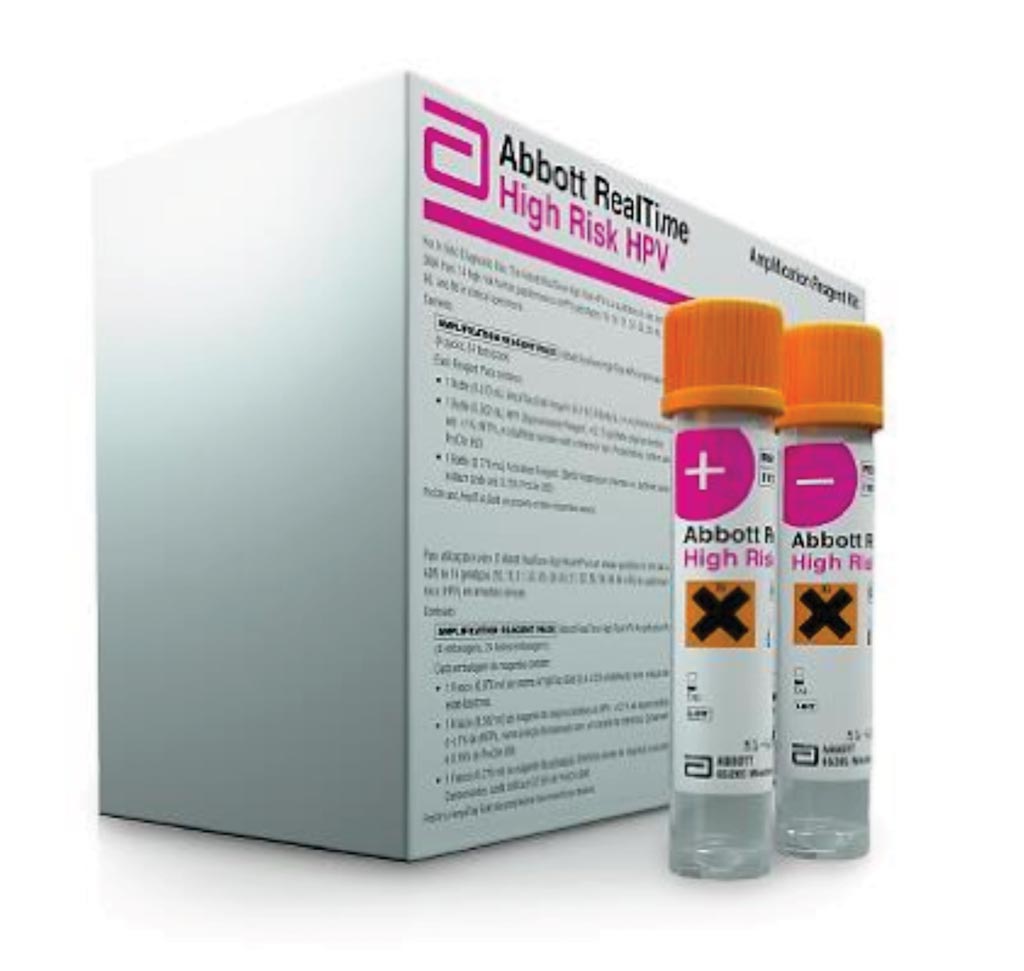 Medical scientists collaborating with those at the University of Manchester (Manchester, UK) collected urine, vaginal and cervical samples from consecutive women attending the local colposcopy clinic between June and September 2015. Cervical samples were collected using SurePath Liquid Based Cytology and vaginal cells were suspended in solution by agitating the Evalyn brush in SurePath preservative on receipt in the laboratory.
Sample aliquots were added to Abbott and Roche secondary tubes. Batches of samples were tested for high risk HPV using the Abbott RealTime and Roche Cobas 4800 assays within 48 hours and one week of sample processing, respectively.
Urine sample processing was optimized by comparing HR-HPV detection in samples refrigerated at 4 °C both without preservative ('neat') and following transfer to Abbott and Roche preservative tubes ('preservative-fixed'), by dividing samples in half upon receipt by the virology laboratory for the first 50 study participants. The stability of neat and preservative-fixed urine samples was compared by HR-HPV testing using both assays within 48 hours, one week and one month of receipt.
The team reported that preservative-fixed, but not neat urine, showed good concordance with vaginal samples for the detection of HR-HPV. The sensitivity for detecting CIN2+ was 15/18 (83%) for urine and 16/18 (89%) for cervical and vaginal samples by ART, and 15/17 (88%) for all samples by RC. Urine-based testing was broadly acceptable to women.
The authors concluded that urinary HR-HPV testing has good sensitivity for the detection of CIN2+ in a colposcopy clinic cohort. The study suggests that vaginal HR-HPV testing is slightly more sensitive than urine HR-HPV testing; however urine self-sampling may be more acceptable to cervical screening non-attenders than vaginal self-sampling.
Emma J. Crosbie, MB ChB, PhD, a Consultant Gynecological Cancer Surgeon and senior author of the study, said, "These results provide exciting proof of principle that urine HPV testing can pick up cervical pre-cancer cells, but we need to trial it on a greater number of women before it can be used in the NHS. We hope that is going to happen soon. Urine is very simple to collect and most hospitals in the developed and developing world have access to the lab equipment to process and test the samples." The study was published on April 29, 2019, in the journal BMJ Open.
Related Links:
University of Manchester