Genetic Alterations Correlated to Aggressive Prostate Cancer
By Labmedica International staff writers
Posted on 03 Aug 2018
Prostate cancer is the second most common cancer among men, and while the disease is often indolent and treatable, some cases are aggressive. Distinguishing between the two could guide treatment decisions.
About 80% of the time prostate cancer cells metastasize, or spread, they will spread to bones, such as the hip, spine and pelvis bones. It can be by direct invasion or by traveling through the blood or lymphatic system. Prostate cancer with local spread has a 5-year survival rate at nearly 100%. Prostate cancer with distant metastasis has a 5-year survival rate of around 29%.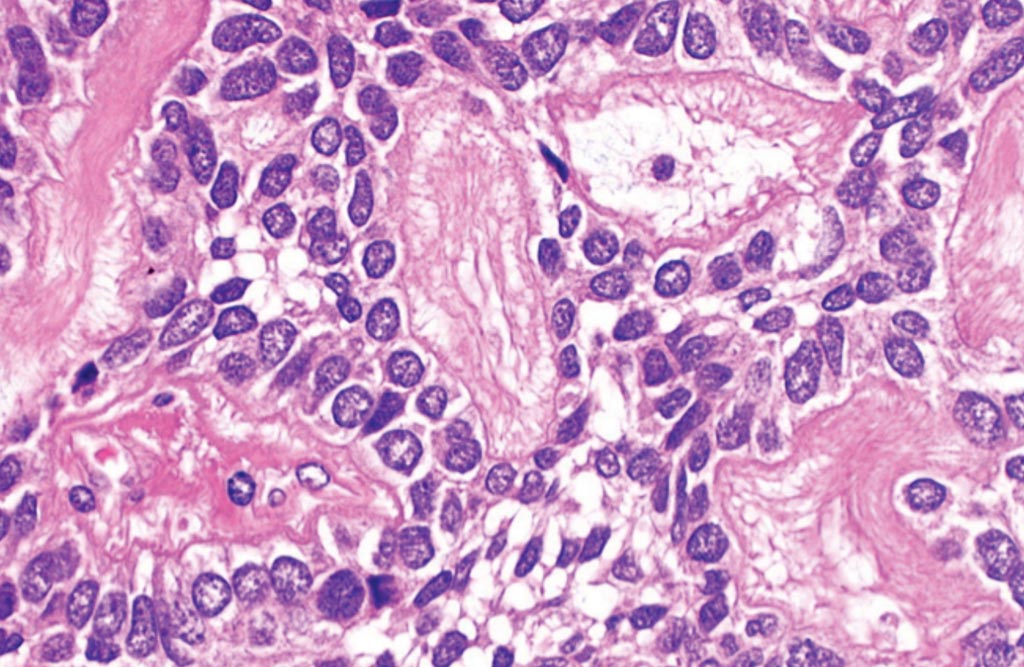 An international team of scientists led by those at the University of Oulu (Oulu, Finland) have confirmed in their new analysis of nearly 3,000 Finnish prostate cancer cases, that previous genome-wide association studies (GWAS) that identified rs11672691 at 19q13 is associated with aggressive prostate cancer (PCa). They conducted an expression quantitative trait locus analysis in three independent cohorts and found that the risk allele is linked to the expression levels of both CEACAM21 and PCAT19.
The team used knockdown, overexpression, and other assays, and found that not only are CEACAM21 and PCAT19 highly expressed in prostate cancer tissue as compared to control tissues, but also that knocking them down in prostate cancer cell lines is associated with decreased cell proliferation, migration, and invasion. The risk allele falls within an enhancer element and changes the binding site of HOXA2, which is itself an oncogene associated with poor prognosis. This suggested to them that the risk allele works with HOXA2 to drive CEACAM21 and PCAT19 expression. CRISPR/Cas9-mediated single-nucleotide editing showed the direct effect of rs11672691 on PCAT19 and CEACAM21 expression and PCa cellular aggressive phenotype.
The authors concluded that their findings may allow better prognostic prediction and distinguishing a more lethal phenotype to identify high-risk group patients that need radical treatment regimens because of their poorer treatment outcomes. These results provide a plausible mechanism for rs11672691 associated with aggressive PCa and thus lay the ground work for translating this finding to the clinic. The study was published on June 28, 2018, in the journal Cell.
Related Links:
University of Oulu

Other channels