Sequencing Produces Better Diagnostics for Pediatric Genetic Disease
By Labmedica International staff writers
Posted on 26 Jul 2018
Currently, chromosomal microarrays are the recommended first-line genomic tests for children with certain genetic diseases, which can be difficult to diagnose. However, whole-genome and whole-exome sequencing have become more common testing approaches in recent years.
Establishing an etiologic diagnosis in children with suspected genetic diseases is important for timely implementation of precision medicine and optimal outcomes, particularly to guide weighty clinical decisions such as surgeries, extracorporeal membrane oxygenation, therapeutic selection, and palliative care.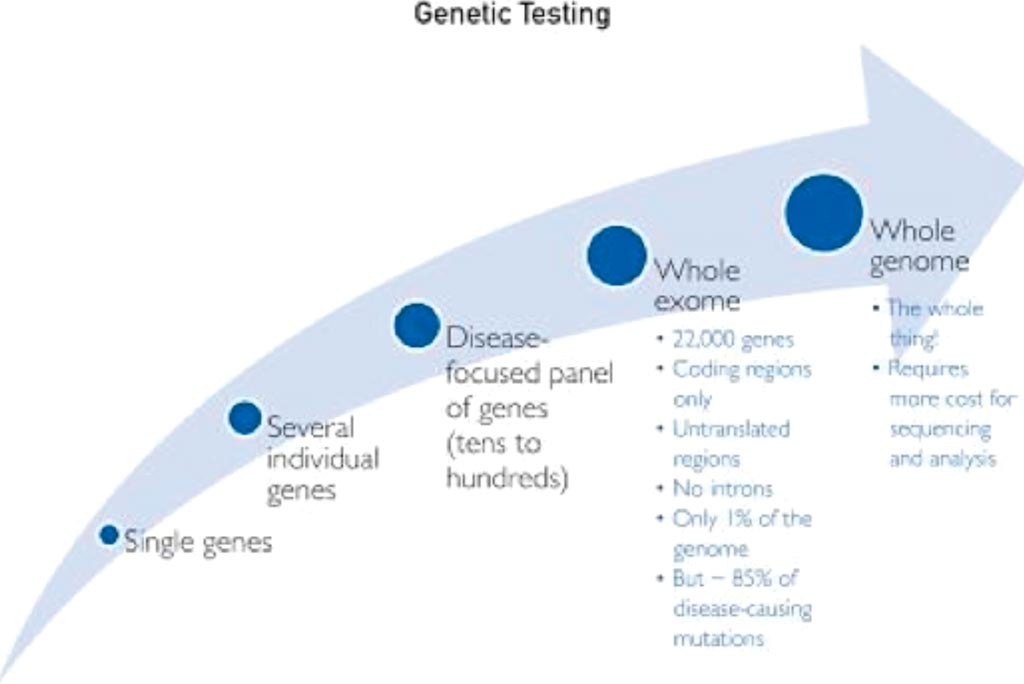 Scientists at the Rady Children's Institute for Genomic Medicine (San Diego, CA, USA) sifted through PubMed to uncover 37 studies that were published between January 2011 and August 2017 that included 20,068 children and evaluated the diagnostic utility of whole-genome sequencing (WGS) and whole-exome sequencing (WES) in comparison to chromosomal microarrays (CMA). One of these studies was a randomized controlled trial and 36 were case studies.
The pooled diagnostic utility of WGS in these studies of 0.41 was qualitatively larger than for WES, which was 0.36, or CMA, which was 0.10. Additionally, over time, WES and WGS had increasing diagnostic rates of about 16% per year, while the odds of diagnosis via CMA decreased 14% each year. Still, within 11 studies of nearly 2,000 children, all published in 2017, the pooled diagnostic utility of WGS was 0.42, while it was 0.05 for CMA. Few studies, the investigators noted compared WES and WGS within cohorts. The two that did, involving 138 children, found no significant differences in the approaches' diagnostic utility.
When the team pooled WES and WGS together to compare them together versus CMA, they found that the odds of getting a diagnosis through a sequencing approach were 8.3 times greater than it was for CMA. The inference was that CMA should no longer be considered a first-line genomic test. More than a quarter of children analyzed by whole-genome sequencing had a change in their clinical management in light of their results, while only 6% of those who underwent CMA did. They also noted that WGS is about twice as expensive as WES, which is itself twice as expensive as CMA.
Michelle M. Clark, PhD, a Statistical Scientist and first author of the study said, "What we learned is that WGS and WES offer greater diagnostic and clinical utility than CMA, leading us to conclude that WGS and WES should be considered first-line genomic tests for children with suspected genetic diseases." The study was published on July 9, 2018, in the journal npj Genomic Medicine.
Related Links:
Rady Children's Institute for Genomic Medicine

Other channels