Novel Method Introduced for Dry Storage of Biological Samples
By Labmedica International staff writers
Posted on 13 Mar 2018
A novel method for preserving biological samples collected for diagnostic testing at room temperature may one day eliminate the need for refrigeration, which is often not available in third-world settings.
Investigators at Washington University (St. Louis, MO, USA) have introduced a universal biospecimen preservation approach based on nanoporous material encapsulation for preserving protein biomarkers in biofluids under normal (nonrefrigerated) storage conditions. The protein biomarkers in the relevant biofluids such as blood, urine, serum, and plasma are first encapsulated within nanoporous zeolitic imidazolate framework-8 (ZIF-8) crystals and then dried on paper substrates via a dry spot sample collection method. Zeolitic imidazolate frameworks (ZIFs) are a class of metal-organic frameworks composed of tetrahedrally coordinated transition metal ions (e.g. Fe, Co, Cu, Zn) connected by imidazolate linkers.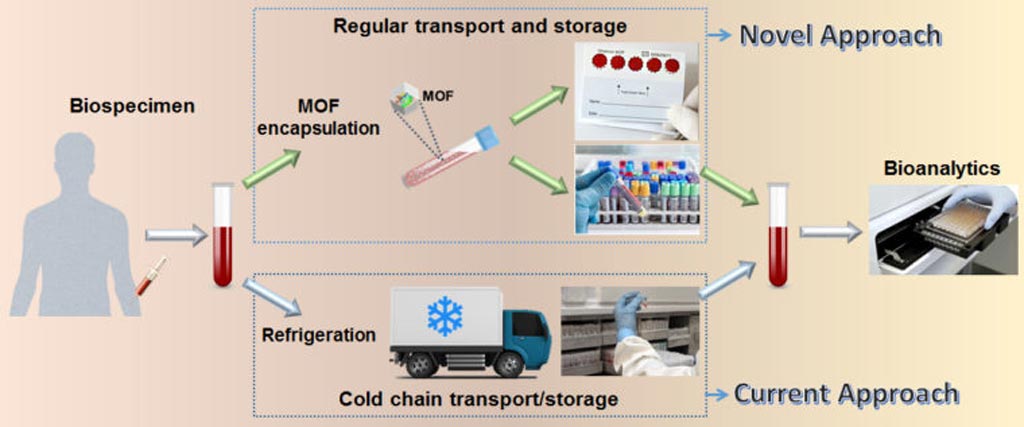 To test the dry storage method, the investigators used artificial urine samples spiked with neutrophil gelatinase-associated lipcalin (NGAL), a biomarker for acute kidney injury; and blood samples spiked with CA-125, a biomarker for ovarian cancer. The samples were mixed with precursors of the nanoporous material ZIF-8 and then dried on paper at room temperature.
Results revealed that urine samples stored dry at room temperature retained more than 90% of NGAL. Control samples without ZIF-8 encapsulation had less than 30% of NGAL preserved. Blood samples spiked with CA-125 and encapsulated by ZIF-8 showed about 85% preservation, while those without the encapsulation showed 50% or less preservation. Overall, results obtained with samples stored dry at temperatures up to 40 degrees Celsius showed preservation efficacy comparable to those maintained by the refrigeration method (freezing liquid samples at −20 degrees Celsius).
"One of our next steps is to take the technology out of the laboratory and commercialize it so that it can work to the greatest good for the greatest number of people," said contributing author Dr. Evan D. Kharasch, professor of biochemistry and molecular biophysics at Washington University. "This would make it widely available in both first-world countries as well as emerging countries and in emergency situations or environmental disasters where we need to deploy people and have scarce resources."
The dry storage protocol was described in detail in the February 1, 2018, online edition of the journal Chemistry of Materials.
Related Links:
Washington University

Latest Molecular Diagnostics News
Other channels