Gene Mutation Causes Rare Immune Disorder
By Labmedica International staff writers
Posted on 12 Jul 2017
A genetic cause and potential treatment strategy for a rare immune disorder called CHAPLE disease has been discovered and children with the condition can experience severe gastrointestinal distress and deep vein blood clots.
Genetic studies have contributed to the understanding of gastrointestinal diseases, associating at least 64 genes with early-onset or very-early-onset inflammatory bowel disease. Deleterious gene variants affect the intestinal epithelial barrier, phagocytosis processes, immune regulation, and inflammation.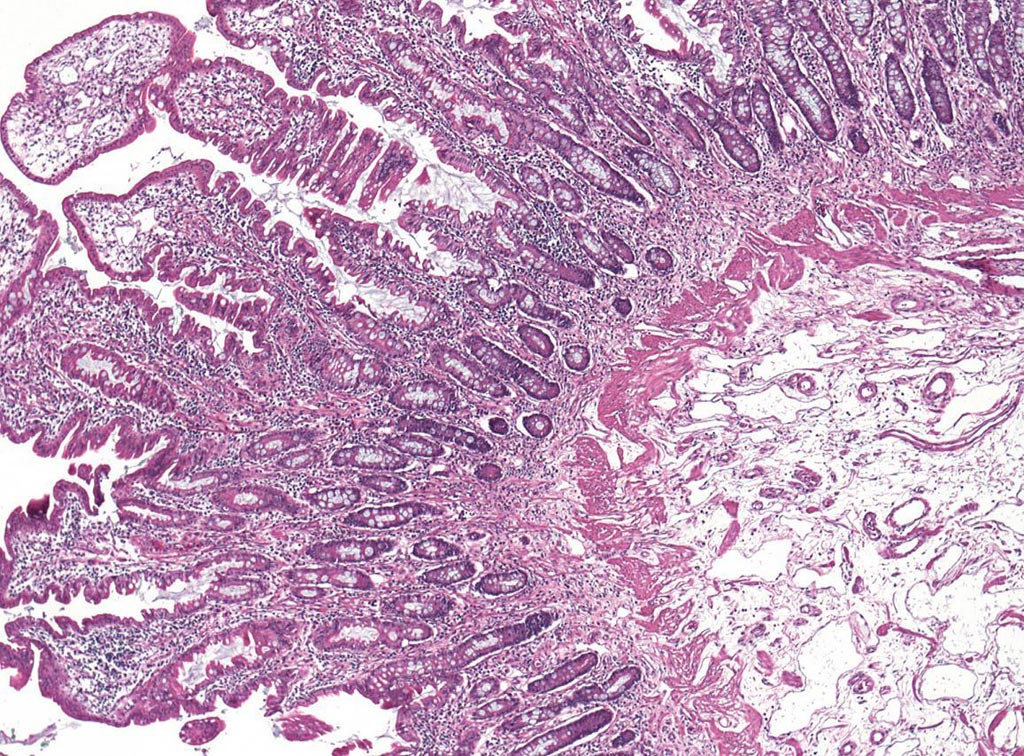 A large team of international scientists led by those at the US National Institute of Allergy and Infectious Diseases (Bethesda, MD, USA) enrolled 10 patients with CHAPLE disease that were based in Turkey and one who was based in the Netherlands, along with their healthy parents and siblings when available. The 11 patients were from eight families, all of whom were of Moroccan, Syrian, or Turkish ancestry. The ages of the patients ranged from three to 23 years as of February 2017. CHAPLE disease is a form of primary intestinal lymphangiectasia (PIL), also known as Waldmann's disease.
Genomic DNA (gDNA) was obtained from probands and family members by isolation and purification from peripheral blood mononuclear cells (PBMCs) and submitted for Whole Exome Sequencing (WES) or targeting sequencing of the CD55 gene coupled with massively parallel sequencing by HiSeq Sequencing System. The scientists used a variety of techniques including flow cytometry, quantitative real-time polymerase reaction, Western blotting and T cell stimulation and cytokine secretion analysis.
The team found homozygous loss-of-function mutations in the gene encoding CD55 (decay-accelerating factor), which lead to loss of protein expression. Patients' T lymphocytes showed increased complement activation causing surface deposition of complement and the generation of soluble C5a. Costimulatory function and cytokine modulation by CD55 were defective. Genetic reconstitution of CD55 or treatment with a complement-inhibitory therapeutic antibody reversed abnormal complement activation.
The team found that in CHAPLE disease, uninhibited complement resulting from a lack of CD55 protein damaged blood and lymph vessels along the lower digestive tract, leading to the loss of protective immune proteins and blood cells. In many patients, this process caused a range of symptoms, such as abdominal pain, bloody diarrhea, vomiting, problems absorbing nutrients, slow growth, swelling in the legs, recurrent lung infections, and blood clots.
The authors concluded that CD55 deficiency with hyperactivation of complement, angiopathic thrombosis, and protein-losing enteropathy (the CHAPLE syndrome) is caused by abnormal complement activation due to biallelic loss-of-function mutations in the CD55 gene. The study was published on June 28, 2017, in the New England Journal of Medicine.
Related Links:
US National Institute of Allergy and Infectious Diseases

Latest Molecular Diagnostics News
Other channels