Immunochromatographic Strip Test Developed for Rift Valley Fever
By LabMedica International staff writers
Posted on 03 Oct 2019
Rift Valley fever (RVF) is an emerging mosquito-borne disease that affects a wide range of animals and human beings in Africa and the Arabian Peninsula. A rapid and specific test for RVF diagnosis at the site of a suspected outbreak is crucial for the implementation of control measures.
Patients who become ill usually experience fever, generalized weakness, back pain, and dizziness at the onset of the illness. Typically, patients recover within two days to one week after onset of illness. However, a small percentage (8-10%) of people infected with RVFV develops much more severe symptoms. There is a growing concern that RVFV will extend its current range due to the wide variety of mosquito species able to transmit to several mammal hosts.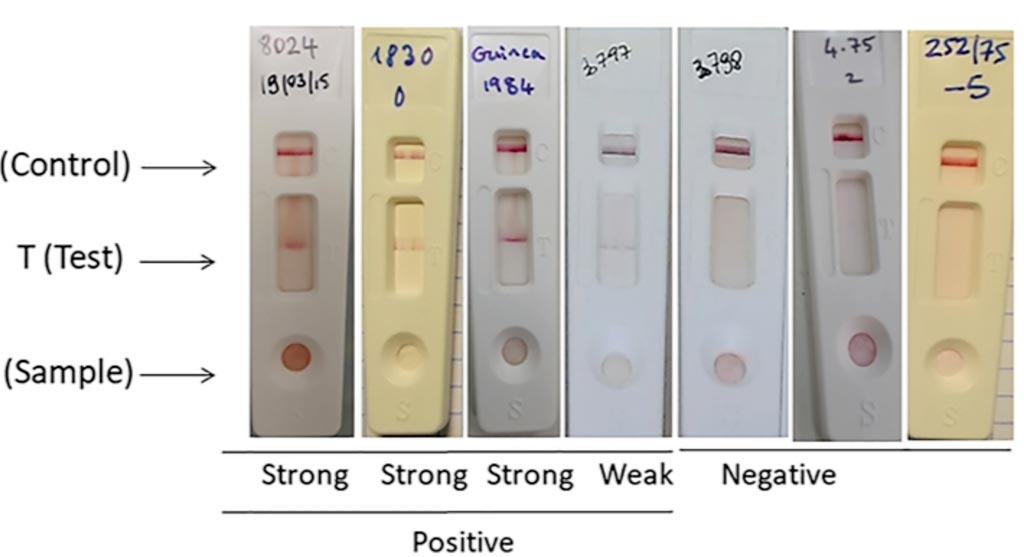 Scientists at the University of Montpellier (Montpellier, France) and their colleagues developed a first-line lateral flow immunochromatographic strip test (LFT) for the detection of the nucleoprotein (N) of the RVF virus (RVFV). Its diagnostic performance characteristics were evaluated using reference stocks isolates recovered from different hosts and in geographic regions mimicking clinical specimens and from known RVF negative serum samples.
The test strip was constructed on the principles of immunochromatography using colloidal-gold-labeled monoclonal antibodies (Mabs). The team used the two Mabs generated against the N protein of RVFV: the Mab 8E10-4A4 gold conjugate and the Mab 10H3-4E4-3D5. Mab 10H3-4E4-3D5 was immobilized onto a nitrocellulose membrane for the test line zone and rabbit anti-mouse antibodies were immobilized for the control line zone to capture unbound Mab. The test (T) and control (C) lines were checked for the development of color after 10 minutes and again after 30 minutes as it might take longer time for weak positives to form a visual band scored subjectively from negative to strong.
A total of 25 isolated strains mimicking clinical specimens of different geographical origins and 10 clinical samples originating from an ongoing outbreak in 2019 detected RVF positive by a TaqMan RT-PCR technique which is considered as the current reference detection system were also detected positive by the LFT giving a diagnostic sensitivity of 100%. Diagnostic specificity (DSp) was assessed on 160 serum samples known to be negative for RVFV by sero-neutralization test and cELISA but collected in tropical countries where RVF has been circulating to detect possible cross reactions or in other areas where RVF introduction is considered at risk. The test gave a DSp of 98.81% and there was an absence of cross-reactivity with viruses belonging to different genera.
The authors concluded that the specificity and sensitivity of the evaluated test are lower than the ones of molecular-based techniques (LAMP, PCR) but are adequate for specific rapid initial detection of RVF outbreaks or disease surveillance in control programs. The fact no specialized reagents and laboratory equipment are needed, make this assay a valuable, first-line diagnostic tool in resource-poor diagnostic territories for on-site RVFV detection, however the staff require training. The study was published on September 11, 2019, in the journal PLOS NTD.
Related Links:
University of Montpellier