New Test Procedure Diagnoses Multi-Resistant Pathogens
By Labmedica International staff writers
Posted on 01 Oct 2018
Patients with bloodstream infections caused by gram-negative pathogens such as Escherichia coli (E. coli) have a high mortality rate. However, the infection has so far usually been treatable with antibiotics.
Due to the increased antibiotic resistance of bacteria, also against the group of carbapenems, therapy has become increasingly difficult. Infections with multi-resistant pathogens that are also resistant to such 'reserve antibiotics' often lead to ineffective antibiotic therapy and thus to higher mortality.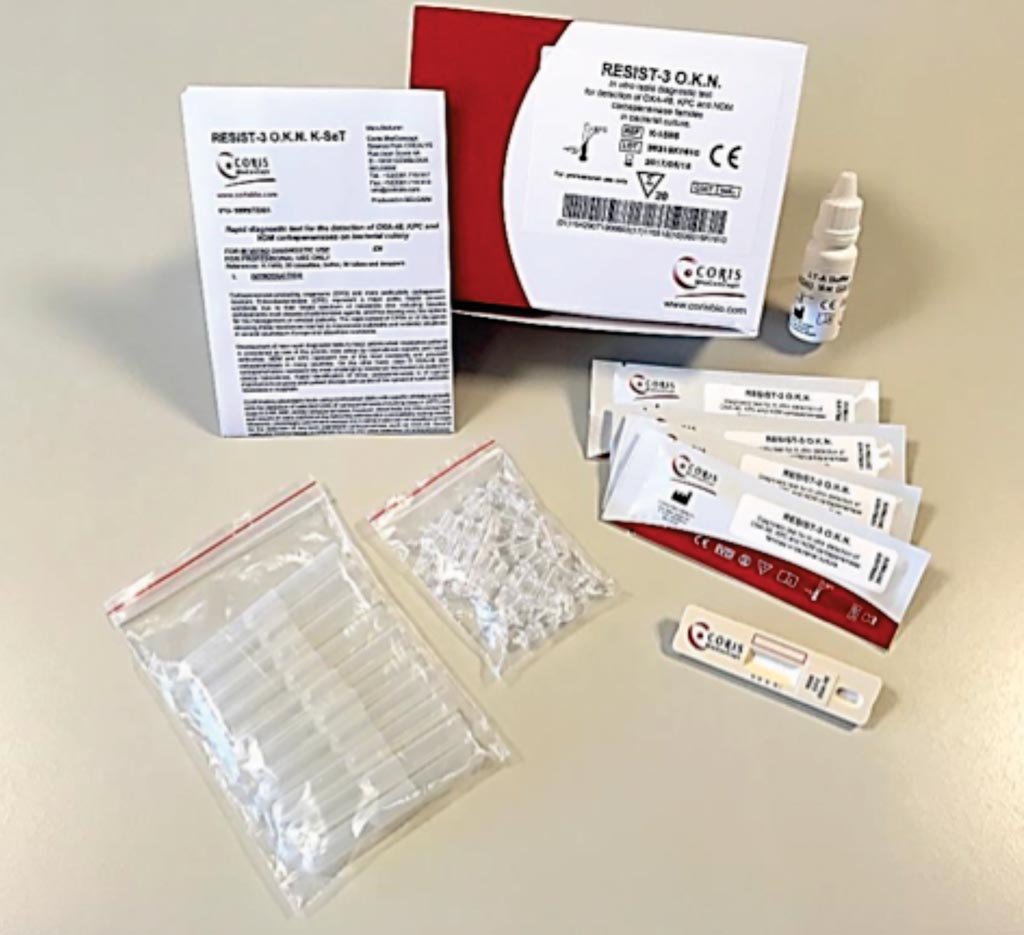 Medical microbiologists at the University Hospital of Cologne (Cologne, Germany) and their partners analyzed in a study, a total of 126 Enterobacteriaceae clinical isolates harboring different carbapenemases and 44 Enterobacteriaceae clinical isolates that were carbapenemase-negative. Klebsiella pneumoniae was the most frequent species (N = 84), followed by Escherichia coli (N = 53) and Enterobacter cloacae (N = 15). Carbapenemase-producing isolates (CPE) included the three carbapenemases: 79 carbapenem-hydrolysing class D β-lactamases (OXA-48-like), 29 New Delhi metallo-betalactamase (NDM) or 18 Klebsiella pneumoniae carbapenemase (KPC).
The team developed and evaluated a new method for the rapid detection of carbapenemases directly from positive blood culture (BC) using a new multiplex immunochromatographic test (ICT). After spiking with bacteria and incubation in a BC system, blood from positive BC bottles was hemolyzed, and bacteria concentrated by centrifugation and lysed. The lysate was transferred to the RESIST-3 O.K.N. ICT, which detects OXA-48-like, KPC and NDM carbapenemases.
The final results of the immunochromatography test (ICT) were read when they became positive, at the latest after 15 minutes. All CPE isolates (126/126) were correctly detected with the new protocol (100% sensitivity, 100% specificity). There was perfect concordance between ICT results and molecular characterization and total time to result was 20 to 45 minutes. Three of the four most common carbapenemases, OXA-48, KPC and NDM, were discovered directly from positive blood cultures using a single test procedure without the need for time-consuming further cultivation on agar plates. The new method is fast, easy to use, inexpensive, approximately EUR 10/test and can be performed in any clinical microbiology laboratory.
Axel Hamprecht, MD, a professor and lead author of the study said, "With this procedure, we have come a giant step closer to our goal of being able to help patients infected with multi-resistant pathogens as quickly as possible. In the case of the aggressive pathogens we are confronted with, every minute counts in order to start a targeted therapy." The study was published on September 14, 2018, in the journal PLOS ONE.
Related Links:
University Hospital of Cologne